There are 62 points that imply the Rams' defense needs to tighten
The Rams are undefeated and boast one of the NFL's most productive and dynamic offenses.
But the elation that permeated the locker room after last week's narrow victory over the Seattle Seahawks was tempered on the defensive side.
For the second game in a row, the Rams gave up 31 points.
In the final minutes with the Rams ahead by two, coach Sean McVay reversed a decision to punt — which would have put the outcome in the hands of the Rams defense — and went for it on fourth down. The call paid off when quarterback Jared Goff sneaked for a clinching first down that enabled the Rams to run out the clock.
McVay said his decision stemmed from his confidence in the team's ability to gain a half-yard.
But as the Rams prepare for Sunday's game at Denver — where defensive coordinator Wade Phillips won a Super Bowl — the defense will be working to correct mistakes and reestablish dominance.
"We held up when we needed to at the end of the game," middle linebacker Cory Littleton said after the victory over the Seahawks. "At the end of the day, it doesn't make you happy. Yes, we still get that win but we know we can play better and that's what we plan on doing."
The Rams, who shut out the Arizona Cardinals in Week 2, are giving up 19.6 points a game, which ranks sixth in the NFL. They are ninth in total defense, giving up 341.4 yards per game, and 10th in passing defense (234.6 yards).
But they are 18th in rushing defense, giving up 106.8 yards per game.
The Seahawks rushed for 190 yards.
"They haven't seen a team that's played physical," Seahawks offensive lineman D.J. Fluker said of the Rams after the game. "They want to be pass rushers.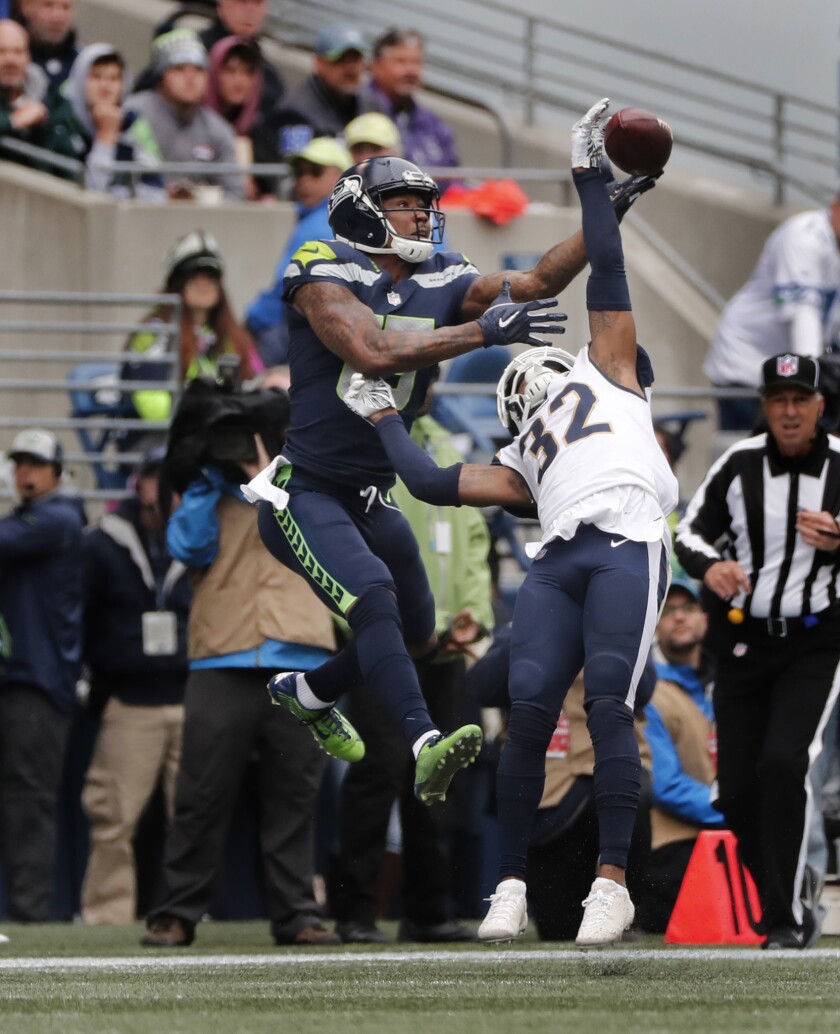 "They haven't seen a team to go out there and actually take it to them every single play."
Asked how much, if at all, he was concerned about the Rams' run defense, McVay this week praised the efforts of Seahawks running backs Chris Carson and Mike Davis, and said there were solutions for the Rams' mistakes.
"I wouldn't say you're concerned," McVay said. "We need to address some different things and there's a reason why each one of those runs popped out. … What we're encouraged about as you watch it as a staff are they're very fixable things."
In last season's 42-7 rout of the Seahawks at CenturyLink Field, the Rams sacked quarterback Russell Wilson seven times. On Sunday, Aaron Donald and Ndamukong Suh each sacked Wilson once, but he extended multiple plays and passed for three touchdowns.
"Everybody gets terrified with 99 [Donald] and 93 [Suh]," Fluker said. "We weren't terrified. We weren't scared."
Wilson's elusiveness put pressure on a Rams secondary that is struggling without injured Aqib Talib.
A few weeks ago, cornerback Marcus Peters showed toughness by playing against the Minnesota Vikings only four days after suffering a calf strain against the Chargers.
But Peters struggled against the Vikings, and he appeared to get beat for touchdowns twice against the Seahawks. He also was called for defensive holding twice, one of the infractions nullifying a sack by linebacker Matt Longacre.
"The thing you love about Marcus, and I think any great corner that I've ever been around, there's going to be some plays that you have to be able to respond from, but this guy is mentally tough," McVay said, adding, "We know that those are part of the deal when you're playing at that corner spot and he's going to respond and make a lot of plays for us."
The Rams linebacker corps ostensibly was strengthened by the return of Mark Barron. The seventh-year pro returned from an Achilles injury and played 48 of 60 snaps. He made a team-best nine tackles.
"His ability to go sideline to sideline — some of the plays where he's closing, you feel Mark," McVay said, adding, "You can really just feel the way he's able to immediately get guys to the ground because of the explosion and the suddenness that he plays with."
The Broncos are 12th in the NFL in total offense (393.8 yards per game), third in rushing (137) and 18th in passing (256.8).
They are coming off a 34-16 defeat to the New York Jets, a loss that dropped their record to 2-3.
Broncos quarterback Case Keenum completed 35 of 51 passes for 377 yards and two touchdowns, with an interception. The Broncos rushed for 92 yards.
Etc.
The Rams' Oct. 21 game against the San Francisco 49ers at Levi's Stadium, which had been scheduled for "Sunday Night Football" on NBC, was changed to a 1:25 p.m. kickoff on CBS. … The Indianapolis Colts signed Evan Boehm to their roster from the Rams' practice squad. The Rams signed tackle Rick Leonard to the practice squad.
Follow Gary Klein on Twitter @latimesklein
---
Get the latest on L.A.'s teams in the daily Sports Report newsletter.
You may occasionally receive promotional content from the Los Angeles Times.