Rams linebacker Cory Littleton continues to draw praise with stellar play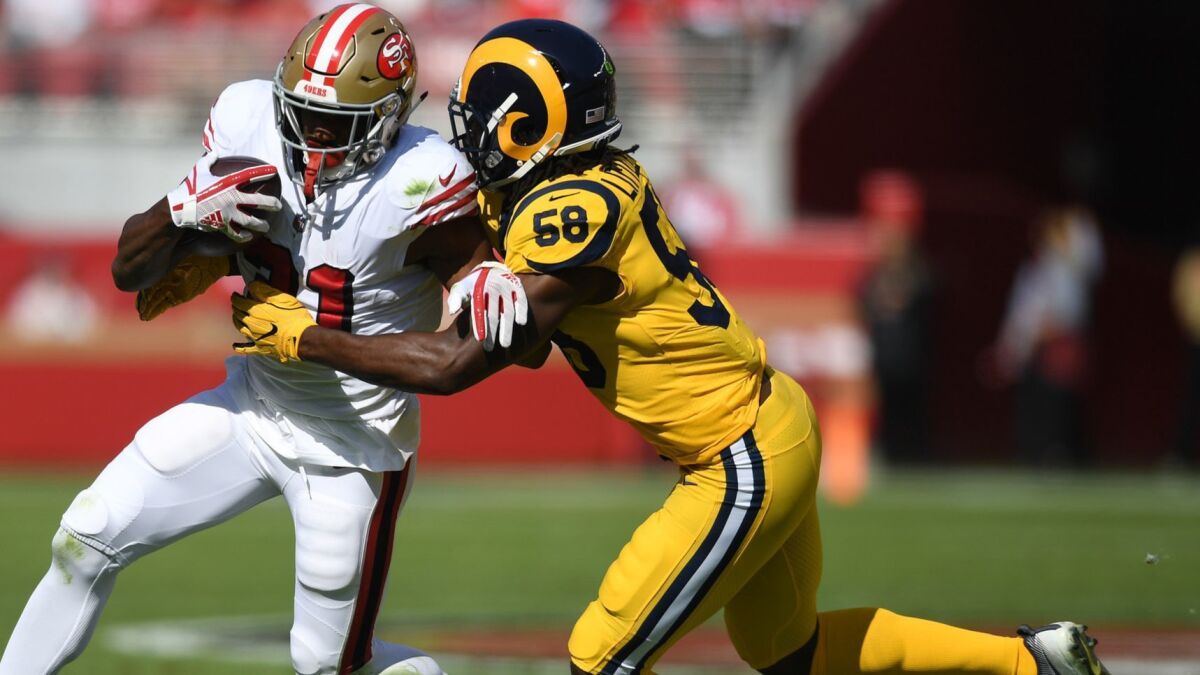 The praise was delivered days before Rams middle linebacker Cory Littleton produced one of the most complete performances of his young career.
Rams defensive coordinator Wade Phillips said Littleton not only was outstanding against the run and the pass, he was among the best in the NFL.
"I don't know that any linebacker is playing as well as he is in both areas," Phillips said. "He's way ahead of everybody in the league as far as pass coverage."
Littleton, 24, did not learn of Phillips assessment until he made more stellar plays in the Rams' 39-10 victory over the San Francisco 49ers on Sunday.
"Appreciate that compliment," he said.
More are coming.
Littleton made 10 tackles, including two sacks and three for losses, against the 49ers. He closed for key stops on screen passes and also blocked a punt that resulted in a safety.
But is he the best linebacker in coverage in the league?
"I don't necessarily feel that way — but I want to be," he said. "Definitely, it's something that you work for every day, whether it's just covering a person, getting those sacks, whatever way I can make a play I try to do."
Littleton will be tested Sunday when the Rams play the Green Bay Packers and quarterback Aaron Rodgers at the Coliseum.
The Rams are 7-0 and a Super Bowl favorite with Littleton, a first-year starter, calling defensive signals and disrupting opposing offenses and special teams.
"Can't really understate what a great job and what an impact Cory Littleton's made," coach Sean McVay said.
Said defensive lineman Aaron Donald: "He's a playmaker, man. He's just getting better and better. … Just making plays all over the field and helping us win."
Littleton has said that he would always welcome opportunities to contribute on special teams, which served as his entry into the NFL after he signed with the Rams as an undrafted free agent from Washington in 2016.
Last season, while also playing as a reserve linebacker, Littleton blocked two punts, including one against the Jacksonville Jaguars that Malcolm Brown returned for a touchdown.
This season, in a Week 3 victory over the Chargers, Littleton broke through and blocked a punt in the end zone. Blake Countess recovered the ball for a touchdown.
Littleton deflected a punt against the Seattle Seahawks in Week 4 and Sunday blocked a punt that resulted in the safety.
"I had a one on one with the snapper," Littleton said. "And I just had to beat him."
The Rams special teams take their cues from coordinator John Fassel, Littleton said.
"You never know but you always expect it," Littleton said of blocking kicks. "One thing [Fassel] has always said since I've been here is 'just believe.' And if you don't get it, you don't get it.
"One thing we do, we live and die by the sword. Like, if I miss a block and I hit the punter, we get a penalty, it sucks. But I mean if I block it, it's all good. So, hopefully, I get the ball every time."
Familiar face
Rodgers said he is looking forward to playing against Rams cornerback Sam Shields, a teammate for seven seasons before Shields had a series of concussions that sidelined him for nearly all of the 2016 and 2017 seasons.
Shields played as a reserve in the first three games, but started in Week 4 against the Minnesota Vikings after Aqib Talib injured an ankle.
Troy Hill has started the last three games but Shields rotates in.
"I love competing against Sam, have for many years in practice," Rodgers said in Green Bay on Tuesday. "Know him pretty well, he knows us pretty well. Also, he's a fantastic player."
Etc.
The Rams terminated the practice squad contract of former USC receiver Steven Mitchell and signed receiver Austin Proehl to the practice squad. … The Rams were off Tuesday. They will not practice Wednesday, but will conduct two walkthroughs.
Follow Gary Klein on Twitter @latimesklein
---
Get the latest on L.A.'s teams in the daily Sports Report newsletter.
You may occasionally receive promotional content from the Los Angeles Times.