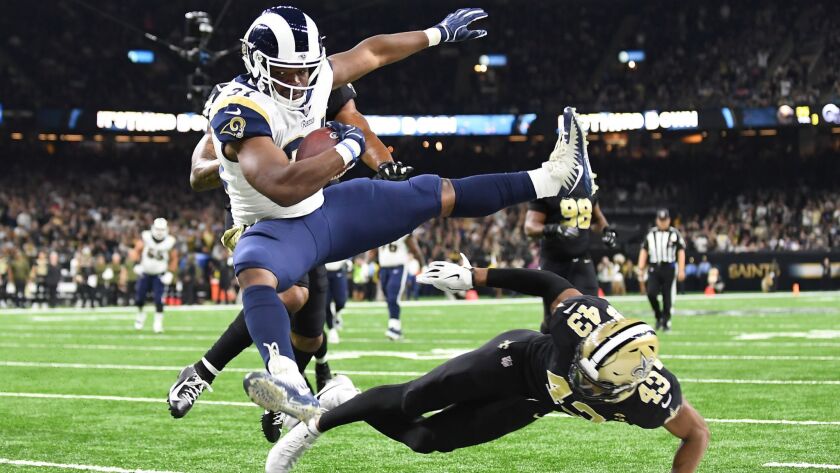 Reporting from new orleans —
The Rams' locker room was devoid of long faces. No exclamations of frustration pierced the quiet.
If anything, after Sunday's 45-35 loss to the New Orleans Saints, it seemed as if a long exhale had calmed the room. The crucible of trying to complete a perfect season was over.
"This game right here might be a blessing in a disguise," defensive lineman Michael Brockers said.
It did not play out like one, not on a day when quarterback Drew Brees stayed to form as a future Hall of Famer and torched the Rams for 346 yards and four touchdowns in front of a delirious 73,086 at the Mercedes-Benz Superdome.
The Rams rallied from a 21-point deficit to tie the score in the fourth quarter, but the Saints kicked a field goal and Brees sealed the victory with a long touchdown pass.
After eight victories to start the season, the Rams learned a hard lesson in reality.
And they apparently welcomed it.
"We love it," coach Sean McVay said. "You find out about yourself when you have a little bit of adversity. … Sometimes setbacks can be setups for comebacks.
"That's how we look at it."
None of the players said they were comfortable with losing, or with giving up nearly 500 yards — 313 in the first half.
But after the fawning adoration that came with their 8-0 start, they sounded relieved to focus on the next game, against the Seattle Seahawks, rather than queries about whether they could finish unbeaten.
"No more media with, 'The great team, nobody can beat them, dah,dah,dah,dah, dah,' " Brockers said. "The pressure's off."
The loss "does relieve some of the maybe pressure to be perfect," safety John Johnson said.
"We didn't go into the week saying, 'Oh, it's pressure. We got to stay undefeated.' It's nothing like that.
"We did a good job of blocking out the noise, but it is a little bit of a relief."
For much of the first half, it looked as if McVay and Saints coach Sean Payton were competing in a game of one-upmanship to claim the title as the NFL's most clever play-caller.
The Rams appeared headed for a blowout loss after McVay made a second-quarter decision that backfired and started the Saints on a run of giving up 21 consecutive points.
With the score 14-14, the Rams faked a field-goal try. Holder Johnny Hekker took the snap and sprinted toward the right sideline but was ruled short of the first down. McVay challenged the call, which was upheld on review.
Brees then drove the Saints for a touchdown, Greg Zuerlein missed a field-goal attempt and Brees passed for another touchdown, increasing the lead to 14 points. The Saints then intercepted a Jared Goff pass, setting up running back Alvin Kamara for a touchdown run that put the Rams behind 35-14.
"We wanted to be aggressive; that kind of embodies the identity that we do have," McVay said of the fake field-goal try. "It didn't work out but that's not going to stop us from continuing to fight and make sure that we're making aggressive decisions that are also smart."
The Rams trailed by 18 points at halftime but remained calm and stopped Brees twice to start the second half. Goff's touchdown passes to running back Malcolm Brown and receiver Cooper Kupp, a two-point conversion pass to tight end Gerald Everett and a field goal tied the score.
But Wil Lutz's 54-yard field goal gave the Saints the lead, and Brees ended the scoring by hitting Michael Thomas in stride for a 72-yard touchdown.
"Adversity is necessary in this league," safety Lamarcus Joyner said, "Especially games like this when it's the type of opponents you're going to see in the playoffs.
"It's good to get that adversity early and know how you can get better as a team."
Veteran offensive lineman Andrew Whitworth said that although the Rams lost, they also made a statement.
"It's going to happen in this league, you go on the road against a great football team and have a bad half," Whitworth said. "What doesn't usually happen is to have it happen in the first half and do what we did in the second half.
"You could tell the energy and things changed in that building. They definitely felt us, and we definitely made an impact in the second half."
McVay and the players said they were not looking ahead to anything other than the next game, against the Seahawks.
"We ain't panicking," defensive tackle Aaron Donald said, "we ain't worried about nothing."
But the Rams know they might see the Saints again in the NFC playoffs.
"I just know if we see them a second time it's going to be way different," cornerback Nickell Robey-Coleman said.
Follow Gary Klein on Twitter @latimesklein
---