Rams have a new leading man in Coach Sean McVay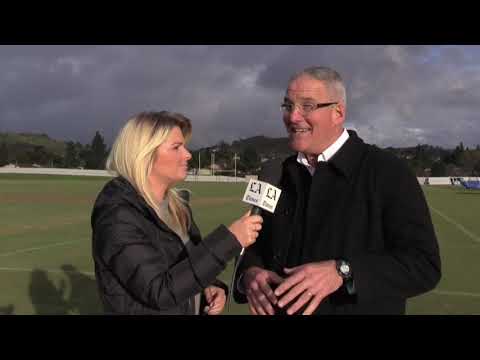 Gary Klein and Lindsey Thiry discuss the Los Angeles Rams hiring Washington Redskins offensive coordinator Sean McVay as their new head coach.
The Rams featured one of the youngest teams in the NFL last season.
Now they have the youngest head coach in league history.
On Thursday, the Rams hired 30-year-old Sean McVay, the Washington Redskins' offensive coordinator for the past three seasons.
The Rams will formally introduce McVay in a news conference Friday at their training facility at Cal Lutheran in Thousand Oaks.
"This is a great day as we welcome Sean McVay as our new head coach," Rams owner Stan Kroenke said in a statement Thursday. "The accomplishments and success that he has had in less than a decade in our league are impressive.
"We are confident in his vision to make this team a consistent winner and we will all continue to work together to achieve our ultimate goal — bringing a Rams Super Bowl championship home to Los Angeles."
McVay, who will turn 31 on Jan. 24, is about eight months younger than Lane Kiffin was when he was hired by the Oakland Raiders in 2007.
McVay is essentially in the same age demographic as his players. Rams defensive end William Hayes, at 31, is older than McVay, who was hired to turn around a team that finished 4-12 this season while averaging an NFL-worst 262.7 yards and 14 points per game.
McVay's most important task: developing quarterback Jared Goff, the No. 1 pick in the 2016 draft.
The Rams have not had a winning season since 2003 and have not made the playoffs since 2004.
Kevin Demoff, vice president of football operations, had said the Rams would not limit their search. They formally interviewed eight candidates before selecting McVay.
"I am incredibly honored by this opportunity and I want to start by thanking Mr. Kroenke and Kevin Demoff for their faith in me to lead the Los Angeles Rams as head coach," McVay said in a statement. "Collectively, we are committed to building a championship-caliber team, and I'm excited to start that process and make our fans proud."
After McVay's hiring was announced, players reacted on social media.
"Excited for the future of this team. Let's do this thing!" tweeted Goff, who met with McVay before he was hired.
"Welcome coach!!! Glad to have you here!!" tweeted middle linebacker Alec Ogletree.
McVay replaces Jeff Fish-er, who despite having a contract extension, was fired with three games left in his fifth season. General Manager Les Snead, who was involved in the search and interview process, is expected to be retained. Snead also received a contract extension before last season.
McVay is bringing in veteran coach Wade Phillips as defensive coordinator. Phil-lips, 69, is a former NFL head coach and was Denver's defensive coordinator for the last two seasons, helping the Broncos win Super Bowl 50 last February.
Phillips will oversee a unit that ranked ninth under former coordinator Gregg Wil-liams, now with the Cleveland Browns.
The Rams believe McVay can do for the offense what he did in Washington. He is credited with developing quarterback Kirk Cousins, a fourth-round draft pick, into a front-line starter. This season, Washington ranked third in the NFL, averaging 403.4 yards per game. The offense was 12th in scoring, averaging 24.8 points per game.
McVay initially interviewed last week and wowed Rams executives before doing the same in an interview with the San Francisco 49ers on Monday. He interviewed with the Rams again Wednesday and convinced them he was ready for the opportunity.
McVay played college football at Miami (Ohio) and got his coaching start in 2008 on Jon Gruden's staff with the Tampa Bay Buccaneers. He is the grandson of John McVay, a former San Francisco 49ers executive who was part of five Super Bowl titles.
The Rams also interviewed special teams coordinator John Fassel, Carolina secondary coach Steve Wilks, Arizona offensive coordinator Harold Goodwin, New England offensive coordinator Josh McDaniels New England defensive coordinator Matt Patricia, Buffalo offensive coordinator Anthony Lynn and Jacksonville interim coach Doug Marrone.
Jacksonville hired Marrone on Monday. Vance Joseph, Miami's defensive coordinator, was scheduled to interview with the Rams, but the Broncos hired him as head coach Wednesday.
Lynn was scheduled to interview again with the Rams this week, but the Rams believed they found their coach in McVay. The Chargers appear set to hire Lynn.
Follow Gary Klein on Twitter @latimesklein
ALSO
Football: High school coaches hope Rams, Chargers can make impact in L.A.
Rams safety T.J. McDonald pleads guilty to one misdemeanor count
Get the latest on L.A.'s teams in the daily Sports Report newsletter.
You may occasionally receive promotional content from the Los Angeles Times.