The Rams' Alec Ogletree has been the man in the middle of a lot of activity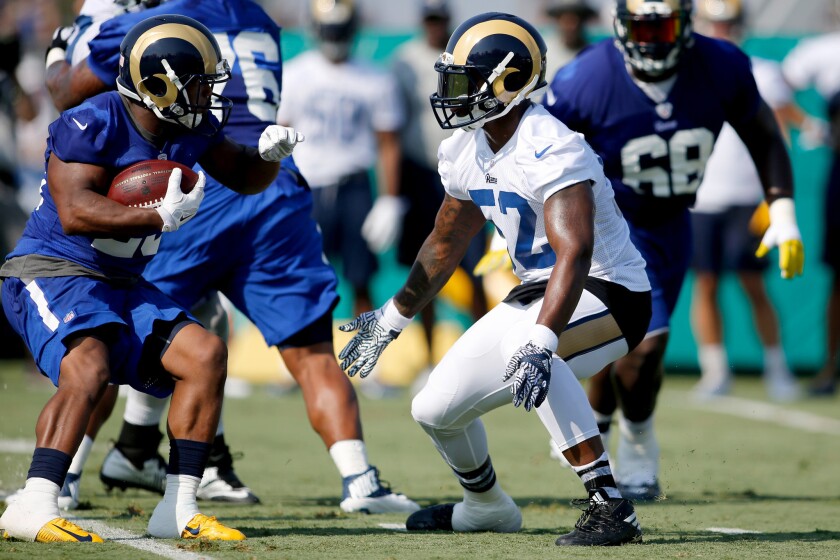 Alec Ogletree spent the off-season preparing for his new role as the Rams' middle linebacker, studying tape and getting into the best shape of his pro career.
He did it while moving with the franchise from St. Louis to Southern California and while readying for an even more important transition:
Ogletree became a father a week ago, he and his wife welcoming a son they named Austin.
"It's definitely a lot," he said after Sunday's workout at UC Irvine. "With moving, changing positions to having a baby. It's a lot."
Ogletree, 24, thus far appears to have made a smooth move from weakside linebacker to the middle, where he has been entrusted with replacing veteran James Laurinaitis.
During off-season training, teammates and coaches lauded Ogletree for the work he put in to learn the entire defense and assume the main leadership role.
"It's been seamless," Coach Jeff Fisher said Sunday when asked about Ogletree's transition.
Fisher added that despite a busy off-season, Ogletree posted the best overall times for defensive players in conditioning tests.
Of course, there is no way of knowing whether the Rams made a wise decision to turn the defense over to Ogletree until they start playing games. That's when Ogletree will be forced to recognize other teams' schemes, line up teammates and make plays.
Gary Klein and Lindsey Thiry update Day 2 of Rams training camp: Tavon Austin leaves early, Alec Ogletree adjusts to new position, Jared Goff is a fan favorite and special teams practice starts Monday.
The Rams open the exhibition season Aug. 13 against the Dallas Cowboys at the Coliseum. They have three other exhibitions before the Sept. 12 opener against the San Francisco 49ers on "Monday Night Football."
Ogletree, the 30th pick in the 2013 draft, appeared to be on his way to a breakout season in 2015 before he suffered a season-ending ankle injury against the Arizona Cardinals in Week 4.
The Rams released Laurinaitis and defensive end Chris Long to clear salary-cap space and make room for younger leaders to emerge.
"A lot of people are just going to have to make a lot more plays to make up for those guys," defensive tackle Aaron Donald said last week.
The 6-foot-2, 245-pound Ogletree will be flanked by Akeem Ayers on the strong side and Mark Barron on the weakside.
Ogletree credited teammates for easing his transition to the middle.
"It helps me out a lot that most of the guys have been here," he said, adding, "so you don't have to harp on learning the playbook all day and learning positions."
But Ogletree sounded most excited about embracing fatherhood.
He has lately been limited to Facetime updates, and said his infant son already was outfitted with plenty of Rams and University of Georgia gear.
"It's a life-changing experience," he said of becoming a father. "It's something that you really can't explain until you have your own kids and go through the feeling."
Notes
Receiver Tavon Austin was carted from the field after suffering what Fisher described as dehydration and cramps. Austin is not expected to miss any practices. "I heard for some reason he didn't eat lunch," Fisher said. … Receiver Kenny Britt was excused from practice but will return Monday, Fisher said. … The Rams released receiver Deon Long. … The Rams will hold a special-teams practice Monday, the first time players will be in shoulder pads. … Quarterback Case Keenum connected with receiver Bradley Marquez on a long pass play during a team drill. Quarterback Jared Goff avoided interceptions until the final portion of practice set aside for rookies. Jabriel Washington, who played at Alabama, picked off a Goff pass.
gary.klein@latimes.com
Twitter: @LATimesklein
---
Get the latest on L.A.'s teams in the daily Sports Report newsletter.
You may occasionally receive promotional content from the Los Angeles Times.