Brazil's Ronaldo scores past Ghana's defender John Pantsil during Brazil's 3-0 victory in the second-round match. Ronaldo's goal was a record 15th in this World Cup.
(AP)
Ghana's Richard Kingson makes a save during the second-round loss to Brazil.
(AP)
Brazilian defender Roberto Carlos is tackled by Ghana's forward Matthew Amoah in the second round of the World Cup.
(AFP/Getty Images)
Ghana fans have little to cheer about in their team's 3-0 loss to Brazil in the second round of the World Cup.
(AFP/Getty Images)
Italy's soccer fans celebrate on Corydon Avenue in Winnipeg's Italian district in Canada, following Italy's 1-0 victory over Australia.
(MARC GALLANT / AP)
Vanessa D'Agnillo, left, and Andrea Campanaro join other Italian soccer fans as they took over Erie Street in Windsor, Ontario, Canada after Italy defeated Australia 1-0.
(TYLER BROWNBRIDGE / AP)
Clockwise from top left: Italy's Francesco Totti celebrates after scoring on a penalty in Italy's Round of 16 win over Australia. Australia's Lucas Neill, bottom, trips Italy's Fabio Grosso in the penalty box during the last minutes of their match at Fritz Walter Stadium in Kaiserslautern; Australia's goalkeeper Mark Schwarzer fails to make a save against a penalty kick by Italy's Francesco Totti. Ukraine's Oleg Gusev, left, scores the decisive goal against Switzerland's goalkeeper Pascal Zuberbuehler during the penalty shoot-out round. Switzerland's Ludovic Magnin, left, challenges Ukraine's Andriy Shevchenko; and Ukraine's goalkeeper Oleksandr Shovkovskyi, right, celebrates with teammates at the end of a penalty shootout at the conclusion of their match at World Cup Stadium in Cologne, Germany.
(Associated Press)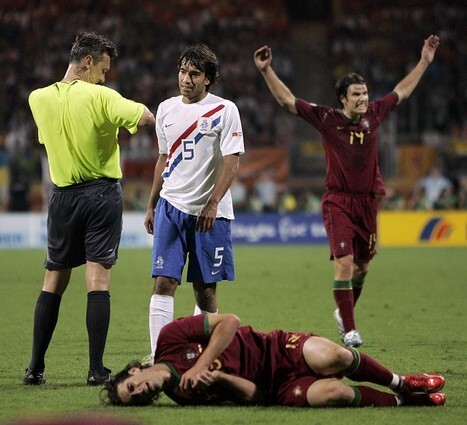 Netherlands' Giovanni van Bronckhorst, center, is about to receive a yellow card by referee Valentin Ivanov, left, during The Netherlands/Portugal Round of 16 match at Franken Stadium in Nuremberg, Germany. Portugal won 1-0.
(KEVORK DJANSEZIAN, Associated Press)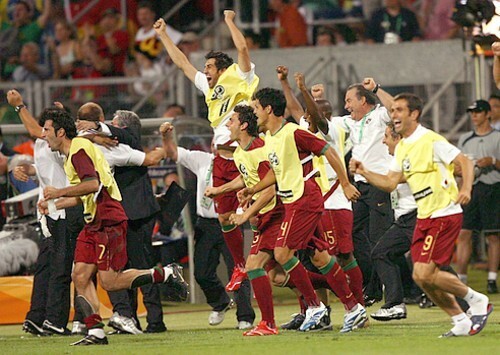 Portuguese players celebrate at the end of the 2nd round match of the 2006 FIFA World Cup between Portugal and the Netherlands.
(AP)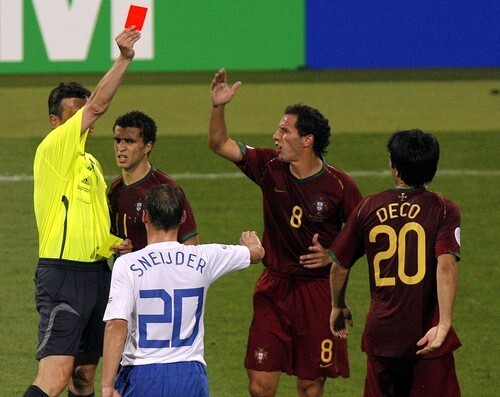 Russian referee Valentin Ivanov shows the red card to Portugal's Deco, right, during the Netherlands/Portugal Round of 16 match.
(IVAN SEKRETAREV, Associated Press)
Ecuadorean goalkeeper Cristian Mora (behind) dives in vain to block a free kick by English midfielder David Beckham for England's first goal.
(VALERY HACHE / AFP/Getty Images)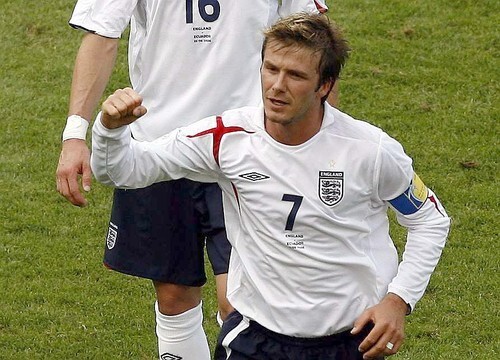 English midfielder David Beckham celebrates after scoring the first goal for his team during the round of 16 match between England and Ecuador at Stuttgart's Gottlieb-Daimler Stadium.
(TORSTEN SILZ / AFP/Getty Images)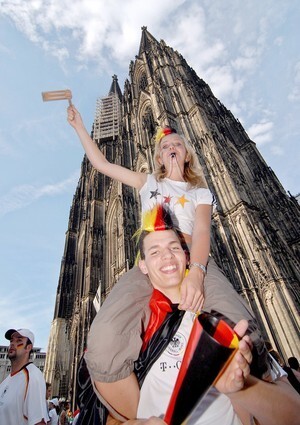 German supporters celebrate the victory of their team after watching on a giant screen Germany against Sweden near the Cologne cathedral. Germany won the match 2-0.
(HENNING KAISER /AFP/Getty Images)
German supporters cheer their team before the round of 16 match between Germany and Sweden at Munich's World Cup Stadium.
(JOHANNES SIMON /AFP/Getty Images)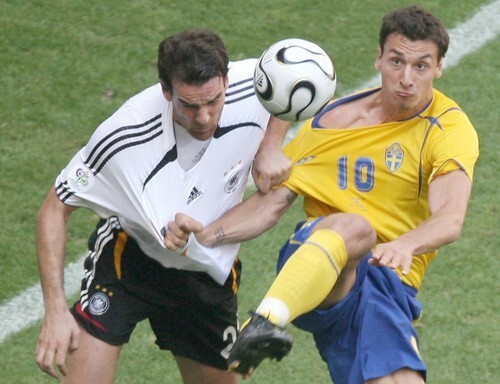 German defender Christoph Metzelder (L) fights for the ball with Swedish forward Zlatan Ibrahimovic.
(VALERY HACHE /AFP/Getty Images)
Javier Saviola of Argentina fights for the ball with Rafael Marquez, left, and Mario Mendez of Mexico
(Getty Images)
Argentinin goalkeeper Roberto Abbondazieri can't save the shot of Rafael Marquez (not pictured) of Mexico.
(Jan Woitas / EPA)
Jared Borgetti of Mexico (L) vies with Gabriel Heinze of Argentina for the ball.
(Oliver Weiken / EPA)
Ramon Morales of Mexico takes a free kick on the goal during the 2nd round match between Argentina and Mexico at the FIFA World Cup stadium in Leipzig, Germany. Argentina's wall consists of (L-R) Javier Mascherano, Juan Riquelme, Hernan Crespo and Esteban Cambiasso.
(Oliver Weiken / EPA)