World Cup: 2026 World Cup is awarded to North America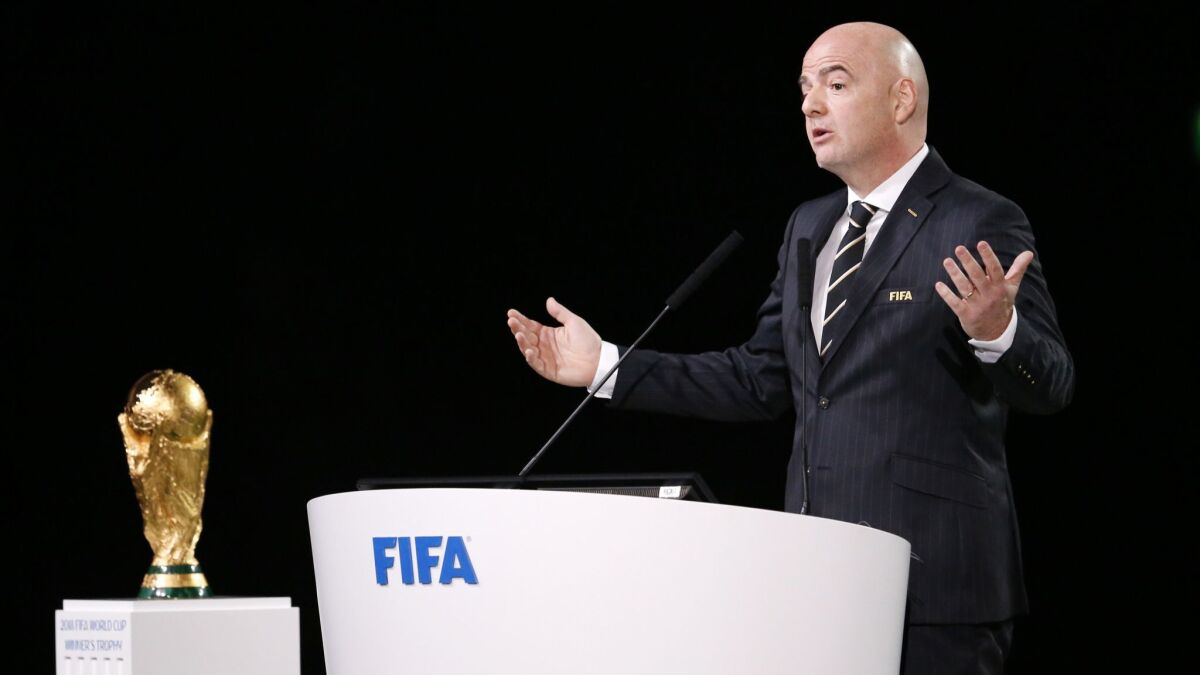 Reporting from MOSCOW —
In the end, the marathon process of bringing the World Cup back to North America was decided with a sprint.
After more than a year of little success in selling FIFA on the idea, soccer federation leaders from the United States, Mexico and Canada made one final, furious push, visiting more than 50 countries and lobbying more than 150 federations in the last five weeks.
The effort proved worthwhile Wednesday when world soccer's governing body chose the so-called United bid to host the 2026 World Cup.
"I don't think that we ever thought that we would have such overwhelming support," said Steven Reed, president of the Canadian Soccer Assn. "It just shows the amount of work that we did over the past six to eight weeks has come to fruition. "
The North American bid was chosen over Morocco with the backing of 134 of the 199 countries that voted, winning support from members of all six FIFA confederations. Even teams from Africa, which had promised to vote in a bloc for Morocco, supported the United bid, turning what was expected to be a tight race into a rout.
The 2026 World Cup will be the largest in history, expanding to 48 teams and 80 games — 60 of which will be played in the U.S. Canada and Mexico will get 10 each. It will also be the first World Cup hosted by three countries.
Los Angeles is one of 23 proposed host cities — a list that will eventually be trimmed to 16 — and the Rose Bowl in Pasadena is among the stadiums under consideration as a game site. The NFL facility under construction in Inglewood could also be used, possibly for the tournament final.
In its presentation to FIFA, the United bid committee listed three possible venues for the title game: MetLife Stadium in East Rutherford, N.J.; AT&T Stadium in Arlington, Texas; and Los Angeles. The Rose Bowl was the site of the title game in 1994, the only time a World Cup was played in the U.S.
The United bid committee's chairmen — Reed, U.S. Soccer president Carlos Cordeiro and Mexican federation president Decio de Maria — pulled their winning proposal together at a time of political strain between the countries they represent.
"To have a message coming from football that says actually Mexico, Canada and the United States together can organize the biggest sporting and social event together, it is a nice message," FIFA president Gianni Infantino said.
To make the lobbying effort work, the North American representatives set up a base camp in London, which allowed them to reach more countries quickly, without dealing with jet lag, botched flight connections or other complications. The move had other benefits as well.
"The team bonded really well," said Cordeiro, who became visibly emotional when the results were announced. "We basically lived and traveled like an extended family."
Contrast that with President Trump's relationships with Mexican President Enrique Peña Nieto and Canadian Prime Minister Justin Trudeau. Even before he was elected, Trump had promised to build a wall along the Mexican border and demanded that NAFTA, the trade agreement linking the U.S., Mexico and Canada, be renegotiated.
Last week, following the G-7 summit, Trump tweeted that Trudeau was "dishonest" and "weak."
After his election as president of U.S. Soccer in February, Cordeiro chose to elevate De Maria and Reed as co-chairmen of the bid, a move that gave each of the three equal power.
"We changed the whole face of the bid," said Cordeiro, who thought the campaign was in danger at the time. "The fact that we had three co-chairs has been received very, very well. On an initiative such as this we have to work together."
Reed, Cordeiro and De Maria played up that their countries already had the stadiums and infrastructure in place to host a major event. They also projected a record profit of $14 billion, money that would be split among FIFA's 211 member federations, bringing each about $50 million to spend on grass-roots development.
Morocco, which has never staged an event larger than the 16-team African Nations Championship, said it would build nine of the 14 venues included in its bid, with the other five needing substantial renovations. The total investment was projected to be $15.8 billion.
However, the United bid had one significant obstacle: Some federations expressed grave concerns about Trump's rhetoric and politics, including proposed travel restrictions.
That's when Robert Kraft, owner of the NFL's New England Patriot and the MLS' New England Revolution, stepped in. A friend of Trump's, and also the honorary chairman of the United bid committee's board, Kraft got the president to address three letters to Infantino. In each, he guaranteed, among other promises, that no foreign teams, officials or fans would face restrictions on entering the U.S. for the World Cup.
Those assurances proved vital in winning over wary voters. And Trump was among the first people to offer congratulations, tweeting: "The U.S., together with Mexico and Canada, just got the World Cup. Congratulations — a great deal of hard work!"
Peña Nieto also reacted on Twitter, releasing a video in which he said, "It is not only our people and our families, our companies and our businesspeople, soccer also knows that Canada, the United States and Mexico are deeply united."
Trudeau struck a similar note: "It's an opportunity to bring the world together and highlight how well things work between Canada, Mexico and the United States," he told reporters in Ottawa.
For Cordeiro, who came to the U.S. at 15 as an immigrant of Indian, Colombia and Portuguese heritage, the success reinforced his belief that working together is easier than working alone.
"We've been making the case now for multiple weeks that this shouldn't be about geopolitics. This isn't the U.N.," Cordeiro said. "People listened and heard the message."
Full coverage: 2018 World Cup »
kevin.baxter@latimes.com | Twitter: @kbaxter11
---
UPDATES:
2:55 p.m.: This article was updated throughout with comments from soccer officials and background on how the United bid came together.
This article was originally published at 3:55 a.m.
---
All about the beautiful game
Go inside the L.A. pro soccer scene and beyond in Kevin Baxter's weekly newsletter.
You may occasionally receive promotional content from the Los Angeles Times.