Column: Abby Wambach continues to lead women on a winning path in busy retirement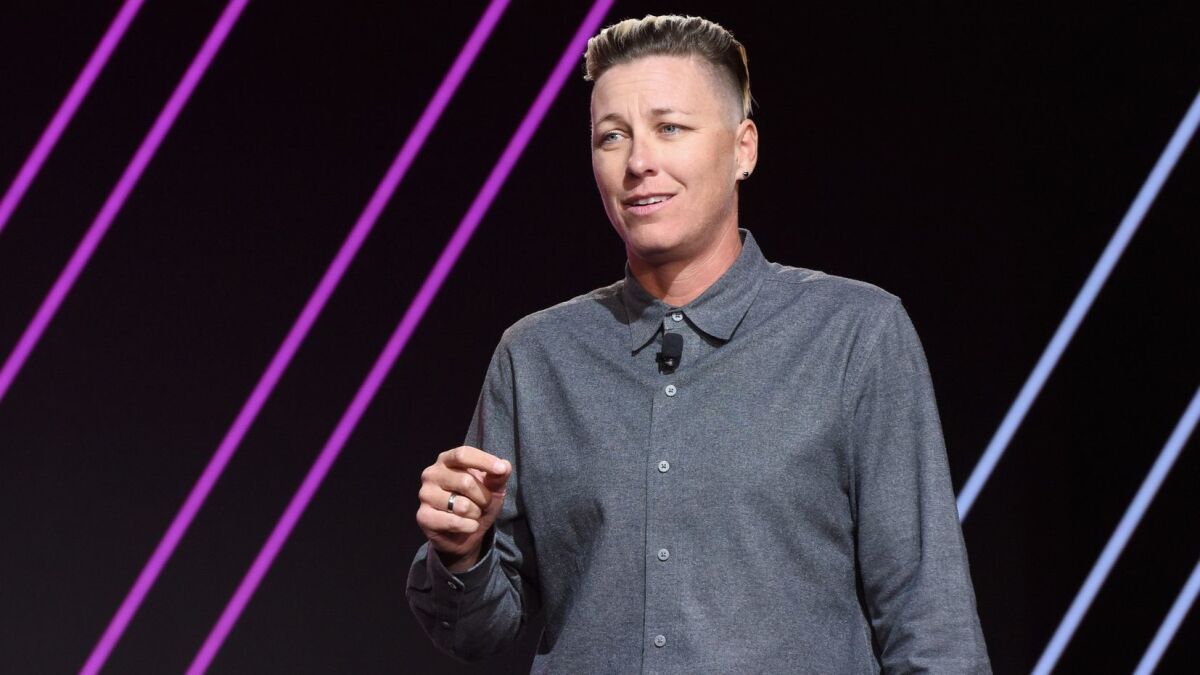 Abby Wambach hasn't kicked a soccer ball in anger in more than three years. But if she's missing the game, she's been too preoccupied to notice.
Since retiring from the national team in December 2015, five months after winning the Women's World Cup, Wambach has started a business, written two books and made numerous stops on the lecture circuit.
"I'm actually more busy than I've ever been," she said during a recent phone conversation. "Also I'm stepping into a new kind of world, right? It is terrifying what I'm doing now."
Wambach knew nothing but comfort and success on the soccer field, where she scored 184 goals in international competition, the most of any player — male or female — in history. Her 14 World Cup goals are most by an American, she is a two-time Olympic champion, was FIFA's world player of the year in 2012, and three years later Time magazine named her one of the 100 most influential people in the world.
She's so big, in fact, that Mattel made a Barbie doll in her likeness.
All that is in the rearview mirror now, and for the first time in two decades Wambach entered a World Cup year with no hope of playing in the tournament. Ten teammates from the team that won the title four years ago will play in France this summer, however, and they'll continue tuning up for the tournament Sunday when the U.S. meets Belgium at Banc of California Stadium.
Sign up for our weekly soccer newsletter »
Wambach says she'll be in France too, only she won't be packing the pressure she took with her to the last four World Cups.
"People don't realize that when you're training for a World Cup it's not all peaches and cream," she said. "You actually have to win. And getting to that top podium at the end of the World Cup is one of the most difficult things that a human being, I think, can do.
"So I'm going to go over to France with my family, sitting on my rear end in the stands, and cheering the team on as their No. 1 fan. And I can't wait."
In the meantime, Wambach has something to say, which is why she wrote "Wolfpack: How to Come Together, Unleash Our Power, and Change the Game."
The title was inspired by a TED Talk about how wolves, once thought to be a threat to Yellowstone National Park's ecosystem, actually saved the park after being reintroduced to the environment. The wolves in Wambach's story are women, also thought by some to be a threat to their ecosystem, but who may ultimately prove to be its salvation if they can band together.
The book's release this week comes at a time when the U.S. women's national team is suing its federation for what it believes to be inequality in pay, bonuses and working conditions — the kinds of issues Wambach rails against.
"It's totally serendipitous that this happened at the same time," Wambach said. "The fact that the women's team is going to be playing in France this summer and then of course this lawsuit, it's perfect."
Wambach was an outspoken leader during her career, criticizing the presence of dual nationals on the men's national team, leading a crusade — ultimately unsuccessful — to get artificial turf removed from the 2015 Women's World Cup, then speaking out during the tournament in support of the Supreme Court decision legalizing same-sex marriage.
But she never sued U.S. Soccer. That came after she retired, with five players lodging a wage discrimination complaint with the federal Equal Employment Opportunity Commission in 2016 followed by the entire 28-woman team filing a lawsuit in federal court in Los Angeles last month.
Regardless of the outcome, Wambach said she considers that progress.
"When I was on the team, I felt pressure that if I said too much, that if I said something against U.S. Soccer, I feared being cut. I feared being taken off the field. I feared for being able to pay my mortgage.
"That's a very common thing that women are always up against. This fear of reaction, fear of the company you're trying to speak up against — you're trying to actually make them a better company. This is a power issue."
The epiphany for Wambach came during the 2016 ESPYs at Microsoft Theater in Los Angeles, where she shared the Icon Award with football's Peyton Manning and basketball's Kobe Bryant. As the three walked off the stage it occurred to Wambach they were headed toward different retirements: The two men were financially secure, but Wambach, who had trained just as hard, accomplished just as much and sacrificed equally during her 15-year international career, still had to struggle to pay her bills.
"They had something else that I didn't have: Freedom," Wambach writes. "Their hustling days were over. Mine were just beginning."
The idea for the book began when Wambach was asked to give the commencement address at Barnard College, the prestigious all-women's school in Manhattan. The speech morphed into a rallying cry to unite the "wolves" and inspired a leadership company that has taken Wambach into the corporate world, where she tries to use lessons she learned playing with the world's most-dominant soccer team to teach women how to seize the power they already possess.
"My time on the national team was spent kind of redefining what it meant to be a woman in a lot of ways," she said. "I played in this really badass environment that there's 23 of us who just leaned on each other, used each other's strengths and weaknesses, and didn't feel like we needed to operate in the way that the rest of the world does.
"That's why our team is so magnetic and attracts so many people worldwide: because we kind of make up the rules as we want them to be. We let the system around us change, and we're kind of the ones that are driving that change."
In taking those experiences to a wider audience, Wambach has shown she never really left the wolves with whom she played. Instead she's become the leader of the pack.
kevin.baxter@latimes.com | Twitter: @kbaxter11
All about the beautiful game
Go inside the L.A. pro soccer scene and beyond in Kevin Baxter's weekly newsletter.
You may occasionally receive promotional content from the Los Angeles Times.