For Abby Wambach, Women's World Cup title is about all that's missing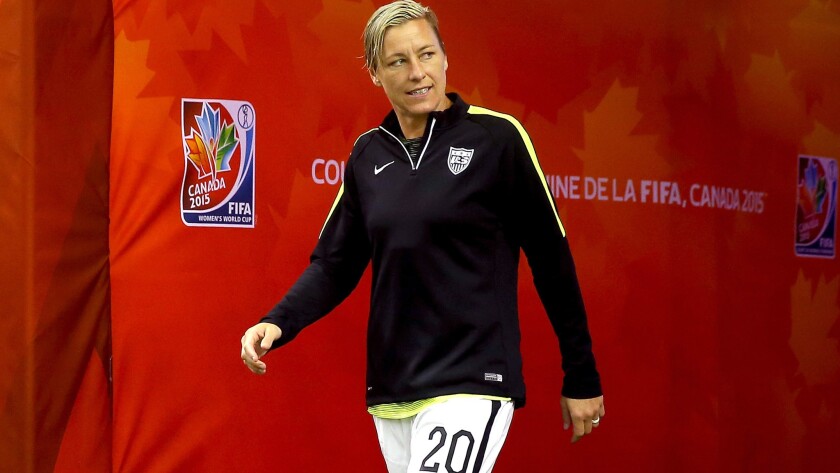 Reporting from Vancouver, Canada —
There are certain dates you never forget.
Wedding days, birthdays, tax day.
But the one seared into Abby Wambach's mind was born of disappointment and despair.
July 17, 2011.
That was the day the U.S. twice blew late leads before losing a penalty-kick shootout to Japan in the only Women's World Cup final Wambach has played in. And she says the memories of that day have pushed her through every workout since.
"It's been that thing that fuels our fire, that motivates us to do that extra sprint, to make that extra fight to extend and to search for that ball," said Wambach, who admitted she can't recall the exact date of any game she's played in except that one. "It's always there. That's what happens with heartbreak. Heartbreak never goes away."
On Sunday, Wambach and the U.S. get a chance to erase that heartbreak and grab the brass ring in the final of this year's World Cup before a sellout crowd at Vancouver's BC Place.
And once again Japan is standing in their way.
"All I care about," Wambach said Friday "is winning this World Cup."
It is, after all, the one thing missing from her well-stocked trophy case. She has won two Olympic titles and been named the world player of the year. She has scored more international goals — 183 — than any player, male or female, in history.
But she's never been a world champion. And Sunday marks her final chance to scratch that off her bucket list, because this World Cup, she said last month, will be her last.
Despite the depth of her accomplishments, Wambach is a part-time player now. At 35, she plods when she used to glide and hops when she used to fly.
She still talks a good game, though. With the U.S. searching for a goal in its quarterfinal with China, Wambach gathered the team for an impassioned and profanity-inflected halftime speech.
Six minutes later, Carli Lloyd scored the game's only goal.
"When she talks, players listen," U.S. Coach Jill Ellis said. "She inspires them. And I think they trust her."
It's clear they want to win for Wambach, who has become the iconic women's player of her era — and arguably the best American player of either gender since Mia Hamm.
"I want nothing more than to help her legacy and win a World Cup," said Lloyd, who has assumed Wambach's roles as captain and on-field leader. "This being her last one, I will do whatever it takes to get the job done."
Even former players are pulling for Wambach.
"I have nothing but the utmost respect for her," said Briana Scurry, the goalkeeper for the last U.S. World Cup champion and a teammate of Wambach's for six years. "The way she conducts herself and just her heart. I've always appreciated her. And if for no other reason than her, I want them to win.
"She absolutely deserves to be a World Cup champion. And I know there is nothing on the planet — or off of it — that she wants more."
Wambach's 15-year career spanned the era in which women's soccer went from a curiosity to cause for celebration. She played her first game with the national team before more than 50,000 empty seats at Chicago's Soldier Field; she'll play her final World Cup game before more than 50,000 full seats at BC Place.
When Wambach debuted, the first short-lived experiment with a women's professional league had just gotten started — yet was already headed for bankruptcy. Now players have lucrative marketing deals with Nike, Gatorade, McDonald's and Coca-Cola.
One thing that hasn't changed since Wambach's debut, however, is the U.S. record in World Cup finals. It's been 16 years since the Americans won their last one — or four years since Wambach lost her only one.
"It's a huge, important thing for her because this is the one thing that has eluded her," said Wambach's mother, Judy, who confessed she's been praying for a win Sunday.
"I really want this to happen," she continued. "For the United States as well as for my daughter."
Wambach may not be the only American saying goodbye to World Cup competition on Sunday. More than half the likely starters against Japan are at least 30, and by the next World Cup goalkeeper Hope Solo will be a month shy of her 38th birthday and Lloyd will be turning 37.
They too remember July 17, 2011.
"We really thought that was our time. But it wasn't," Lloyd said. "We have a lot of players who were part of that day and we all know how that feels. It didn't feel well."
Sunday, they hope, will leave them with a better feeling — and a reason to remember July 5, 2015.
Twitter: @kbaxter11
---
All about the beautiful game
Go inside the L.A. pro soccer scene and beyond in Kevin Baxter's weekly newsletter.
You may occasionally receive promotional content from the Los Angeles Times.