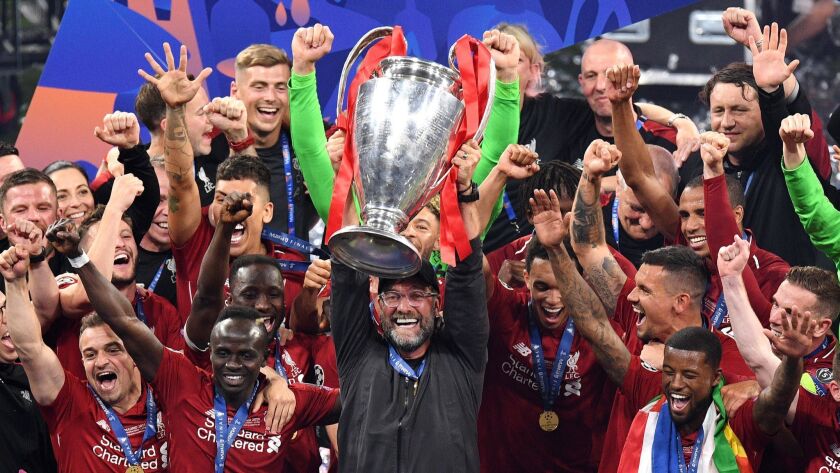 When Jurgen Klopp bounced into Liverpool in October 2015, flashing his toothy smile, hugging everyone he could get his arms around and announcing his arrival at an introductory news conference that was part stand-up routine, it was the start of a revolution.
A revolution of both style and substance, of science and spirit. It was a revolution that finally triumphed Saturday with Klopp and Liverpool beating Tottenham 2-0 in a historic Champions League final in Madrid.
The goals came from Mohamed Salah in the second minute and Divock Origi three minutes from the end of regulation. Tottenham dominated everywhere but on the scoresheet, outshooting, outpossessing and outpassing Liverpool.
But that's often how revolutions go: you don't have to win all the battles, just the war.
"Did you ever see a team like this?" Klopp enthused afterward, a gold Champions League winner's medal draped around his neck. "This is unbelievable. Really the best night of my life, my professional life."
When Klopp came to Anfield four years ago the hidebound English soccer establishment looked at color and personality the same way butchers consider vegetarians: with disdain. It preferred managers stern and taciturn like Jose Mourinho, the self-described "special one." Klopp tweaked that establishment, dubbing himself the "normal one" when he arrived from Germany, where his touchy-feely brand of enthusiasm had made Borussia Dortmund into a Bundesliga power yet had won the manager the often-derisive nickname of the Teutonic Care Bear.
Now after two appearances in the Champions League final, one title and the most league wins in three seasons of any Liverpool coach since Bob Paisley more than a generation ago, Klopp's success has other Premier League teams wondering if they, too, should embrace embracing.
Sign up for our weekly soccer newsletter »
But Liverpool's revolution went far deeper than that. The club is owned by John Henry, the American investment manager who made a fortune by designing an algorithm that foresaw fluctuations in the soybean market.
Henry is a true believer in the power of analytics, so when bought the Boston Red Sox in 2002, the team became an early proponent of the data-driven reformation that remade the sport. Two seasons after Henry took over, the Red Sox won their first World Series in 86 years.
When Henry bought Liverpool in 2010, the Reds, once the top team in England, had gone two decades without a first-division title. The new management team had neither the money nor the desire to try to change that by outspending the Russian billionaires and Emirate royals who were buying up some of the EPL's other teams.
It could, however, outthink them by using advanced calculations, statistical formulas and predictive models to see what video and the naked eye missed.
Analytics were still new to many EPL teams and few managers believed in them when Henry began importing the Red Sox culture to Liverpool. Klopp was more agnostic than nonbeliever, though.
When he arrived the club already had a full analytics department led by Ian Graham, who earned a doctorate in theoretical physics at Cambridge before making his way to Liverpool. Graham, whose work was recently profiled in the New York Times, leads a staff there that includes a former astrophysics student, a junior chess champion with an advanced degree in math and an American with a PhD in high-energy physics from Harvard.
With Klopp, they remade the Liverpool roster, including nine of Saturday's 11 starters — among them Salah, who Graham recommended, and goalkeeper Alisson Becker, for whom the team spent $90 million in the summer transfer window — either coming to the club or making their first-team debuts since the manager's arrival.
Saturday they became one of the greatest boy bands to come out of Liverpool since the Beatles.
The final with Tottenham was the first all-EPL matchup in Europe's most important club competition since 2008. But the drama that had built in the three weeks leading up to the match evaporated in the first 30 seconds when Tottenham's Moussa Sissoko was called for a hand ball in the penalty area. Salah calmly converted from the spot to give Liverpool a 1-0 lead.
For Salah the goal was reward, if not redemption, for the pain and frustration of his first Champions League final last year. After scoring a record 32 times during the EPL season, Salah came into the continental championship a marked man — so Real Madrid defender Sergio Ramos took him out in the 30th minute, knocking him to the ground with a rough tackle that ended Salah's night.
Missing its talisman striker, Liverpool went quietly, losing 3-1.
Salah was not to be denied this time. Despite missing the second leg of the Champions League semifinals because of a concussion, he would not be sidelined again Saturday and his goal changed the complexion of a game that had just started.
With the early lead, Liverpool ceded possession to defend. Though Tottenham had the ball 60% of the time, they couldn't get it past Alisson, who faced eight shots on target. Origi, one of the heroes of the Salah-less semifinal win over Barcelona, then came off the bench to score an insurance goal in the 87th minute, clinching a sixth European title for Liverpool and giving the Reds twice as many as any other English team.
That allowed Klopp, the Teutonic Care Bear, to shed another nickname that has stuck to him in recent years: that of runner-up rather than front-runner. Three times he made it to final of a continental tournament, only to come home empty-handed. This year he left the stadium hugging the trophy.
"It took a while, obviously," he said.
He was smiling when he said it.
kevin.baxter@latimes.com | Twitter: @kbaxter11
---