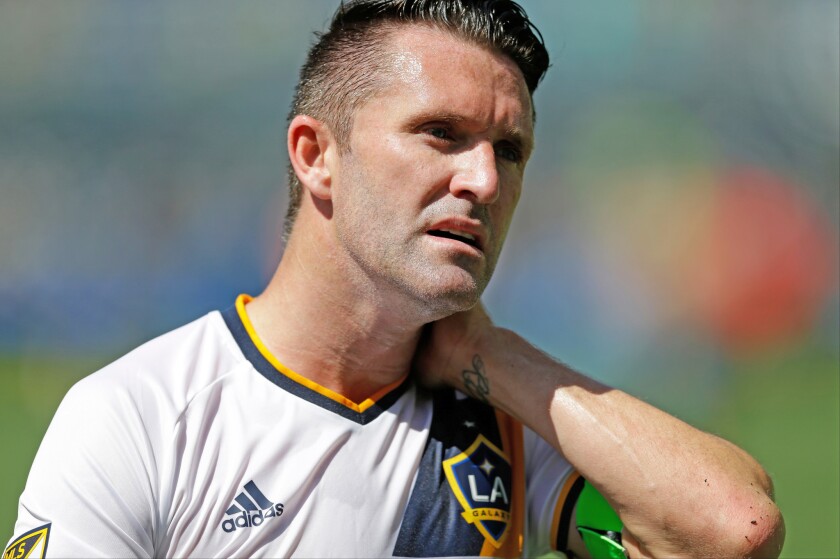 The Galaxy's long sprint to what the team hopes will include a postseason begins Wednesday in Sandy, Utah, with the first of six games against playoff contenders (6:30 p.m. PDT, TWC, TWC Deportes).
The Galaxy is in control of its destiny, since three of those games are against teams it either trails or is tied with in the Western Conference standings. Real Salt Lake is one of those, and if there is a winner Wednesday, that team will assume sole possession of second place.
"This is usually the time of year where the Galaxy ramp it up," said midfielder Baggio Husidic, whose second-half goal last Saturday sparked the team to its first win in more than a month. "Hopefully we get on a good run. It's all about momentum in MLS, and hopefully this will give us momentum going forward."
But second place is important for reasons that go beyond momentum: Under Major League Soccer's postseason format, the top two finishers in each conference get first-round playoff byes. However, Galaxy players will have their hands full at Rio Tinto Stadium, where Real Salt Lake — a winner in three of its last four games — hasn't lost all season. The Galaxy hasn't won there since April, 2013.
Real Salt Lake is also well-rested, having last played on Aug. 26. The Galaxy has played twice since then.
Plus the Galaxy will once again be without regulars Steven Gerrard, Jelle Van Damme and Robbie Keane, who did not make the trip because of injuries. Their absences will create minutes for others, such as Mike Magee and Ema Boateng and midfielder Raul Mendiola, who made his first MLS start last weekend.
Keane could return in time to face Orlando City on Sunday at the StubHub Center, the Galaxy's third game in eight days.
The Galaxy's schedule gets even tougher after that. Next up is a road game with Sporting Kansas City, which trails the Galaxy by five points in standings, followed by home-and-away games with league-leading FC Dallas in October.
kevin.baxter@latimes.com
---