Column: Galaxy's Aguilar unsure of his place on the team — and in the country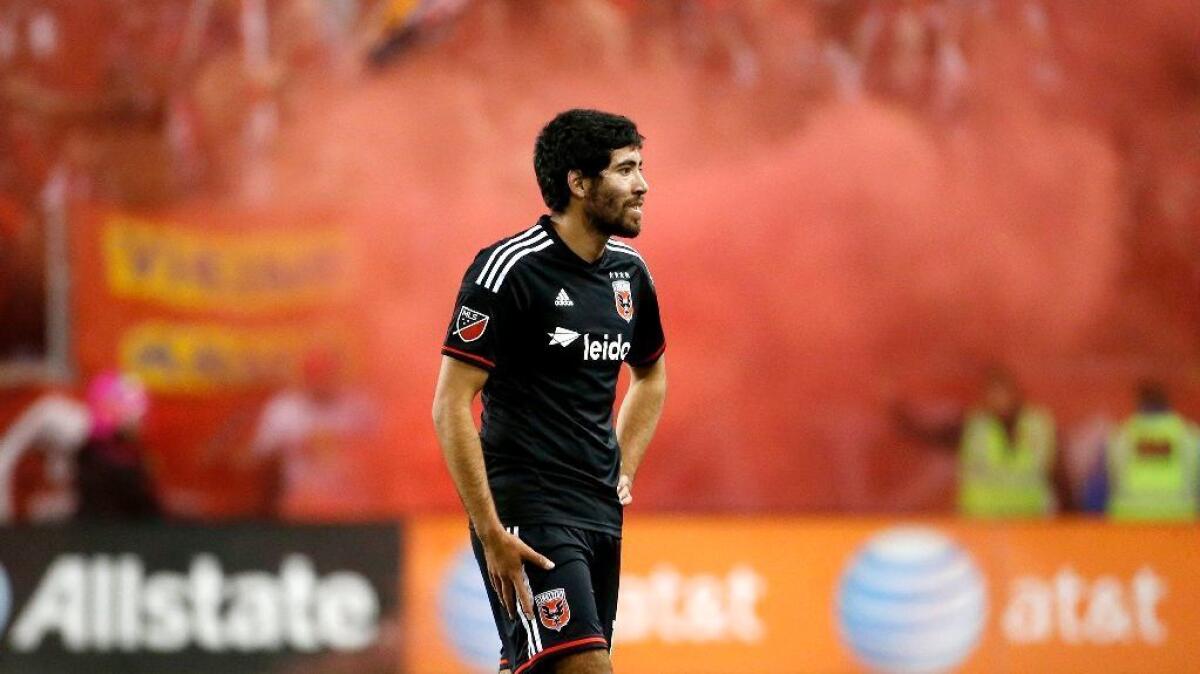 Miguel Aguilar never wanted to leave Mexico.
"All I could think of was all my friends are here, all my cousins are here. I want to stay here," he said of the day his mother bundled him and his brother Andres into a pickup pointed toward the U.S. border.
It was Aguilar's 11th birthday.
Twelve years later he doesn't want to go back. And that leaves Aguilar, a midfield hopeful with the Galaxy, trapped in uncertainty between his homeland and his home.
Aguilar is among the more than 861,000 undocumented immigrants who received protection from deportation under President Obama's Deferred Action for Childhood Arrivals (DACA). The executive order provides work permits for people brought to the U.S. as children, provided they meet certain conditions.
What it doesn't provide is a path to lawful, permanent status in the U.S. And with President Trump aggressively expanding immigration enforcement policies, Aguilar is now apprehensive about his future.
"He's targeting people like myself," Aguilar said. "I think that's grounds to be concerned."
A first-round pick of D.C. United in the 2015 MLS SuperDraft, Aguilar is believed to be the first DACA recipient to become a professional athlete. And though that temporary status allowed him to work, get a driver's license and graduate from the University of San Francisco with a finance degree and a 3.7 grade-point average, if the new administration rescinds DACA, Aguilar could find himself the first MLS player to be deported.
That's a fear that has become prevalent in the DACA community, said Harvard professor Roberto Gonzales, who has done extensive study on the program.
"To be sure, it's very palpable right now. They're justified in being anxious," said Gonzales, who surveyed 2,700 DACA beneficiaries in 2013 and found that nearly 85% of them worried that someone close to them would be deported.
"It's a population largely of American-raised, American-educated young people," Gonzales continued. "A generation or more of young people who have gone through many of the same experiences as their American-born friends and peers."
That certainly describes Aguilar's upbringing.
His parents separated when he was 9 and his mother Carmen fought to protect two sons and a daughter in the border town of Ciudad Juarez, where running gun battles between rival drug cartels had turned the city into one of most dangerous places on the planet.
So she secured travel visas for her children and sold the family's belongings — including Miguel's Disney videos and Hot Wheels cars — at a yard sale to finance their journey to Sacramento, where relatives took them in.
"We were just kind of leaving everything behind," Aguilar remembered. "We weren't thinking of coming back."
So when those visas expired, the Aguilars exchanged life on the firing line in Mexico for life in the shadows in the U.S.
Aguilar understood only a few words of English when he entered middle school in Sacramento, and with the family bouncing from apartment to apartment, he struggled in the classroom. But he thrived on the soccer field — which is where he met Tibor Pelle, a former UCLA player and coach who convinced him to apply himself in school as well.
Once in danger of dropping out, Aguilar became a model student at Encina Preparatory High. He then moved on to USF, graduating with honors a semester ahead of schedule.
USF is also where he met Erin Ah Choy, a follow student from Hawaii, whom he married last spring. She remains in Washington, where she works as an aide to Mazie Hirono (D-Hawaii), the first Japanese-born woman to be elected to the U.S. Senate.
After marrying, Aguilar, 23, applied for a green card, which he sees as the first step toward citizenship and a family. But that too appears to have become subject to politics. Although Aguilar said his application was approved long ago, he hasn't received the green card yet and he worries the Trump administration may be changing the rules there as well.
"It's a tricky situation," he said.
So is his place with the Galaxy. Aguilar appeared in 25 MLS games over two seasons with D.C. United, who traded his rights to the Galaxy in December in exchange for a fourth-round pick in the 2019 SuperDraft.
But the Galaxy's once-barren midfield has since been restocked with the January acquisitions of Romain Alessandrini, Joao Pedro and Jermaine Jones, leaving it unlikely Aguilar will make the first-team roster which will be finalized this week. And though that would leave him free to sign with any MLS team, Aguilar said he'd prefer to stay here and play for the Galaxy's USL affiliate, Galaxy II.
"If there's an opportunity there and there's upward mobility — which there is; a lot of the guys that played for the II are now playing on the first team — I'd consider that a good opportunity," he said.
For starters, a place with Galaxy II would bring a degree of permanence to Aguilar's life, allowing him to rent an apartment and bring his wife home from Washington. It might also help bring clarity to his uncertain immigration status, worries of which he can escape only on the soccer field.
"The field, for me, is a bit of a sanctuary," he said. "Definitely at times watching the news and reading different stories and articles, it is something that gets me thinking.
"I get angry sometimes. There's no empathy there, especially for kids."
Of the four Aguilars who came across the border together in 2004, Miguel was the only one young enough to qualify for protection, even temporarily, from deportation. As a result he won't speak publicly about the others, saying only that they remain in this country without legal status.
But it's clear the difficulties his single mother endured, first rescuing her children from blood-soaked Juarez, then trying to provide for them in a new country where she wasn't welcome, has colored Aguilar's world view.
"You're telling me just because she was born on the wrong side of this border, that doesn't make her a human anymore? That pisses me off," said Aguilar, who hasn't been able to see his father since he left Mexico. "The fact that a piece of paper is more important than humility and helping each other? I can go on and on about it.
"Just that fear of separation of families again. That's my biggest issue with this whole immigration stuff."
To read the article in Spanish, click here
Follow Kevin Baxter on Twitter @kbaxter11