Caleb Porter is out of the running for Galaxy coaching job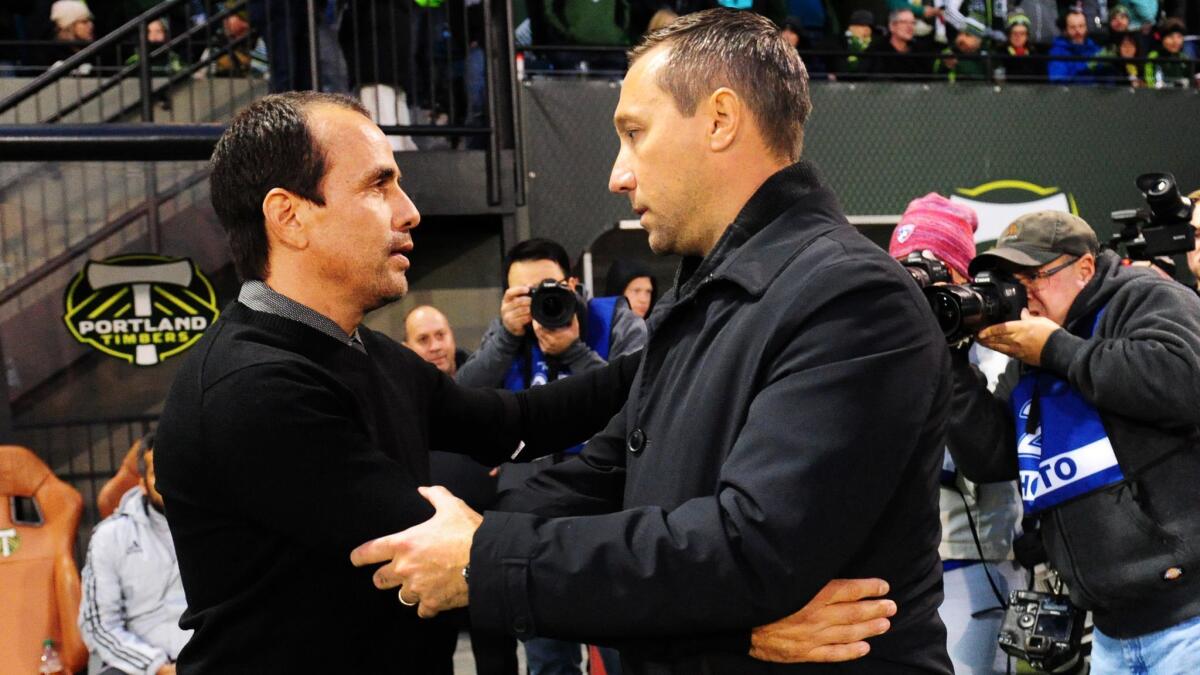 The Galaxy's search for a new coach took an unexpected turn Thursday when Caleb Porter, who appeared to have the job, turned his attention instead to the coaching vacancy with the Columbus Crew.
A person with knowledge of the negotiations with the Galaxy, but who is not authorized to speak about them on the record, said the team and new general manager Dennis te Kloese "didn't like everything we saw" and wasn't convinced Porter, who won an MLS title with Portland in 2015, would succeed with a big-city club.
The Galaxy had hoped to announce Porter's signing Friday with a news conference to follow Monday. Now it appears as if Porter will spend Friday finalizing his contract with the Crew, with people close to the coach saying it was he who turned down the Galaxy, not the other way around.
Either way the move is embarrassing to the Galaxy. On Monday, team president Chris Klein, Te Kloese and Dan Beckerman, CEO of AEG, the Galaxy's parent company, sat with Porter courtside at a Lakers game, a public appearance that appeared to indicate the talks were going well.
Klein and Porter were college roommates at Indiana University. The Galaxy have been without a permanent head coach since Sigi Schmid was fired in early September. Dominic Kinnear, his top assistant, coached the Galaxy in their final six regular-season games and remains interim coach.
Kinnear and Porter are the only two names the Galaxy have confirmed as candidates for their coaching job.
Columbus lost its manager when former Galaxy assistant Gregg Berhalter was hired by the U.S. national team earlier this month. Signing with Columbus would return Porter to Ohio, where he guided Akron to an NCAA title in 2010.