Column: Gyasi Zardes' trade leaves huge void in Hawthorne community he inspired
Brianna Campos waved a hand furiously in front of her face, trying to blink back the tears.
"I don't want to cry," the 17-year-old said. "It's so sad."
But her willpower was no match for her emotion, and a few seconds later she wrapped herself in the nearest hug and began sobbing.
"OK," she said, "now I'm crying."
She wasn't alone.
From a soccer perspective, the Galaxy's decision to send Gyasi Zardes to the Columbus Crew earlier this month was both smart and necessary. Such trades are common in sports. One player leaves, another comes in and everyone moves on; little mind is given to how it impacts the families and communities and friends that are left behind.
That impact was apparent Thursday at Hawthorne's Memorial Park, where some of the dozens of at-risk kids Zardes mentors, supports, transforms and encourages each week gathered to say their goodbyes.
For them, the trade was life shattering. Which is why Campos wasn't the only one crying.
"The older boys, they get it. It's sports," said Chris Cognac, the Hawthorne police sergeant who runs weekly futsal games that Zardes helped organize in a park once overrun by drug dealers and derelicts. "But so many of the little boys and girls really look up to him. I'm worried they're not going to understand.
"They're just going to see somebody that they love and they care about that isn't going to be here anymore. It leaves a huge vacuum."
Zardes will bid his final farewell Sunday, playing what could be his last home match at the StubHub Center when the U.S. national team meets Bosnia-Herzegovina (FS1, UniMas, UDN, 6:30 p.m. PST). It's an appropriate place for a sendoff since Zardes made his MLS debut, earned his first international cap and won his only league title in the stadium.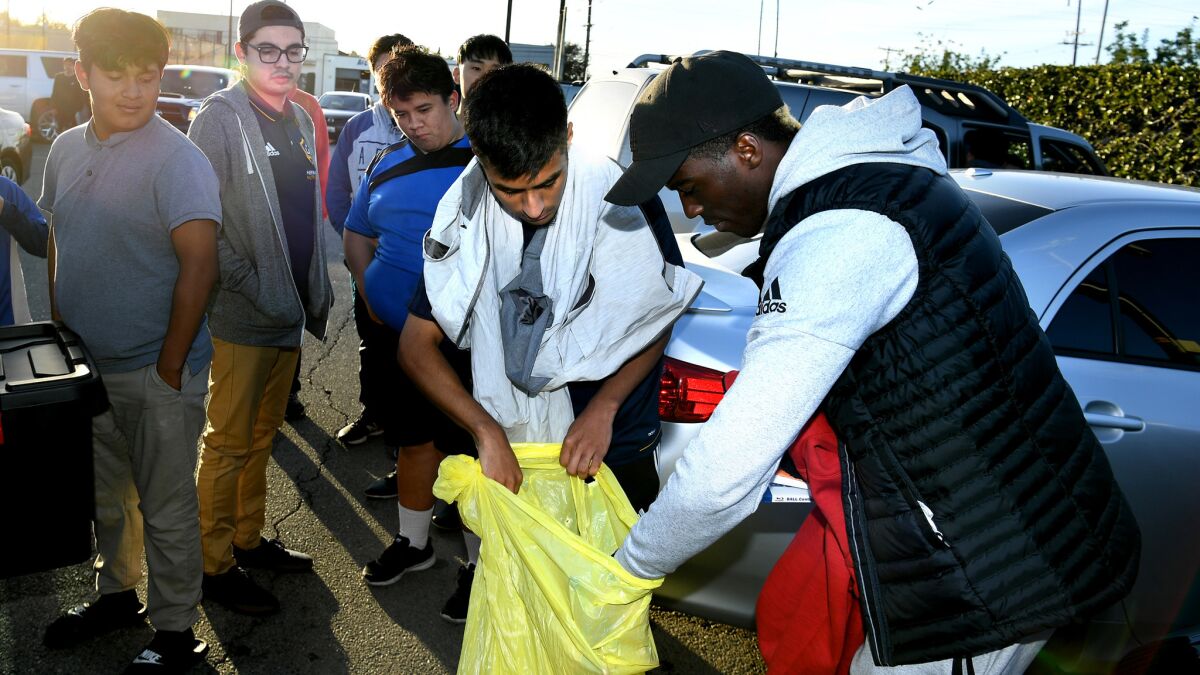 Eight months ago he strode across the same field to pick up his college diploma from Cal State Dominguez Hills.
"I accomplished a lot of things in this stadium," he said. "It holds a lot of value to me."
Not as much value as Zardes holds for the kids in Hawthorne who, for the past two years, have looked to him as a source of pride and inspiration. Zardes grew up here, in a first-floor apartment in a tan, 42-unit complex on Kornblum Avenue, the center of a 40-block area known as Moneta Gardens, where the sound of gunfire and the din of police helicopters are part of the daily soundtrack.
He attended the same schools and played in the same parks before finding a way out. Only he didn't stay away. Months after playing his first game for the national team, Zardes returned to unveil three futsal courts the Galaxy Foundation, the team's charity organization, built in a largely abandoned corner of Memorial Park.
Then he kept coming back, almost every Thursday, to play with and talk to kids no one else had time for. Once he even took the soccer cleats off his feet and gave them to a timid boy before driving home barefoot.
"He had a choice. He didn't come out here because he was forced to. That's something huge," said Juan Ortega, a UC Santa Barbara freshman who said he might not have gone to college without Zardes' encouragement.
"There was a time where I really didn't think that I could," Ortega said. "Even now he's still trying to help."
After a while Cognac began asking to see report cards. For those struggling in school, he and Zardes arranged for tutors to come to the park as well. More than two years later the park and the neighborhood surrounding it have been transformed.
"Not only did it bring a positive program, but it also gave an anchor to some of the local residents to feel like they could come out here and see some activity," said Hawthorne police chief Robert Fager, one of a half-dozen officers who came to the park to thank Zardes.
When he was a kid, Hawthorne police officers used to chase Zardes off the city's tennis courts, where soccer was prohibited. Last year Zardes interned with the department, and on Thursday the chief gave him an award.
"His absence will definitely be felt," Fager said.
Kourtnei O'Hara agrees. She was a high school junior who had given little thought to tomorrow, much less anything beyond that, when a friend urged her to come out to Zardes' weekly futsal games. She returned last week as a confident college freshman with a steady job and plans for the future.
"This has impacted my life," she said of Zardes' program. "It's really sad he's leaving. He did a good job. He helped all the kids. I feel like everyone has changed."
Including Zardes. But while he's changing teams and cities he's not changing what's important to him. He says he'll continue to mentor the seven sophomores he's been working with at Lawndale Leuzinger High, his alma mater. Only now it will be through FaceTime instead of face-to-face time. And during Thursday's goodbye he distributed his email address and phone number — in addition to the dozen or so pairs of soccer boots he always gives away.
"I don't even know what to say," offered the once-shy Campos, a budding public relations specialist who, thanks to Zardes, found a job and a voice.
The trade, she concedes, is a good one for the Galaxy, who got a proven scorer in Ola Kamara, as well as for Zardes, 26, who could use a change of scenery to reboot a career that has stalled. But it's a bad one for the kids at Memorial Park.
"I've made such strong friends here," she said. "All the experiences that I've had this year wouldn't have happened without Gyasi. He won't be forgotten.
"Everyone's like, 'he's leaving, he's leaving.' And he's not."
Follow Kevin Baxter on Twitter @kbaxter11
---
All about the beautiful game
Go inside the L.A. pro soccer scene and beyond in Kevin Baxter's weekly newsletter.
You may occasionally receive promotional content from the Los Angeles Times.