Jamaica's best shot is stunner for Mexico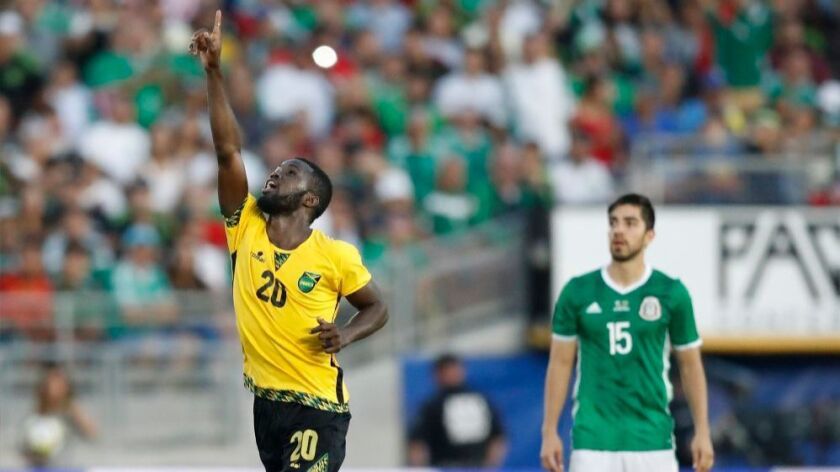 For a decade and a half, the U.S. and Mexico have been the region's unchallenged soccer powers.
The Americans have won the last three World Cup-qualifying tournaments, a competition Mexico leads this year. Mexico has won three of the last four Gold Cups, beating the U.S. in the final twice.
But that exclusive club is expanding. Because when Jamaica's Kemar Lawrence scored in the 88th minute of Sunday's Gold Cup semifinal at the Rose Bowl, it not only knocked Mexico out of the competition, 1-0, it served noticed that the tiny Caribbean nation is beginning to elbow its way into the conversation.
"The best way I could put is the biblical story, David slew Goliath," Jamaica coach Theodore Whitmore said. "It's overwhelming. Words can't explain."
But unlike David, who retired unbeaten, Jamaica has another match to play. It will meet the U.S. in Wednesday's tournament final in Santa Clara.
"This is the stage for greater things to happen," Whitmore said. "We still have a lot of work to do. We don't want to get carried away, we don't want to get overconfident.
"We just want to remain focused and stick to the job at hand."
Mexico, meanwhile, goes home early for the third straight tournament, having bowed out of this month's Confederations Cup in Russia in the semifinals and last year's Copa America Centenario in the quarterfinals.
"Soccer is so cruel," said Mexico assistant coach Luis Pompilio Paez, whose team left the field to a smattering of boos from the crowd of 42,393, believed to be the smallest to see El Tri at the Rose Bowl in 20 years. "Embarrassed, shame, we feel it. Because we wanted to win."
They didn't because of Lawrence and goalkeeper Andre Blake, who was sensational, making seven saves to shut out Mexico for the second time in 10 days.
Lawrence, a defender with the New York Reds Bulls of the MLS, gave Blake the goal he needed with two minutes left in regulation, bending a left-footed free kick around a five-man Mexican wall from about 25 yards. Mexico keeper Jesus Corona had a shot at making a save but appeared to give up on the ball, believing it would strike the goal frame.
Instead, it dipped inches under the crossbar.
Just before taking the shot, Lawrence stepped forward and repositioned the ball, a bit of gamesmanship a Mexican player protested. But referee John Pitti left the ball where it was and seconds later Lawrence put it in the back of the net for his first international goal in nearly three years.
It was also the first goal Mexico has allowed since the 10th minute of its Gold Cup opener, ending a 438-minute scoreless streak. And that wasn't the only streak that came to an end. The loss was Mexico's first in Gold Cup play since 2013 and first to a CONCACAF opponent in 24 competitive games.
The victory was historic in other ways too, since it made Jamaica the first team other than Mexico or the U.S. to reach consecutive Gold Cup finals. Jamaica lost to Mexico in the 2015 title game after upsetting the U.S. in the semifinals.
"That's a cycle we want to break," Whitmore said. "That's what we, as staff and players, discuss. It's always Mexico-U.S. We want to be in that top group. We want to be a team, a country that someone can talk about. And that's what we're working toward."
Because Mexico used its top players in the Confederations Cup in Russia earlier this month, it used a "B" team in the Gold Cup, one featuring 14 players with fewer than 10 international games; its 20 outfield players average 23.6 years of age. And that inexperience showed against Jamaica.
Although Mexico dominated the first half, owning a 2-to-1 lead in time of possession, it had nothing to show for it. However Blake, who plays in MLS for the Philadelphia Union, had a lot to do with that, making acrobatic saves on consecutive shots by Jesus Duenas and Erick Torres in the 12th minute and stopping Torres again on a header from the edge of the six-yard box 13 minutes later.
His best save of the second half came on a Jesus Gallardo header in the 82nd minute.
"The execution in the last 20 meters, the execution on the last pass, it wasn't there," said Paez, who managed Mexico in place of Juan Carlos Osorio, who was serving the fifth game of a six-game suspension for verbally abusing an official in the Confederations Cup. "The strategy was right but the players couldn't execute."
Twitter: kbaxter11
---