Kathryn Nesbitt's ambition and talent have forged her path to Women's World Cup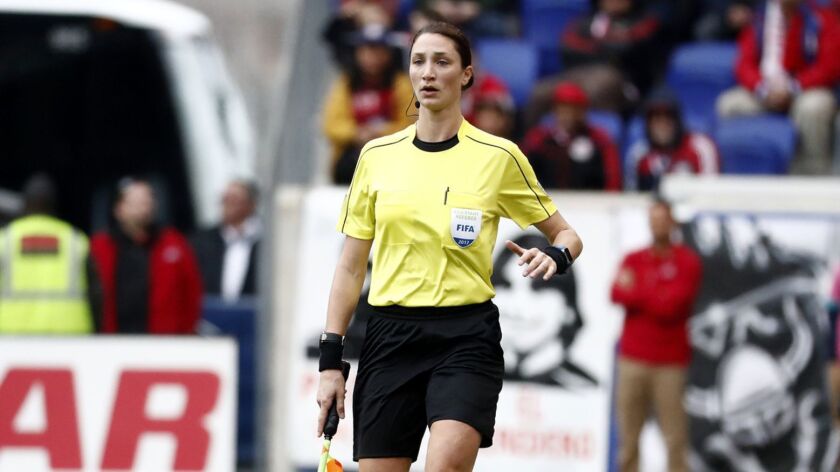 For all its complexities and often confounding rules, soccer is hardly a science. And that makes the task of officiating the game a breeze for Kathryn Nesbitt, an MLS assistant referee since 2015 whose day job is teaching chemistry at Towson University outside Baltimore.
But it can be difficult to explain how someone who once studied the effect of microdialysis probes on spreading depolarizations in brain tissue can also be bothered with determining if a striker is onside or not.
"A lot of people that aspire to be at a high level of things often carry that through many aspects of their life," Nesbitt said last month in a phone interview squeezed between lectures. "That's kind of always how it's been for me. I've always had a big passion for chemistry so I've taken that as far as I can.
"Same thing with refereeing. They're completely different interests but my passion just kind of drives my ambition towards both of them."
Nesbitt's ambition – and talent – are now taking her to France, where she is one of three U.S. officials chosen to call games in the month-long Women's World Cup, which kicks off Friday in Paris.
NWSL referee Katja Koroleva, 32, a mid-level practitioner in the emergency room at Cascade Valley Hospital in Arlington, Wash., will work as a center referee, just the fifth U.S. official selected for that honor since the inaugural Women's World Cup in 1991. Felisha Mariscal, a Spanish teacher at Chula Vista High who is also an MLS assistant referee, will join Nesbitt in running the sideline.
The World Cup will be the first senior international event for all three women, who are among 74 match officials chosen in April from the six FIFA confederations. Each had to pass challenging physical exams just to be considered.
For Mariscal, who made her MLS debut in 2014, a year before Nesbitt, there will be a transition to make to the women's game.
"The men's game is faster definitely. It can be more challenging," she said. "The level has improved so much, the speed also [in] the women's game. So I feel comfortable."
Working in MLS has also made Nesbitt and Mariscal familiar with the Video Assistant Referee protocol, a procedure that is used in MLS but only sparingly around the rest of the world. It will be making its Women's World Cup debut in France and the two women's experience will be vital.
"It helps a lot because we are constantly getting practice," said Mariscal, who has three brothers who are also MLS officials. "One of the main things is getting used to delaying the flag on situations that are close offside decisions. We focused a lot on delaying the flags."
That goes counter to what assistant officials are taught to do, which is to make the call quickly. Waiting, however, allows plays to continue to their logical conclusion so if video review determines a player was not offside, teams are not penalized for the referee's mistake.
Another change for the three U.S. officials will be working with all-female crews. That's unusual in this country but FIFA rules stipulate that female officials work women's games at the senior level while only men can do men's games.
"The best officials should be chosen for the best matches," argued Nesbitt, 30, who worked the 2016 U-17 Women's World Cup, the 2018 U-20 World Cup and, in 2017, became the first woman to officiate an MLS playoff game. "If women are proving to be the best officials then at some point it would be good that we can have not this diversity between the leagues but just to have the best officials.
"This is my highest goal right now."
Asked what the equivalent of a Women's World Cup assignment might be in her other job, Nesbitt paused for a moment.
Sign up for our weekly soccer newsletter »
"Like a Nobel Prize, right?" she answered.
Mariscal, 36, will be working her first world championship in France after taking a break from officiating to have a baby. Her son, who will turn 3 next month, imitates his mother and uncles by running around the house with a flag and whistle.
"He enjoys it a lot," Mariscal shared. "He'll say, 'I'm going to work, Mom.' "
He'll be going to France for a couple of weeks later this month to watch his mom. Nesbitt's family is going, too, though she's asked them not to cheer the referees.
"Hopefully no signs," she said. "But I'll know they're there, which is what really matters."
Neither woman has been told how many games she'll work in France since officials are graded after each match, then rewarded based on performance; the better you do, the more games you get. But Nesbitt, who has a PhD in chemistry, does know how she'll respond to any unhappy coach or player who dares call her a stupid referee.
"Hey!" she plans to answer. "That's Dr. Nesbitt to you!"
kevin.baxter@latimes.com | Twitter: @kbaxter11
---
All about the beautiful game
Go inside the L.A. pro soccer scene and beyond in Kevin Baxter's weekly newsletter.
You may occasionally receive promotional content from the Los Angeles Times.