LAFC begins playoff push with 2-0 victory over Rapids
Bob Bradley said he believes an MLS season is comprised of several stages, each one separate but equal.
His Los Angeles Football Club started the playoff-drive part of the schedule on the right foot, riding second-half goals from Lee Nguyen and Diego Rossi and strong goalkeeping by Tyler Miller to a 2-0 win over the Colorado Rapids.
"This is the finish," Bradley said. "There's a lot to play for in terms of who can win the Western Conference. There's a lot of things still in sight. You don't want to be satisfied with anything at this point."
Bradley was definitely happy with Sunday's win, his team's second in five days, because it pulled LAFC (12-7-6) even with Sporting Kansas City in the Western Conference standings with 42 points, three behind first-place Dallas.
LAFC has played one more game than both Kansas City and Dallas but it also has the easier schedule the rest of the way, with just two of its final nine games coming against teams that ended the weekend with a winning record.
"This is when you start to position for the playoffs," Nguyen said. "So every win, every road win is important."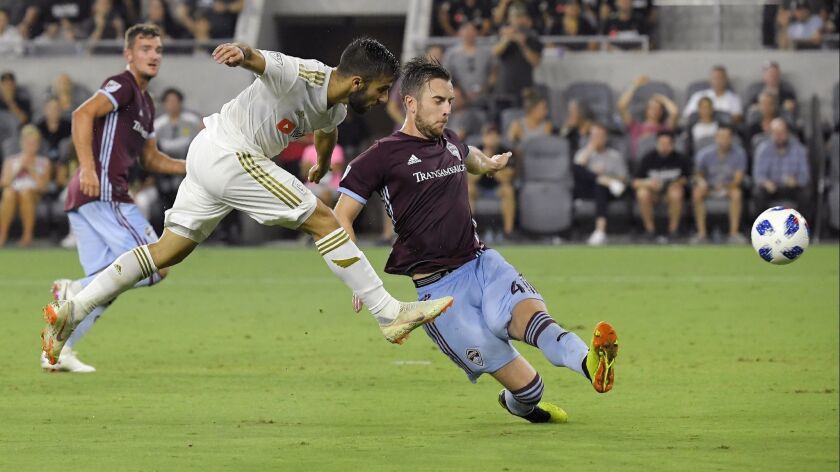 And Nguyen played an important part in this one. After a scoreless first half in which LAFC dominated possession but put just two of its seven shots on goal, the midfielder gave his team the only goal it would need four minutes into the second half.
Colorado midfielder Jack Price's poor clearance of a Steven Beitashour pass that was intended for Carlos Vela sent the ball only as far as the edge of the penalty area. Nguyen, charging forward, chested the loose ball down on one hop, spun to his left to get away from defenders Deklan Wynne and Danny Wilson and pushed a soft left-footed shot into the upper corner for his second goal of the season.
That proved to be more than enough support for Miller, who hasn't allowed a goal since a one-game benching earlier this month.
"The biggest thing for me was just to take a mental break and see the game from a different perspective," said Miller, whose 24 starts this season are 21 more than he had in his MLS career coming into the season. "Sometimes you get so caught up in the emotions and the physical part of the game, how demanding it is, that you kind of lose focus and you start to overthink things and try to do too much."
Miller got some help Sunday from new center back Danilo Silva. LAFC has allowed just two goals in three games since Silva replaced Walker Zimmerman in the middle of the defense, and the Brazilian made arguably the save of the game in 75th minute Sunday.
After Colorado's Niki Jackson beat him to a long Jack McBean pass at the edge of the penalty area, Silva raced back and used his right foot to knock the ball away as Jackson prepared to shoot from the center of the box.
Minutes later, Miller wrapped up a dangerous header from McBean at the right post, preserving his eighth clean sheet of the season, tied for third-most in MLS. It also marked LAFC's first back-to-back shutouts.
"They just wanted me to … refocus and then come back and get ready for the last stretch of the season," said Miller, who finished with five saves.
Rossi closed the scoring two minutes after Miller's final save. After running to a heel pass from Adama Diomande at the halfway stripe, Rossi raced up the right wing and sent a right-footed shot into the side netting at the far post for his eighth goal.
"When you win, you get more confidence," Vela said. "It's the way to finish the season."
kevin.baxter@latimes.com | Twitter: @kbaxter11
---
All about the beautiful game
Go inside the L.A. pro soccer scene and beyond in Kevin Baxter's weekly newsletter.
You may occasionally receive promotional content from the Los Angeles Times.