First-season success sets foundation for LAFC to build on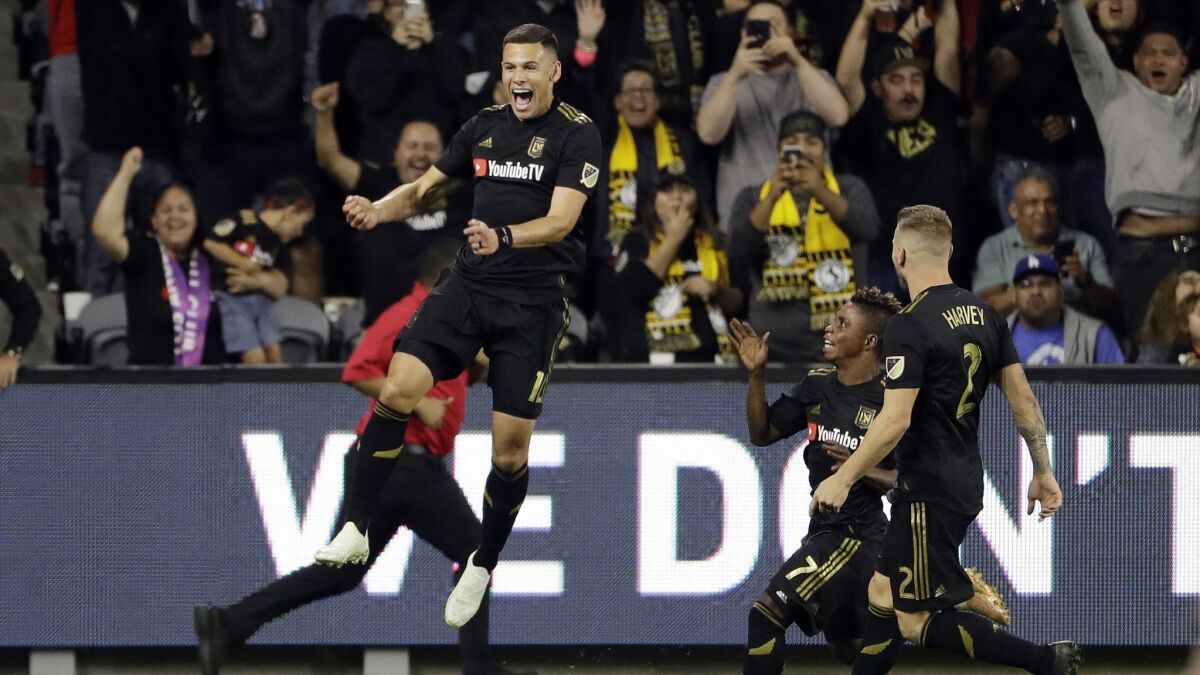 John Thorrington was on dad duty Saturday morning, which may not have been exactly how the Los Angeles Football Club executive vice president had planned out his day. But given the circumstances of his team's season-ending playoff loss two days earlier, it wasn't a bad way to spend the day.
"They move on so quickly," Thorrington said of his three kids, aged 7, 5 and 2. "Family and children offer a refreshing perspective on things and help remind us of what really matters."
Not that Thorrington needed much help with the perspective thing. Because while LAFC's early exit was unexpected the team made history by earning 57 points, a record for an expansion team, and finishing third in the regular-season standings, something only one other first-team team had done in the last two decades.
"It's not much solace now but there is real excitement long term," Thorrington said. "This year was all about laying a strong foundation on which we can build and hopefully achieve sustainable success.
"We certainly have a bitter taste in our mouths. But in time it will be viewed as the first step."
LAFC had an unusually long three-year run-up to its first game and Thorrington, in his first try at putting together a team, used his time well, building a roster around Carlos Vela, a finalist for the league MVP award, and Uruguayan forward Diego Rossi. The pair combined for 26 goals and 22 assists.
With the first pick in the expansion draft Thorrington chose Seattle's Tyler Miller, whom he had met while a graduate student at Northwestern. That proved to be a particularly inspired choice when Miller, pushed into the starting role when Luis Lopez arrived at winter camp injured, won 16 of his 33 starts while posting 10 shutouts.
The back line, which lost both captain Laurent Ciman and Egyptian World Cup player Omar Gaber during the summer, responded well with Walker Zimmerman, Steven Beitashour and newcomer Danilo Silva stepping up. And in the midfield, the motor of coach Bob Bradley's demanding possession-oriented attack, U.S. World Cup veteran Benny Feilhaber set career highs for starts, appearances and minutes played.
"I certainly was hopeful we would be competitive. But we were in uncharted territory. There was no history to draw upon," Thorrington said. "How would Carlos combine with Diego Rossi? How would injuries hurt us?
"Those answers, I think we got more right than wrong. We certainly feel optimistic about the years to come with the group that we've assembled here."
Especially since the core of that group is coming back. Vela, Rossi and midfielder Andre Horta are all signed to multi-year contracts. Norwegian Adama Diomande, who scored 12 goals after coming to the team in midseason, is also back and LAFC is negotiating to keep Silva, who joined the team on loan from Brazil's Internacional.
With the team payroll at $14.6 million, according to the website spotrac, Thorrington said the team also has the flexibility to add some pieces.
"There are very few decisions to make," he said. "It's a very, very different offseason."
Zimmerman said the team's success, combined with a painful playoff loss decided on a goal that deflected in off his head, left the players both confident and hungry for more.
"When you have a team that realizes at the end of the season that we still felt like we underachieved, that's pretty special," he said. "We did a thing that not a lot of expansion teams have done and we still walk away knowing that we have a lot more to give."
Thursday's final score wasn't the only sour note to the end of LAFC's season though. The game was also marred by fans throwing debris on the field and the revival of an anti-gay chant. The team its main supporters' group issued a joint statement last week promising to eliminate both, a pledge Thorrington repeated Saturday.
"It caught everybody off guard and everybody will address it very aggressively. We'll get to the bottom of it; we'll stomp it out," he said. ""We understand there is work to do on that front and we'll do it."
kevin.baxter@latimes.com | Twitter: @kbaxter11
All about the beautiful game
Go inside the L.A. pro soccer scene and beyond in Kevin Baxter's weekly newsletter.
You may occasionally receive promotional content from the Los Angeles Times.