LAFC expected to lose captain Laurent Ciman to French team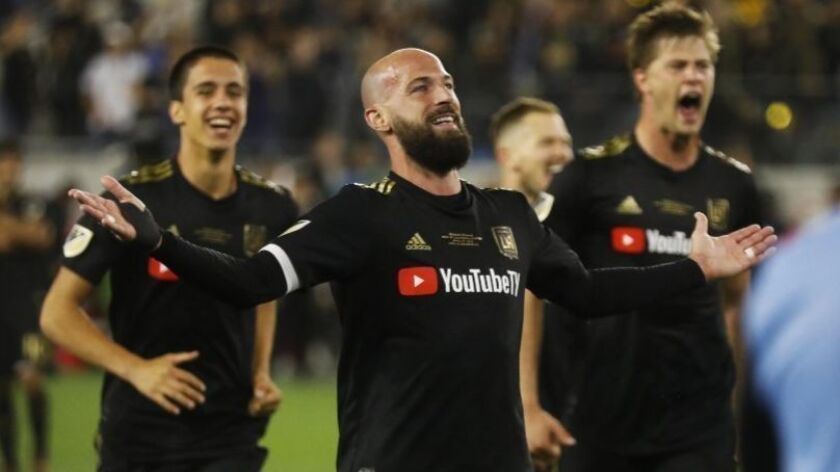 The Los Angeles Football Club, aiming to become the fourth MLS expansion club to reach the playoffs in its first season, may have to continue that quest without captain and center back Laurent Ciman. On Monday, the club was close to completing a transfer that would send him to Dijon of France's Ligue 1.
Among the issues still outstanding was the transfer fee Dijon would pay LAFC.
Ciman, 33, is in the final year of a contract that was worth $661,666.67 this season, according to figures provided by the MLS players union. He wanted an extension. His deal with Dijon is thought to be for two years with a third-year option. The value of the contract was not released.
With eight games left, LAFC (12-7-7) is third in a tight Western Conference playoff race in which nine points separate the top eight teams. The first six qualify for the postseason.
Dijon is one of two unbeaten, untied teams three games into the Ligue 1 season.
A former MLS defender of the year with the Montreal Impact, Ciman was among the foundational building blocks of LAFC's first team when he was acquired in a trade last December. Ciman was originally upset over the trade because his daughter Nina, who is autistic, was flourishing in a French-language treatment program in Montreal.
Ciman eventually embraced the move, with assistant coach Kenny Arena, whose son Holden is also autistic, helping in the adjustment.
But Ciman's final month in L.A. was a difficult one, beginning with a five-game winless streak punctuated by Ciman's penalty-kick miss that resulted inLAFC's loss to Houston in a semifinal of the U.S. Open Cup.
When talk of a transfer began heating up last week, coach Bob Bradley decided not to have Ciman suit up for Friday's cross-town rivalry game with the Galaxy.
"I don't think that he's fully focused in the moment," Bradley said at the time.
"Laurent has been an important guy. He's passionate, but he's also emotional, and he's a guy that when his emotions are running high, sometimes it's not always clear if he's ready, especially for a game like that."
Ciman, a member of the Belgian team that reached the quarterfinals of the 2014 World Cup, was the final player cut by Belgium ahead of this summer's tournament. He has 20 international caps and also played for four clubs in Belgium before moving to MLS and Montreal four years ago.
A two-time MLS All-Star, he appeared in 107 league matches with Montreal and LAFC. In 22 starts this season, he scored a career-high three goals, including a pair of game-winners.
The departure of Ciman, an aggressive, gambling center back, creates a hole in the middle of LAFC's back line. Danilo Silva, who joined the team on loan from Brazilian club Internacional earlier this month, is the most likely replacement, although he came out of last week's game midway through the first half with an injury.
The transfer could also mean more playing time for Canadian international Dejan Jakovic and Portuguese rookie Joao Moutinho.
kevin.baxter@latimes.com | Twitter: @kbaxter11
---
All about the beautiful game
Go inside the L.A. pro soccer scene and beyond in Kevin Baxter's weekly newsletter.
You may occasionally receive promotional content from the Los Angeles Times.