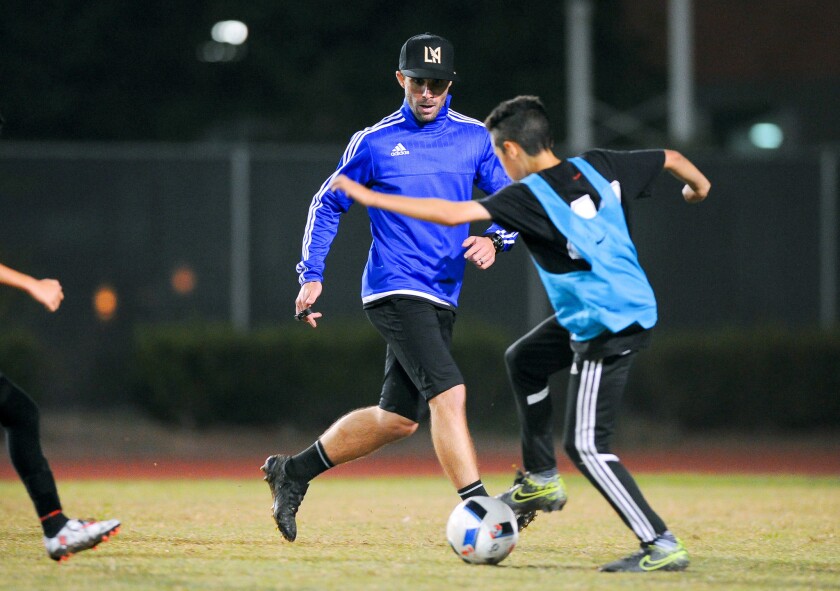 When the owners of the Los Angeles Football Club gave John Thorrington the keys to their soccer team three months ago, he had little more than an idea and his own enthusiasm with which to work.
"There's an excitement to that," said Thorrington, an executive vice president for Major League Soccer's expansion club, which joins the league in 2018. "I just see endless possibilities with a blank slate. It's much better to do that than reboot a system that might not be exactly what you want."
This article is one in an occasional series on the founding of the LAFC franchise:
Thorrington decided to build from the ground up and in soccer that means starting with 12-year-olds, the youngest age allowed for a player in a youth academy. So he started a developmental program, hired a youth coach and recruited the first players in franchise history, none of whom can stay up past 10 p.m.
He'll get a report card this month on the progress of those fifth- and sixth-graders when LAFC's academy team takes part in a seven-on-seven tournament in suburban Dallas, the first competitive games in franchise history.
"They will be wearing our colors and representing our brand," Thorrington said.
Every MLS franchise has an academy where youngsters are tutored in the team's style of play, hoping to develop them into players that can someday graduate to the professional team. And Thorrington recites a predictable list of the qualities he says will define an LAFC player: high soccer IQ, athletically gifted, technically proficient, mentally tough.
"But that's not bigger, stronger, faster. I would view that more sharp, quick, agile," said Thorrington, 36, who was that kind of midfielder during a 14-year professional career in Germany, England and the MLS in addition to four games with the U.S. national team. "The team that we want to build is one that is very fast-paced, plays on the front foot, is the aggressor in all games."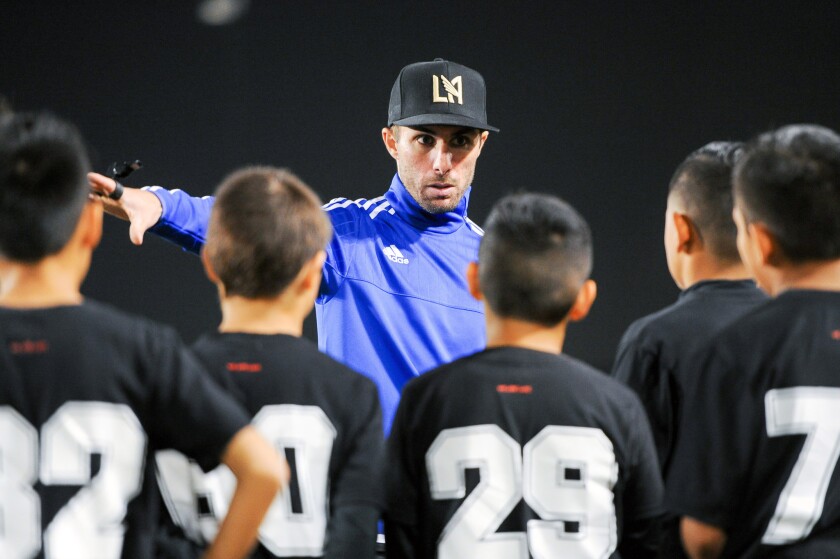 And although there's a big difference between 12-year-olds and the players who will fill out the team's MLS roster, Thorrington says the Dallas tournament will mark a minor milestone toward determining LAFC's direction.
LAFC's youth team practices at Cal State Los Angeles, where Joey Cascio, a youth coach with a commitment to possession-style soccer, trains more than two dozen U-12 boys three nights a week.
On a recent Monday night, parents watched from the stands as Cascio, wearing a blue warm-up jacket, black shorts and a black LAFC hat, meted out praise and punishment. Before practice, he gathered his students and reminded them some of the best players in the world started out on the bench. But when the boys took the field in the school's 4,000-seat soccer stadium, none of them wore numbers under 27, a visual reminder no one has made the team yet.
Cal State L.A. and the team would like to work out a long-term deal as the academy expands to include four other age-group teams over the next two years. Thorrington, noting the school's location near the city center and its two on-campus high schools, is optimistic about the negotiations.
And in what's becoming typical for LAFC, the franchise is taking an unconventional approach toward building out that academy.
In the 18 months since its birth, the team has hired a president in Tom Penn, a former NBA executive, with no previous soccer experience; a soccer operations chief in Thorrington, who had never built a team; and it's giving a big voice in the development of its academy to Nikki Mark, who worked in the music industry and for a hospitality company.
Mark was president of FC Los Angeles, the Westside youth soccer organization where her two sons have played and that her former bosses sponsored. However, that did little to prepare her for some of the bare-knuckles brawls that figure to erupt when LAFC tries to lure stars away from established clubs.
"Southern California is the most talent-rich youth soccer region in the USA, and probably has fiercest competition between clubs trying to court the top players, who have plenty of options," said Mike Woitalla, an executive editor who covers youth soccer for SoccerAmerica.com.
That's why Thorrington and his yet-to-be-named academy director will be responsible for all player-related decisions, leaving the off-the-field matters to Mark.
The idea, Thorrington says, isn't to follow what has been done, but to do what no one else considered. It's the same way he looks at his players, local youngsters he insists will one day form the core of LAFC's senior team.
"I have huge plans for this group of 12-year-olds. I've told them. I've told their parents," he said. "They're our first signings, our first competitive game [in the tournament].
"I'm really excited to see the end of that story."
---