Column: Paris Saint-Germain soccer club insists Neymar deal will make both dollars and sense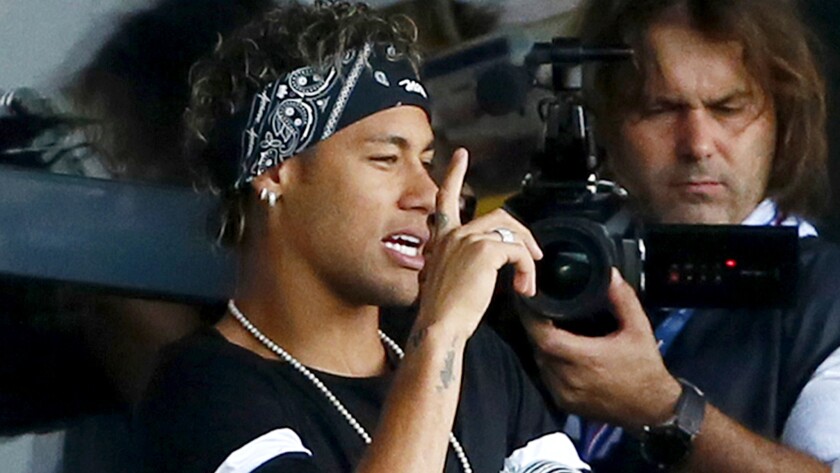 Here are a few things worth $613 million:
The combined 2017 payrolls of the Milwaukee Brewers, Tampa Bay Rays, Arizona Diamondbacks, San Diego Padres, Cincinnati Reds, Oakland Athletics and Chicago White Sox
A fleet of a dozen Boeing 737 jets
Four Rembrandts and a painting each by da Vinci and Raphael
One 25-year-old soccer player from Brazil
When French club Paris Saint-Germain agreed last week to pay a $263-million transfer fee for Barcelona's Neymar da Silva Santos Jr. — known to soccer fans as Neymar and now to bankers as "sir" — it seemed to strain the bounds of economics, logic and common sense. Yet that price, more than double the previous record for a transfer, was simply a down payment to get Neymar out of the final four years of a deal with his Spanish team.
PSG had to spend an additional $350 million in salary and bonuses, according to Forbes, to sign Neymar to a five-year contract that will make him the highest-paid player ever in a team sport. Add it up, and PSG spent well over half a billion dollars on a striker who never led his previous team in scoring.
It's a deal so gargantuan it sent shock waves through soccer — and financial — circles. Yet it's also one that not only could prove profitable for PSG, but soon may be imitated by other clubs, says Stefan Szymanski, a University of Michigan professor who has authored seven books on the economics of soccer and international sport.
"For global soccer, there is the means to monetize this," Szymanski said. "It's really how many eyeballs are you dragging? How many clicks are you dragging to your site through having this individual?
"And Neymar is obviously worth it."
The early returns certainly suggest that's true. On Friday, as Neymar was being formally introduced as PSG's newest signee, fans waited hours to spend $118 apiece on replica Nike jerseys bearing his name. The club said it sold more than 10,000 shirts, and the demand was so great, that shoppers visiting stores at the team's Parc des Princes stadium or along the Champs-Élysées were limited to one jersey apiece Saturday, when Neymar made his PSG debut.
But the real money to pay for the Brazilian's contract could come from far outside Paris. The global reach of the English Premier League and top European teams such as Barcelona, Real Madrid and Bayern Munich have turned China, India and much of Asia into a vast and rapidly growing source of revenue — one which clubs have begun to tap through regular preseason tours.
The U.S. market has been no less lucrative, with broadcast rights and merchandise sales producing hundreds of millions in annual revenue. NBC's six-year deal with the EPL is worth $1 billion, for example, and the recently concluded International Champions Cup, an eight-team series of exhibitions involving top European clubs, sold more than 680,000 tickets, with one seller getting more than $5,500 on StubHub for a ticket to last month's Real Madrid-Barcelona game in Miami.
That's money European teams didn't have access to until recently. And with Facebook allowing teams to track their fan bases — the highest concentration of Arsenal's 42 million fans is in Ethiopia, while the number of Bayern Munich supporters in the U.S. has more than doubled, to 27 million, in the last three years — it has become easier to target marketing at receptive audiences.
"Once you start to get into social media and global markets, where we're talking about monetizing clicks, Internet views, whatever, we may be moving into a different world," Szymanski said. "If Neymar makes Paris Saint-Germain the most-followed club in the world on Facebook or on Twitter, that turns this into a commercially sensible expenditure."
With Neymar coming to Paris with more than 130 million followers on social media and a stable of sponsors that include Gillette, Red Bull, Nike and Panasonic, that may not be a reach. Nasser Ghanim Al-Khelaifi, the team's CEO, said Friday that Neymar's signing increased the value of the team by a third, to $1.75 billion, overnight.
And he promised merchandise sales, new sponsorships and increased ticket prices would keep the team's losses from exceeding the limit allowed under financial fair play guidelines.
But there are also soccer reasons for Neymar's move. In Barcelona, he was the third wheel on a team steered by Lionel Messi and Luis Suarez. At PSG, the team will be built around him — especially considering that Neymar, at 25, soon will replace 30-somethings Cristiano Ronaldo, Messi, Suarez and Zlatan Ibrahimovic as the world's dominant player.
That allowed Neymar to say with a straight face Friday that the move to France had nothing to do with money.
"I was never motivated by money," he told a packed news conference at the Parc des Princes. "What I think about is happiness. If I was following the money, I would maybe be in some other country."
He'll cash the checks just the same. But the goal, clearly, is to bring the team the one prize it's missing: a Champions League trophy. The Qatari investment company that bought the team in 2011 has invested billions in the club, winning four consecutive Ligue 1 titles and three domestic cups.
But PSG has never gotten past the quarterfinals of Europe's biggest club competition, and Al-Khelaifi, an infamously inpatient CEO, has spent more than $1 billion on transfer fees alone in an effort to win a contest that pays its winner less than $106 million.
PSG's oil-rich ownership group loses that much in the sofa cushions each year. Yet the Neymar deal, Al-Khelaifi insists, is one that will be profitable — and if it is, it will be one other teams soon will try to copy.
"When we look at Neymar as a brand with PSG, I don't think it is expensive," he said. "Am I sure we are going to make more money than we paid? Definitely."
Follow Kevin Baxter on Twitter @kbaxter11
---
All about the beautiful game
Go inside the L.A. pro soccer scene and beyond in Kevin Baxter's weekly newsletter.
You may occasionally receive promotional content from the Los Angeles Times.