Column: Sarachan deserves reward for steadying an uncertain U.S. national team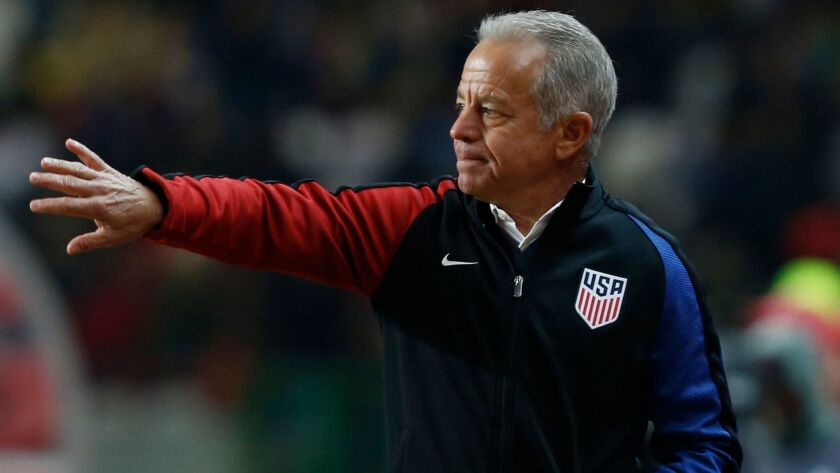 When the men's national soccer team gathers this week at StubHub Center for its first training camp of the new year, it will do so beneath a dark, heavy cloud of uncertainty.
Uncertainty because for the first time since 1986, the U.S. is entering a World Cup year without an invitation to the big summer dance. At this point, the team isn't even sure when it will play its next competitive match.
Uncertainty because next month in Orlando, the U.S. Soccer Federation will be holding its first contested election for president in 20 years. Until then, expect little in the way of directives — or even direction — from the top.
Uncertainty because the coaches, headed by former Galaxy assistant Dave Sarachan, will see their contracts expire seven weeks after the USSF election. It's hard to plan for the next four years when you're not sure you'll be around for the next four months.
"As of now, I'm working on the premise that that could be it," said Sarachan, who replaced Bruce Arena as U.S. coach last October, two weeks after the failed World Cup qualifying campaign ended in a loss to Trinidad and Tobago.
"Or it could be extended throughout the year," he continued. "Or beyond. I don't know."
See? Clear as mud. In fact things are so uncertain Sarachan doesn't even have an official title, answering to "interim" coach, "acting" coach and even "caretaker" coach.
Yet for all that uncertainly there is no doubt Sarachan, a steadying presence deep in wisdom and experience, is well-prepared to lead the national team through that instability.
"I don't take it lightly or for granted, the position that I hold at the moment," Sarachan said. "It's the highest you can go and I'm very aware of that and I'm humbled by it.
"I take it very seriously in terms of making sure everything that I do in this position is done for the good of the game and good of the players that are going to be a part of this in the big picture."
That will remain true, Sarachan says, even if it's a big picture from which he is eventually cropped out. It's an admirable pledge of loyalty coming from someone who waited a lifetime for an opportunity that could be over before the NBA playoffs start.
Sarachan spent a large part of his career hidden in the long shadow cast by Arena, a friend and mentor as well as the most successful coach in U.S. soccer history. He was an Arena assistant at the University of Virginia, in MLS with D.C. United and the Galaxy and in two stints with the U.S. national team. Together they won four MLS Cups and took the U.S. to the quarterfinals of the 2002 World Cup, the best performance in the modern era.
"Dave's been around me for a lot of years. He's very loyal," said Arena, who resigned as coach of the national team three days after the loss in Trinidad, opening the door for his longtime assistant.
But Sarachan, who saw his son Ian follow him into coaching as an assistant at Santa Clara, has been successful on his own too. He took Cornell, his alma mater, to consecutive NCAA tournament appearances and led the Chicago Fire to a Supporters' Shield, a U.S. Open Cup championship and a spot in the MLS title game in his rookie season. He won a second Open Cup and got the Fire into the Eastern Conference semifinals and finals over the next three seasons.
"I have 15 years of head coaching experience," said Sarachan, 63. "I've sat in the seat for many years [and] it's like riding a bike. You have your own way, your own approach.
"And now, going forward, there's another opportunity. Not only for myself, but for the new players coming in."
Just which new players will be coming in for the 17-day training camp will be announced Monday but Sarachan said it will be a young roster, with an average age of around 24 – nearly four years younger than the lineup the U.S. used in the last qualifier. That figures to place the emphasis in this camp on teaching, one of Sarachan's strong suits.
"Dave's best quality is he likes to be on the field coaching," Arena said. "On the field is the thing he loves to do."
One of the lessons Sarachan will be teaching is how to turn the page on the first unsuccessful World Cup qualifying campaign by a U.S. team since 1986. After the debacle in Trinidad, Sarachan had less than a month to prepare a disappointed team for a November friendly in Portugal. When the U.S. emerged with a 1-1 draw, Sarachan won rave reviews from federation officials for the way his team handled the challenge.
"Nothing but positives," a team spokesman said.
Now Sarachan believes it's time to start writing a new chapter. The U.S. Soccer Federation has nearly two years to elect a new president, build a new foundation and put together a new team before qualifying for the 2022 World Cup begins.
"Until all of that is established, everything is sort of put on hold," Sarachan said. "My guess is it will all be sort of determined and discussed once a president is named and in place. Then the policy will follow."
Part of that process will entail finding a coach. And Sarachan deserves to be part of that conversation.
"I have a lot of gas left in the tank," he said. "I want to continue to coach. I enjoy it. I love being part of the national team.
"I look at the glass as half full. For me personally, and for the program."
Follow Kevin Baxter on Twitter @kbaxter11
---
All about the beautiful game
Go inside the L.A. pro soccer scene and beyond in Kevin Baxter's weekly newsletter.
You may occasionally receive promotional content from the Los Angeles Times.