Sigi Schmid, former Galaxy coach, dies at 65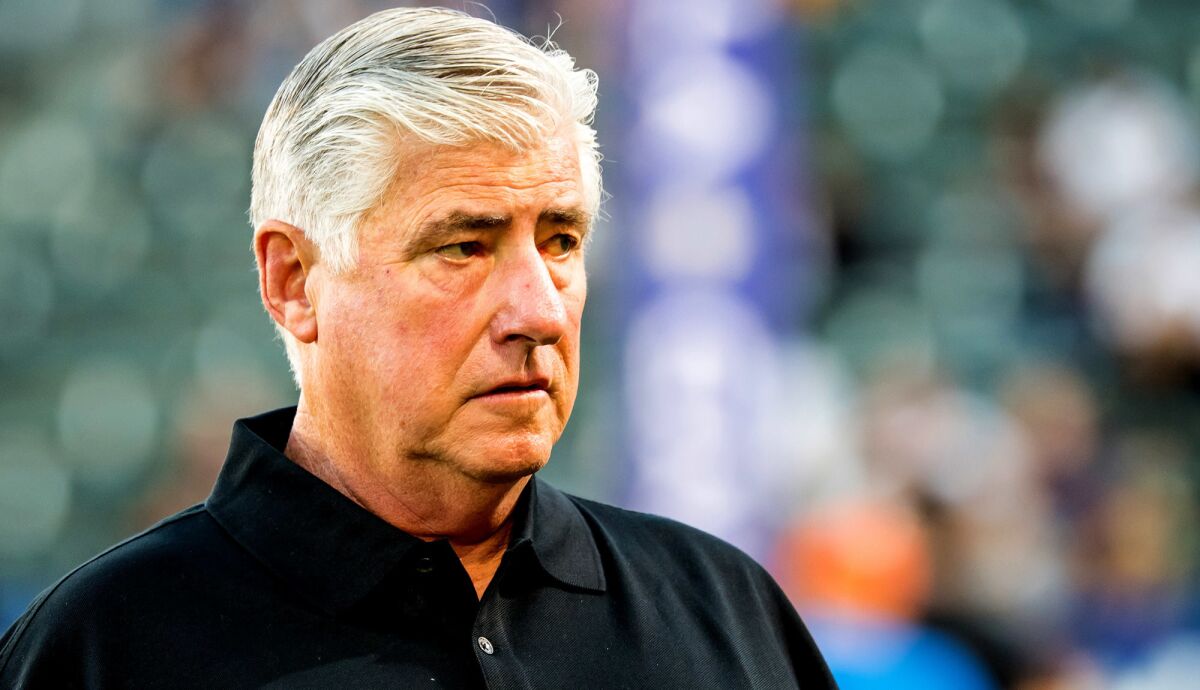 Former Galaxy coach Sigi Schmid died Tuesday, three weeks after being hospitalized at Ronald Reagan UCLA Medical Center in need of a heart transplant. He was 65.
The cause of death was not disclosed.
Schmid's family issued a statement Wednesday through the Seattle Sounders, one of three MLS team's the coach worked for, confirming his death.
"Our family is deeply saddened by his passing and is taking this time to grieve the loss of a tremendous husband, father, leader and mentor. We also recognize how much Sigi meant to so many people across the U.S. Soccer landscape and around the world at different levels of the game. That community meant a great deal to him as well. While we mourn his loss, we appreciate privacy during this challenging time."
Schmid was the winningest coach in MLS history with 266 regular and postseason victories over 18 seasons. He led the Galaxy to its first MLS Cup title in 2002 and guided the Columbus Crew to a league championship six years later. He also won three Supporters Shields, which goes to the team with the best regular-season record, captured five U.S. Open Cups and in 2000 he took the Galaxy to their only CONCACAF title.
Schmid has long had problems with his heart and there was quiet concern in the Galaxy locker room last season about the coach's health. He was hospitalized with pneumonia during his first season in Seattle in 2009 and again for undisclosed reasons in 2015, missing a match.
Schmid, who was inducted into the National Soccer Hall of Fame in 2015, also won three NCAA championships in 19 years at UCLA, his alma mater, coaching the Bruins to a 322-63-33 record and 16 consecutive playoff appearances.
He was inducted into UCLA's Athletics Hall of Fame in 1996.
As both a college and MLS coach, Schmid frequently squared off against Bruce Arena, who went from being a rival to a becoming friend and neighbor of Schmid's in Manhattan Beach.
"Sigi was passionate for the game, a tireless worker, and was loved by his players," Arena said Wednesday. "His accomplishments at every level were truly remarkable and he will be missed."
Former U.S. national team coach Jurgen Klinsmann, whose family grew up not far from Schmid's in southern Germany, was another longtime friend and confidant.
"He was an amazing family person and his love for soccer was endless," Klinsmann said Wednesday. "He was like an encyclopedia. He formed soccer in this country like no one else over the last 30 years, at UCLA, in the college world, or by building the success and foundation of the Galaxy, the Columbus Crew and the Seattle Sounders. His brain was always going 200 mph.
"He was such a giver. Sigi leaves us far too early. People like him are very rare in this world: straight forward, giver, passionate, endlessly dedicated to his mission and to his family."
Born in Germany, Schmid was 4 when the family moved to Southern California, where his father worked in a brewery and his mother ran a German deli. His father had been conscripted into the German army as a teen and was captured by Allied troops in Normandy in 1944, then held in England until after World War II. He learned English during his time as a POW but the family only spoke German at home so Sigi struggled when he entered school in the U.S.
"We were truly immigrants," Schmid remembered. "We came here with nothing."
Schmid's first bedroom in the U.S. was the kitchen of a two-bedroom duplex near the corner of 60th Street and Vermont Avenue in South L.A. His parents slept in one bedroom and his grandparents in the other.
Schmid, who grew up in the South Bay, played in the first season of AYSO youth soccer in 1964. And though he went on to become a midfielder at UCLA, earning All-Far West honors as a senior, his parents didn't think soccer held a future for their son and urged him to concentrate on his studies – which he did, earning a degree in economics in Westwood and a masters in business administration from USC.
But it was another kind of studying he did at UCLA that may have served him better. During his playing days he used to sneak into Pauley Pavilion and watch John Wooden during the last half-hour of practices.
"It was a tremendous education," he told the Seattle Times. "Coach Wooden's attention to detail, his attention to fundamentals and the quiet leadership. … He got the most out of every player."
Two of Schmid's four sons followed him into soccer with Kurt working as director of player personnel and scouting for the Galaxy while Kyle is an assistant coach at Loyola Marymount.
Despite the enormous success Schmid enjoyed in his career, he was fired from his last two jobs, first in 2016 by the Seattle Sounders, a team he had taken to seven straight playoff appearances, and then in September by the Galaxy, who were in the throes of a six-game winless streak at the time of his sacking.
After his firing from the Galaxy, Schmid said he wasn't ready for retirement and was thinking of writing a book or trying to hook on with another MLS club as a scout or in the front office.
"I get bored too easily. So I definitely want to do something," he said.
Earlier in the season Schmid reflected on his coaching career and said he hoped he wouldn't be remembered just for wins and losses.
"I always view my real legacy," he started, then paused. "I know I've accomplished some things and I know I've won some titles; others have won more titles than me and that's fine.
"What I'm the most proud of are players that I found or players that I've helped get to the next level. That's my greatest joy."
He then told the story of Marvell Wynne, who blossomed into a national team played during his year with Schmid on the U.S. U20 roster.
"He said 'if it wasn't for you I wouldn't be a pro soccer player'," Schmid said Wynne told him. "That to me is the biggest joy."
Schmid is survived by his wife Valerie, sons Kurt, Kyle and Eric, daughter Lacey Nicholl and several grandchildren.
No funeral arrangements were released. In lieu of flowers or other gifts, the family asked people to make a memorial gift of support to the men's soccer program at UCLA, Donations in Schmid's memory may be directed to the attention of Emily Lerner of UCLA Athletics at 310-206-3302 or elerner@athletics.ucla.edu.
kevin.baxter@latimes.com | Twitter: @kbaxter11