Column: Sigi Schmid might have owed everything to soccer, but it was a debt he paid in full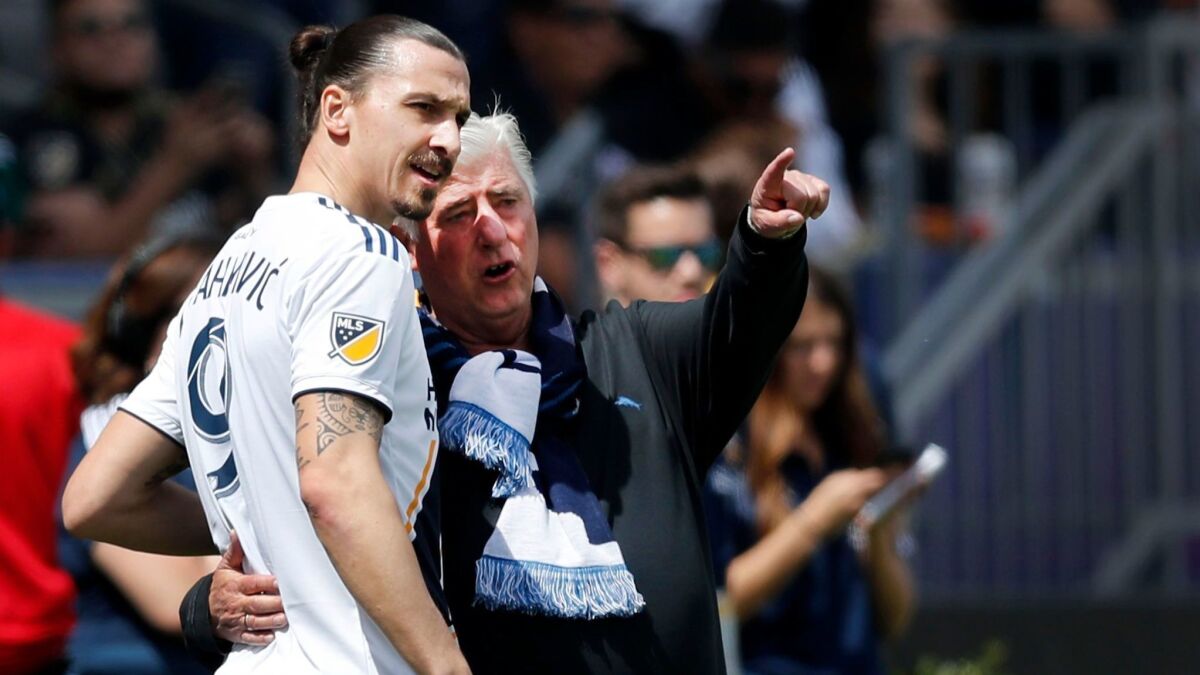 It would be a cliché to say Sigi Schmid's life was all about soccer.
It would also be untrue because for Schmid, who died on Christmas at age 65, the sport was so much bigger than that.
"I have three hobbies," he said last year. "I like watching soccer live. I like watching soccer on TV. And I like talking about soccer.
"So that keeps me going. It's really that simple."
If soccer gave Schmid everything, it was a debt he paid back several times over.
"He formed soccer in this country like no one else," former U.S. national team coach Jurgen Klinsmann said of Schmid, who was a close friend. "His brain was always going 200 mph on how he could improve soccer in the United States."
It was his heart that informed many of his decisions. When that heart gave out last week, it left a hole in the U.S. game that will be impossible to fill.
A Hall of Famer, Schmid was among the most successful coaches in U.S. soccer history, winning a record 266 MLS games, two league titles and five Open Cups with Seattle, Columbus and the Galaxy. In 19 years at UCLA he won three NCAA championships, averaging 17 wins a season and making 16 consecutive playoff appearances.
Schmid seemed to have had a hand in every major development in U.S. Soccer over the last 5½ decades.
As an 11-year-old, he played on the Firefighters, one of the four teams that made up the first season of AYSO; today the organization has more than 50,000 teams and 400,000 players. He co-coached the first soccer team at Torrance Bishop Montgomery High, his alma mater; the program has gone on to become one of the most successful in the state.
At UCLA, he played for the second Bruins team to reach the NCAA final and returned to coach the first team to win the national title. His captain that season was Paul Caligiuri, who would go on to score the goal that qualified the U.S. for its first World Cup in 40 years.
When the World Cup came to the U.S. in 1994, Schmid was an assistant coach for the American team and Eric Wynalda scored the goal that gave the U.S. a 1-1 tie with Switzerland and its first World Cup result since 1950.
The numbers tell only a small part of the story because Schmid didn't build teams as much as he built individuals — and the proof of his impact came in the thousands of tributes, from soccer royalty to ordinary fans, that lit up social media as news of Schmid's death spread Wednesday.
He could be guff and he was always direct but he was also warm, funny, gracious, patient and had a distinctive laugh he often used as a punctuation mark. He was fiercely loyal as well, and while it wasn't always easy to earn his trust, once you gained entry into Schmid's large inner circle, you were a member for life.
"He believed in me when nobody else would," Wynalda, who played in three World Cups and retired as the leading scorer in U.S. soccer history, said of Schmid. "He made me believe in myself. I'm a better person, dad and coach because of his influence in my life. I'm sure there are many players who feel exactly the same way.
"The guy stuck his neck out for me. I can never forget that."
When Jordan Morris – who plays for a franchise that had fired Schmid – underwent surgery in Santa Monica earlier this year, it was his former coach who picked him up at the hospital. When Robbie Rogers ran onto the field against Schmid's Sounders in 2013 to become the first openly gay man to play for a U.S. professional sports team, Schmid, his first MLS coach in Columbus, was among the first to both welcome and encourage him.
"Sigi," Rogers tweeted last week "was really the most influential person in my professional career."
He's not alone. Open the door to any MLS locker room next season and you'll find people whose careers were either launched or changed by Schmid. In fact two of the last three MLS champions were managed by men who played or coached under him. Guillermo Barros Schelotto, who will replace Schmid on the Galaxy sideline next season, won an MLS Cup with him at Columbus a decade ago.
Last time they saw one another, after a game Schelotto managed in Argentina, Schelotto wrapped his former coach in a bear hug — no small feat — and thanked him for the faith he had shown.
"Sigi gave so many people their kick-start to their careers," tweeted Carlos Bocanegra, whom Schmid coached at UCLA and with the U-20 national team, starting a run that would see him captain the U.S. in a World Cup and start more games for the senior team than all but seven men.
"He believed in people who others had written off and he'd take the time to get the best out of each and every one of them," continues Bocanegra, now the technical director for MLS champion Atlanta United. "You always knew you had a friend, colleague, confidant you could count on anytime."
A huge part of Schmid's success was his ability to wring the most out of the talent he had. In the U-20 World Cup in 2005, he took a U.S. team whose biggest stars were Benny Feilhaber, Brad Evans and Chad Barrett and beat an Argentine one whose roster included Lionel Messi, Sergio Aguero and Pablo Zabaleta.
It was Argentina's only loss of the tournament.
In Columbus, he took over a team that had missed the playoffs and turned it into a league champion two years later. Then he went to Seattle and coached an expansion team to a record seven consecutive postseason appearances.
"Players want to win. But we need the right environment to win," said Alexi Lalas, who was both signed and released from the Galaxy by Schmid. "Sigi created the right environment.
"When I talked about our American soccer culture it's with the respect and recognition that it's been built by people like Sigi Schmid. He helped change and grow the game and made it better at every level."
Schmid was born in Germany but moved with his family to a duplex near the corner of Vermont Avenue and West 60th Street in South L.A. when he was 4. For the next five years he slept in the kitchen while his parents, who never measured success in dollar signs and decimal points, struggled to make their immigrant dreams a reality.
A few days after parting ways with the Galaxy in September, Schmid sat outside a Starbucks near his Manhattan Beach home and reflected on his own legacy. Predictably he measured it not in wins or titles but in how he had helped others.
"All the friendships that I have with former players; stuff like that is the thing that I'm very proud of," he said. "My accomplishments as a coach … for me it's how many players that were not national team players, after playing for me, they became national team players.
"That's the thing that fills me with the biggest joy."
kevin.baxter@latimes.com | Twitter: @kbaxter11