Column: Even if you're a star in MLS, moving from team to team is routine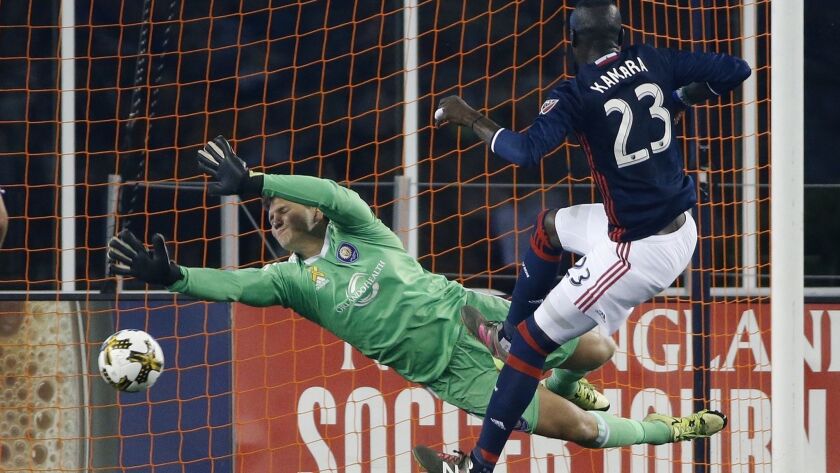 The phone call came as a surprise to Kei Kamara.
After a tour of MLS cities that had seen him play for six teams in 10 seasons, Kamara felt he had finally found a home with the Vancouver Whitecaps after scoring a team-high 14 goals while falling in love with the city and its fans.
But 2018 was also a year that saw the Whitecaps go through three coaches. When the last of those, former LAFC assistant Marc dos Santos, decided Kamara didn't fit his plans, the player's cell phone buzzed to life with the kind of bad news he's heard all too often: He had been traded again.
"I'm still shocked," Kamara said nearly six weeks later as he prepared for training camp with his new team, the Colorado Rapids. "I took off for my offseason knowing that I'd be returning to Vancouver. It was one of the first times that I guaranteed myself that I would be back to the same club."
Instead, Kamara changed teams twice in a matter of minutes, going from Vancouver to Cincinnati in the MLS expansion draft, then on to Colorado in exchange for an international roster slot.
"It's the nature of the league. We have to accept it," said Kamara, who played college soccer at Cal State Dominguez Hills. "Trades are definitely one of the toughest parts of MLS. You get a phone call and they say, 'Hey, you're moving to this club.' "
Major trades happen less frequently in MLS than in other major U.S. sports. Nevertheless, Kamara, who has been swapped more often than a bad penny stock, picking up abruptly and moving to another city has become a practiced routine.
Sign up for our daily sports newsletter »
For others, the ordeal can be far more upsetting, upending everything in the life of a player and his family.
When Minnesota United traded forward Christian Ramirez to LAFC last season, he had two days to pack up his family and the condo they had just bought and get to Los Angeles, where he had another two days to introduce himself to his teammates before debuting with his new club.
"Just having to move cross-country is difficult," said Ramirez, who spent his first month with LAFC living in a hotel with his wife and 5-month-old daughter.
"It's tough to get into a real routine. You don't have your car, you don't have an extra room for the baby. So the whole transition's tough."
The new team, though, is expecting you to produce immediately, so most clubs provide specialists to help players and their families with the move. They can't do everything, so seven months after his trade Ramirez still hasn't been able to sell his Minnesota condo. Perhaps wary of another trade, he's renting in Southern California.
"I have a rent and a mortgage," he said.
Walker Zimmerman had to scramble after he was traded from FC Dallas to LAFC after the 2017 season. Three weeks after the deal was completed, he was called into winter camp with the U.S. national team, forcing him and his wife to settle for the last home they saw before heading to airport at the end of their first post-trade visit to Southern California.
Personnel moves happen in MLS for a number of reasons, roster management being among the most common. Because the league has a strict salary cap, teams often can't reward a player for an outstanding season with a raise so they trade him or decline his contract option, forcing the player to seek a job elsewhere.
LAFC defender Steven Beitashour has seen his salary go from less than $50,000 to nearly $300,000 since 2013, according to figures released by the MLS players union. But he's had to change teams three times, playing in four cities in two countries, to get those raises.
Galaxy president Chris Klein understands that. As a player, he spent his first eight MLS seasons in Kansas City, where he started a family and built ties to the community. He was then traded twice in the next three years, eventually winding up with the Galaxy.
He says that experience informs decisions he has to make now as the team's president.
"As a club, we always take in the human element of what we do," he said. "At the same time, we have an obligation to do what's best for the club. So it's balancing those.
"It's never easy because there are different things that a player considers. So, yeah, those are always very difficult conversations."
Trades done right can work out well for all sides. Last winter, the Galaxy sent struggling national team forward Gyasi Zardes to the Columbus Crew in exchange for Ola Kamara. Zardes went on to score 19 goals and win the league's comeback player award while Kamara led the Galaxy in minutes played and finished second in goals with 14.
"Sometimes, players need change, and sometimes, a different environment can bring out different abilities," Zardes said.
Zimmerman actually pushed for his trade after falling out of favor in Dallas.
"We had been talking as soon as the season ended, just about what we thought was best for the club, what was best for me," Zimmerman said. "I left that office thinking that we could get a trade to occur. But you never really know because you don't know what the interest is going to be."
As it turned out, things couldn't have worked out better for Zimmerman, who matched a career high with four goals in 26 games in 2018, helping LAFC reach the playoffs in its first season. The club then rewarded him with a new four-year contract worth more than $2.1 million.
"If you're in the wrong situation, it's going to be a good thing for you," Zimmerman said of a trade. "Sometimes, a fresh set of eyes, fresh teammates, they can go a long way in terms of helping you reach your potential and then learning new things from the coaches."
kevin.baxter@latimes.com | Twitter: @kbaxter11
---
All about the beautiful game
Go inside the L.A. pro soccer scene and beyond in Kevin Baxter's weekly newsletter.
You may occasionally receive promotional content from the Los Angeles Times.