Newsletter: Soccer! LAFC staggers into playoffs, Galaxy collapse and a European leagues update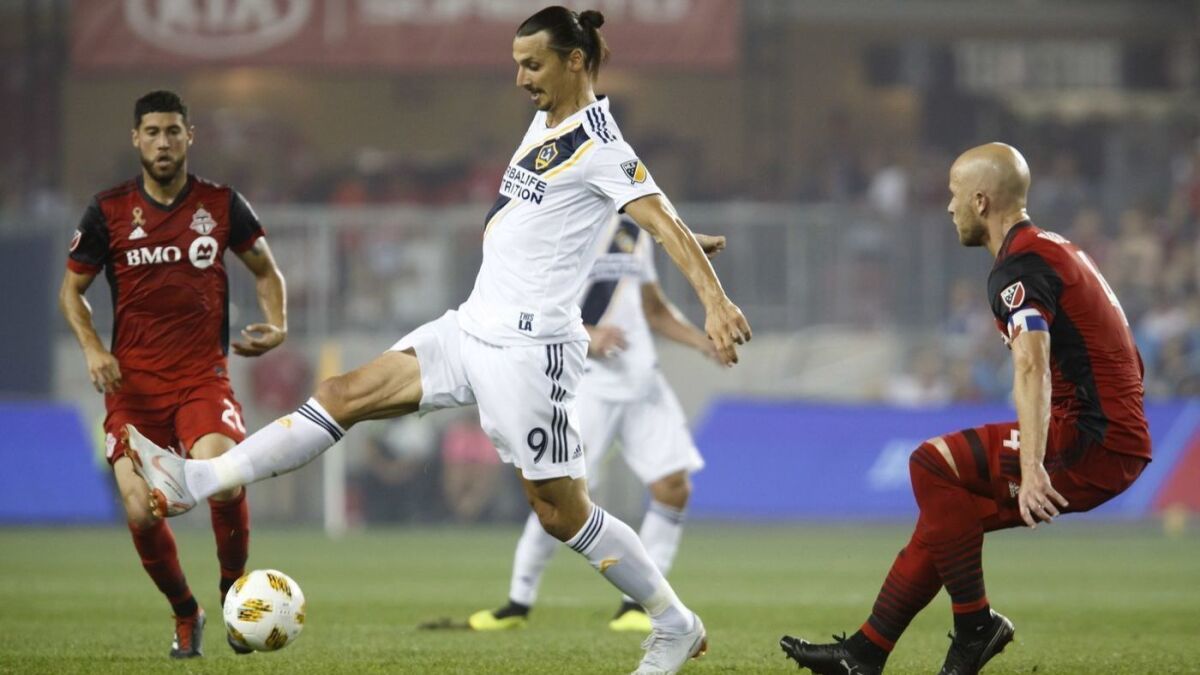 Hello and welcome to the L.A. Times' weekly soccer newsletter. I'm Kevin Baxter, the Times' soccer writer.
This week we're going to talk about the Los Angeles Football Club as it heads into the MLS playoffs, the Galaxy's collapse and the future of Zlatan Ibrahimovic and Ashley Cole as the team heads into a third straight winter makeover. Plus we'll take a quick look at some of the free-spending European leagues, where the gaps between the haves and have-mores is already beginning to widen.
We'll start with LAFC, which let a golden opportunity slip through its fingers in the final regular-season game and now heads into the postseason Thursday lacking the momentum it had hoped to build.
LAFC has had one of the most successful seasons in MLS history for a first-year club — for unknown reasons, coach Bob Bradley insists it not be called an expansion team — earning a record 57 points and scoring 68 goals. It had a chance to achieve even more Sunday, when a win over Sporting Kansas City would have made it the first expansion team to finish atop a conference table, earning a first-round playoff bye and home-field advantage through the conference final at least.
But it got none of that, losing 2-1 in a game in which it played the final half-hour with a man advantage. After falling behind Kansas City and Seattle to third in the standings, LAFC will now open the postseason at home in a knockout-round match with Real Salt Lake.
Win and LAFC moves on to the conference semifinals with the Sounders. Lose and it's time to start planning for next year.
"We're not too disappointed in the sense that we've got another game in four days to get back on it and play a better match than we did here," said midfielder Benny Feilhaber, who has seen his season end in the knockout round the last four seasons — each time on the road.
"We're all excited about that and the fact that it's at home is a huge plus," he continued. "I know that more than most, how crucial a home playoff game is in that knockout round."
But the loss in Kansas City did more than change the playoff schedule for Bradley's team. It also slowed momentum that was already flagging.
After winning three of four games — two by shutout — LAFC (16-9-9) went winless in its final two regular-season games, giving up a 2-0 lead in a draw with Vancouver, then losing to a shorthanded Kansas City team. Perhaps more ominously, goalkeeper Tyler Miller has given up at least two goals in three consecutive games for only the second time this season.
For a team that has prided itself more on how it played than whether it won, those signs are worrying.
"We've preached on it all year. It's sticking to our style of play, having a lot of good passing sequences, and breaking down teams that way," said Miller, who tied for third in the league with 10 shutouts in his first season as a starter. "We got away from that a little bit tonight. Ultimately, we need to stick to our style of play throughout the full 90 minutes."
There will be little margin for error against Salt Lake, which will come into Thursday's game well-rested since it was the only MLS club that didn't play on the regular season's final weekend. But that team also stumbled to the finish line, winning only one of its last six games — scoring more than a goal just once in the process — and reaching the postseason only when the Galaxy lost to Houston in their finale.
It lost both regular-season games to LAFC by a combined 7-1.
"We've shown that we're a good team," Bradley said. "We feel good about the football we play. We feel very good about the identity and mentality that we bring to the field. We hold ourselves to the highest standard.
"We're hoping that as we go into the playoffs, we can raise the level again. Of course, it's a knockout game against Salt Lake. Take care of that one, which won't be easy, and then push on in the playoffs."
The Western Conference playoff field is topped by Sporting Kansas City and Seattle, which get first-round byes after finishing 1-2 in the standings. FC Dallas and the Portland Timbers, the other two teams to qualify, meet in the conference's other knockout-round game this week.
In the East the New York Red Bulls, the first team in league history to top 70 points, joined Atlanta United in earned first-round byes into the conference semifinals. The knockout games match New York City FC against Philadelphia and Wayne Rooney's D.C United against Gyasi Zardes and the Columbus Crew.
The uninvited
The Galaxy, meanwhile, have already begun working on next year after blowing a two-goal halftime lead to Houston and losing a game it had to win to return to the postseason. As a result the team will miss the playoffs for a second straight season.
Sunday's loss to a team that won just one other road game all season was a gut punch for the Galaxy (13-12-9), who hadn't lost at home since May. The early lead had them thinking they were through so when the final whistle sounded on another defeat, the field at the StubHub Center was littered with players, who dropped to the grass in disappointment and disbelief.
But the turmoil goes deeper than that. Over the last two seasons the Galaxy lost 30 games, a franchise record for consecutive seasons, and played Sunday's game under interim coach Dominic Kinnear, their third manager in 23 months.
The team continues to search for a permanent replacement with time now becoming an issue since the Galaxy could be facing another offseason overhaul following two winters in which they made more three dozen roster transactions.
It's been quite a remake. Less than half the starters in Sunday's game were even on the roster for Bruce Arena's last game as coach two years ago, and only midfielder Baggio Husidic remains from the team that suited up for the Galaxy's last MLS Cup appearance in 2014.
All three designated players — midfielders Gio dos Santos, Jonathan dos Santos and Romain Alessandrini — remain under contract for next season but that's not necessarily a good thing. Not only did Gio dos Santos' $6 million in guaranteed salary account for more than a third of the team's payroll in 2019, but the fact the other two DP spots are also filled leaves the front office with no flexibility to try to renegotiate the contract of leading scorer Ibrahimovic.
Ibrahimovic, who reportedly made more than $25 million a season playing in Europe, came to the Galaxy last March for just $1.5 million. And though the team said his contract runs through next season he has repeatedly talked about his desire for a new deal.
Ibrahimovic was certainly underpaid during a debut MLS season in which he finished second in the league with 22 goals — the second-best total in Galaxy history and a number Landon Donovan, Robbie Keane and Cobi Jones never reached — and led the team with 10 assists.
The push for a new contract could simply be more self-promotion, something Ibrahimovic works tirelessly at. But after proving himself fit following reconstructive knee surgery in April 2017, the Swedish superstar had received feelers from Real Madrid and AC Milan, among other clubs, and it's unlikely the Galaxy or MLS would attempt to block him if he decided to leave.
What Ibrahimovic is thinking is unknown since the Galaxy kept their dressing room door closed to the media until Ibrahimovic slipped out a back entrance, violating a league rule requiring that reporters have access to all players after a game.
Captain Cole, who turns 38 in December, is unlikely to be offered a new deal although he has said he'd like to return while center back Dave Romney, a key part of the team's last-season surge, will be out of contract this winter and is in line for a sizable raise from the $74,418 he made this year.
If neither Cole nor Romney returns, it will leave the Galaxy down two starters at its weakest position, defender, where it was starved for depth all season.
Before the Galaxy can sort any of that out, however, they need a coach. If they land Columbus' Gregg Berhalter, a former Galaxy player and assistant coach who is at the top of the team's wish list, he will also serve as sporting director, as he has with the Crew.
But Berhalter is also being pursued by the U.S. national team, which needs a coach as well.
If the Galaxy lose out on Berhalter, they will likely need a general manager as well as a coach since the front office has repeatedly fumbled player-personnel decisions since Arena's departure — something evidenced by the mass exoduses of the last two winters.
And speaking of the front office, there could be changes there as well. President Chris Klein is just a year into a new five-year contract, so he appears safe. But top scout Kurt Schmid, who watched as the team fired his father, Sigi Schmid, as coach last month, is unhappy and may choose to move on, while at least one other person could be asked to leave involuntarily.
Stay tuned since this saga figures to continue well into the new year.
Continental divide
If the Galaxy's disarray is a relatively new phenomenon, the divide between wealthy European clubs and obscenely, filthy rich European clubs has been around a while. And already the tables in the continent's top five leagues are beginning to split along those well-worn fissures.
Over the last seven seasons the 10 richest clubs in the world, according to Forbes, have combined to win the league title 30 times in 35 tries in the English Premier League, Spain's La Liga, Germany's Bundesliga, France's Ligue 1 and Italy's Serie A. Already this season teams on that list lead four of the top five leagues, the only exception coming in Germany, where six-time defending champion Bayern Munich trails Borussia Dortmund by two points for first place.
In two of the leagues the races aren't even close. Juventus, Italy's seven-time defending champion, has dropped just two of a possible 30 points and leads second-place Inter Milan by six points. And in France unbeaten Paris Saint-Germaine leads Lille by eight points after 11 matches.
In England the top four teams in the table are all among the Forbes Top 10.
The obvious takeaway is payrolls have become more important than parity. A recent study by Max Gulker of the American Institute for Economic Reality backs that, revealing that players with Spanish giants Barcelona and Real Madrid, two of the top three teams on the Forbes list, made an average of $8 million last season while Levante, which finished 15th, paid its players about $640,000 on average. Barcelona and Real Madrid have won 15 of 18 La Liga league titles this century.
Several attempts, the most recent being the UEFA Financial Fair Play model, have tried to regulate the influence of money on performance with little impact, but now self-preservation may finally succeed where those other efforts have failed.
The Spanish government passed a law three years ago aimed at bringing a semblance of competition back to La Liga by giving the league the responsibility of negotiating, then sharing, broadcast revenues jointly, throwing out the old model in which the superclubs cut their own deals at the expense of the league.
That, said Barca president Josep Maria Bartomeu, has forced owners to look at the league more holistically.
"We need it," Bartomeu said of the new law. "I would prefer to win everything for Barca. But at the end we have to realize that the interest of La Liga is to make the division of revenues a certain way that everybody could be competitive."
Barcelona is no doubt looking down the road to the day when Lionel Messi, the team's star player, retires, making the team itself a less-attractive draw for television. Real Madrid is suffering through the same kind of transition this year after losing talisman Cristiano Ronaldo to Juventus.
But if both teams — and their league — can substitute legitimate competition for star power, they can remain extremely profitable.
"Sign [broadcast] contracts with big audiences. That's what Barca is always asking of La Liga," Bartomeu said. "We need audience. The decision isn't a Barca decision. It's a league decision.
"La Liga, little by little, is improving on their revenues. We are far away from Premier League but revenues are increasing every three years, every cycle. So you're going to allow everybody to perform better, to have better players. The quality of the game, the quality of La Liga is very good. I don't see always Madrid and Barca, Barca and Madrid always winning La Liga.
"What we are worried about is making La Liga bigger and stronger season by season."
MLS playoff pairings
Western Conference
No. 1 seed Sporting Kansas City and No. 2 seed Seattle get a first-round bye into the conference semifinals Nov. 4
Knockout Round
Portland Timbers at FC Dallas, Wednesday, 6:30 p.m.
Real Salt Lake at LAFC, Thursday, 7:30 p.m.
Eastern Conference
No. 1 seed New York Red Bulls and No. 2 seed Atlanta United get first-round byes into the conference semifinals Nov. 4
Knockout Round
Philadelphia Union at New York City FC, Wednesday, 4 p.m. Pacific
Columbus Crew at D.C. United, Thursday, 5 p.m. Eastern
Podcast
Don't miss my weekly podcast on the Corner of the Galaxy site as co-host Josh Guesman and I discuss the Galaxy each Monday. You can listen to the most recent podcast here.
Until next time
Stay tuned for future newsletters. Subscribe here, and I'll come right to your inbox. Something else you'd like to see? Email me. Or follow me on Twitter: @kbaxter11.
---
All about the beautiful game
Go inside the L.A. pro soccer scene and beyond in Kevin Baxter's weekly newsletter.
You may occasionally receive promotional content from the Los Angeles Times.