What made the U.S. women's World Cup win in 1999 such a pivotal moment?
With the U.S. women's national team preparing to defend its World Cup title in France, Times soccer writer Kevin Baxter had a series of conversations with six players from the 1999 national team.
Brandi Chastain, Julie Foudy, Mia Hamm, Kristine Lilly, Briana Scurry and Tisha Venturini-Hoch shared their memories of the tournament and why the team's victory has endured as a pivotal moment in sports history. Comments have been edited for clarity.
Why, 20 years later, are we still talking about this World Cup?
Mia Hamm: It was a tournament that kind of changed the landscape of how women's team sports were covered. Forever you can point to that and say "look what they did." It became this iconic event. It represented all the possibilities, the belief that we had. Not just in our game but in women's sports in general. When you put the funding and the marketing and you invest in the game and the team and promoting it, [look] what can happen.
Briana Scurry: The one word I would choose is impact. We made such an amazing impact on so many different levels and so many different industries in different countries just from trying to win a couple of soccer games. The legacy is also the positive influence we had as women who were strong and driven and determined and powerful. People seeing us do what we did and the way we did it.
Julie Foudy: The perspective was how do we build the game, how do we leave it in a better place, how do we inspire this next generation of girls in this country? I didn't grow up watching women's soccer players. There were no posters of women's soccer players on my wall. My guys were Magic Johnson, Kareem Abdul-Jabbar. I watched the Dodgers, I went to the Lakers. But they're all men. I didn't watch any women. And that was the power of '99, right? That's what we wanted to create.
So does that make it a transformative moment?
Scurry: I can draw a straight line from '99 to today. Ask one of those girls on the 2015 team where they were during those three weeks that we were playing in the World Cup in '99. Carli Lloyd, the MVP of the 2015 World Cup, was in the stands at that game at Giants Stadium. There's your direct connection. You can't get any more direct than that.
Foudy: It was bigger than just a soccer moment. It was a cultural moment. I don't think you realize in the moment how big that's going to be.
The indelible image was Brandi Chastain on the turf, swinging her jersey over her head.
Brandi Chastain: I have no idea why that happened. It was very spontaneous.
Scurry: Brandi taking off her shirt was as much about Brandi being Brandi as anything else. That was just what she did. We would do penalty kicks in training and she would take her shirt off. Not in a celebratory way but like "it's hot." Obviously it's iconic and it's one of the greatest sports moments in history. But that was just Brandi being Brandi.
Kristine Lilly: When you look at the picture, there's much more than just Brandi taking her shirt off. Her face, her strength, her happiness. We just won. That's all that picture was about.
Chastain: You almost took your shorts off.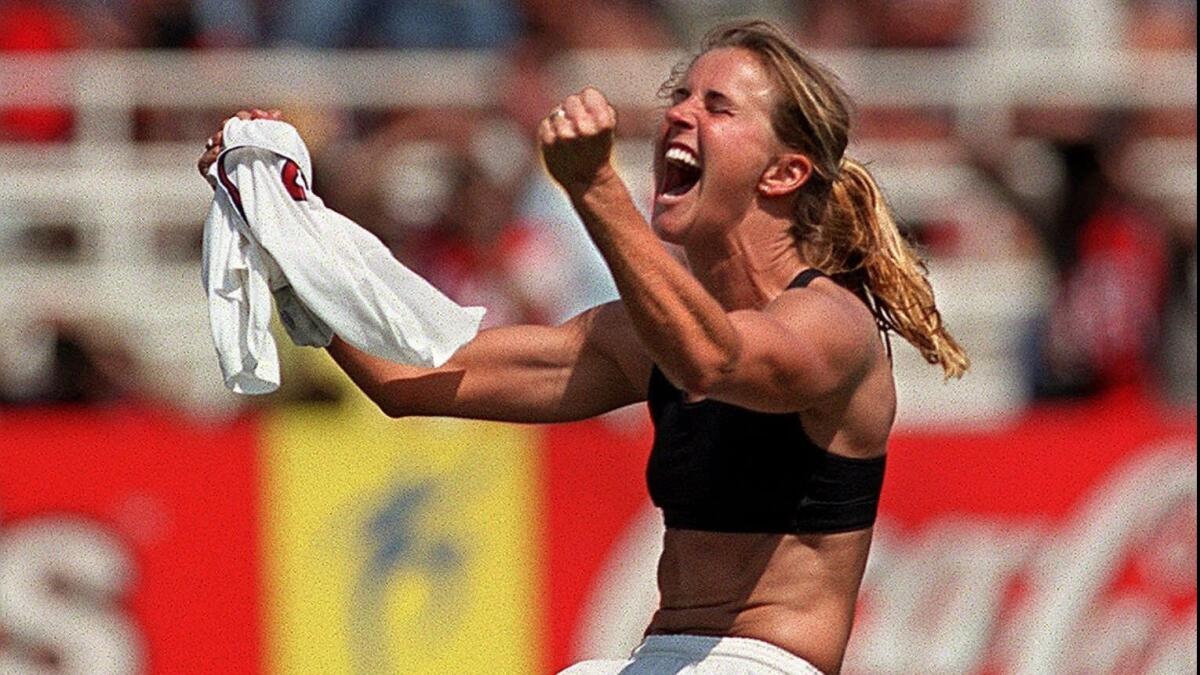 When it happened did you think it would live on like this?
Chastain: There was this unspoken — not a burden, just the weight or the gravity of the future of women's soccer. And the future of soccer for girls. There was a little bit in the back of your head how important it was to win, not just for us but really as kind of the flag-bearers for women's sports. We had a lot of responsibility.
Lilly: These big moments are the ones you want to bring back. I think it was bigger than the game, what happened that summer. We won. That was our goal. But we changed lives. It was a societal impact. And we didn't know that going into it. When people talk about the 99ers, it encompasses so much more than just us.
But without Kristine Lilly's clearance off the line …
Chastain: We don't have this conversation.
Lilly: You're picking out moments. And Brandi had her moment scoring and I had my header but there were so many moments leading up to that in other games that helped us. [Tisha] scored two goals in a game against North Korea. The moments all add up to the success of our team. And we're all here because we were doing what we were supposed to.
Scurry: It transpired exactly the way it was supposed to. If it goes a different way, if we win 5-0, it doesn't have the impact, it doesn't have the movement. It doesn't have the feeling that it had. The drama is what helped.
The World Cup lasted three weeks. When did you begin to notice that this was more than just a soccer tournament?
Chastain: There were thousands of people that would come to practice, and all these young girls and their faces and you're just thinking, "this is for them."
Lilly: We drew from the crowds. Everybody was coming to the hotel, they were chasing our bus. They were everywhere and that lifted us up. We were calling ourselves the Beatles.
Chastain: With not much singing ability.
Tisha Venturini-Hoch: I wasn't one of the visible players, but I couldn't go anywhere either. If you were on that team and you were on that staff, people wanted to talk to you or cheer or high-five. After the game in Chicago, Tiffany Roberts and I ran home because we didn't play and we wanted to do some fitness. People starting recognizing us and that we're on the team and they're honking and waving and they're chanting and they're chasing us.
Chastain: I didn't hear this story.
Lilly: Me neither.
Venturini-Hoch: Before that tournament, nobody would have thought twice about it. But during that tournament, man, it was buzzing.
Scurry: One of the moments for me that made it really hit home was our training session right before the final and meeting Robin Roberts. Never mind that President Clinton had already been to a game. I was like, "Oh my God, Robin Roberts is here!" We. Have. Arrived. I was giddy about that.
What, aside from winning, made that team so special?
Scurry: We were very much seen as the girls next door. And that's exactly who we were.
Venturini-Hoch: And we were approachable. Walking through the airport, people were clapping and we were high-fiving them. We got caught up in their excitement and they were caught up in our excitement.
Hamm: We were just a bunch of girls who loved to play. To be honest with you, we enjoyed the experience just as much as the fans watching. And I think you saw that when we went out and played.
Four years earlier, you played your World Cup opener in Norway before 4,300 people. In 1999, your bus to the first game in the Meadowlands got stuck in traffic and a crowd of 78,972 showed up
Scurry: That game and that bus ride show[ed] us for the first time the impact we were having. Before we even played the game.
Foudy: We literally were, like, "We're going to miss our game. What is going on?" And then we saw all the cars with the, you know, "Oh, I love Mia Hamm. Go USA" signs. We were, like, "Holy cow, this is for us!" That's when we first realized, "OK, this might catch on." Everyone told us we were crazy to play in football stadiums nationally. Keep it small, keep it regional. Thank God we didn't listen to them.
Lilly: We're looking out of the bus taking pictures of the fans. And they're looking into the bus taking pictures of us looking at them. Incredible.
Hamm: Just the joy and the excitement, you really had to temper it because it was an emotional experience. It was life-changing. You could feel the energy. Everyone was just so happy to be there. They wanted to be a part of history.
Was the victory of the 1999 team a bigger moment for women's sports or for U.S. soccer?
Chastain: I don't think you can separate them. At the Rose Bowl you had 90,000 people and millions at home watching. Never before had there been a stand-alone women's sporting event that got so much attention.
Foudy: These current players are carrying on this inspiration that we dreamed about as players. Of course we wanted to win, but our whole thing was about inspiring that young girl or even that young boy in the stands to think about women being professionals and to think about that dream being a reality.
Is there a day that goes by that you're not reminded of that World Cup and especially how it ended?
Chastain: You know what I love about it? It's the open door to the conversation about anything you want. So the person who's saying, "Oh my gosh, what was it like?" And then I get to turn around and say, "Where were you? What were you doing? How did you feel about it?" It allows you to bring soccer into places where it had never been before. It's not about that moment. We talk about the people and the team and how we all influenced each other in such a great way. That's really the essence of what '99 was about.
Sign up for our weekly soccer newsletter »
Scurry: When it really dawned on me that something had changed was a couple of days after the game. I was walking with some friends and this guy stops his car in the middle of traffic, runs over to me and he hugged me and shook my hand and he ran back to his car and took off. I was like, "Did that just happen?" I'll never forget that. If that could happen, I thought we might have a little staying power.
Hamm: People would come up and just tell you stories. About where they were, whether it was they were at a wedding and they postponed the wedding to watch the penalty kicks or people boarding their flight at the very last minute. Not just a couple of people, but the majority of the flight. People still held on to that, the emotion that they felt. That's when you understood it was something different.
There seems to be continuity, a culture, that has followed the women's national team from 1999 to the roster that will be playing in France this summer.
Venturini-Hoch: That's why you need good leaders. You had a handful of veterans there who weren't going to let someone come in and act a [certain] way or be cocky or not put in the work. In the past, however, many years we've had great leadership and you try to pass that down. The culture of this team and what it is, that's who we are. That's what means the most to us so let's keep that rolling.
Hamm: I admire them so much for continuing to raise the bar even higher.
Scurry: It's a sisterhood. It is a legacy that is always going to be tied together. We're all sisters striving for the same thing. And because of all of us, the national U.S. women's team is one of the all-time greatest teams in the history of sports. It's what we've been able to do, all of us, together.
Twenty years later the women's game is better in every way. There is great opportunity for girls than ever before. Is that the legacy of 1999?
Foudy: You know, FIFA recently came out with a global strategy on women's football. They're like, "We have to look no further than the 2015 Women's World Cup to see how popular this sport is globally." And I'm thinking, "Wait, didn't we learn this in '99, FIFA? Why have you ignored it for 20 years?" So I think that's the thing we felt, and probably naively so, that you know, people from around the globe too would see that with a little bit of investment we could tap into this market and potentially have a sizable return on it. And that's been a frustrating thing. I also realize it takes long to shift mind-sets and cultures. But I'm impatient and want to see that happen faster than it's happening.
Chastain: What's amazing about women's soccer right now is that finally we have players from around the world who have a stage to play on, and when I say that I'm not talking about the World Cup. I'm talking about in their own country. They have a league to play in, they have a federation that's supporting women's soccer and that's really the difference right now. When people are talking, "Oh these countries are catching up." I don't feel they're catching up. These players were always there and they were always good. They just didn't have a chance to play.
Hamm: What you're seeing is that just even the small amount of investment, the return is so great. The impact it has on these players and families and communities going forward in terms of opportunities is huge. We still have a long way to go, but these member associations and confederations and FIFA are starting to see what can happen. And now you want this to be part of the daily dialogue and not just every four years.
kevin.baxter@latimes.com | Twitter: @kbaxter11