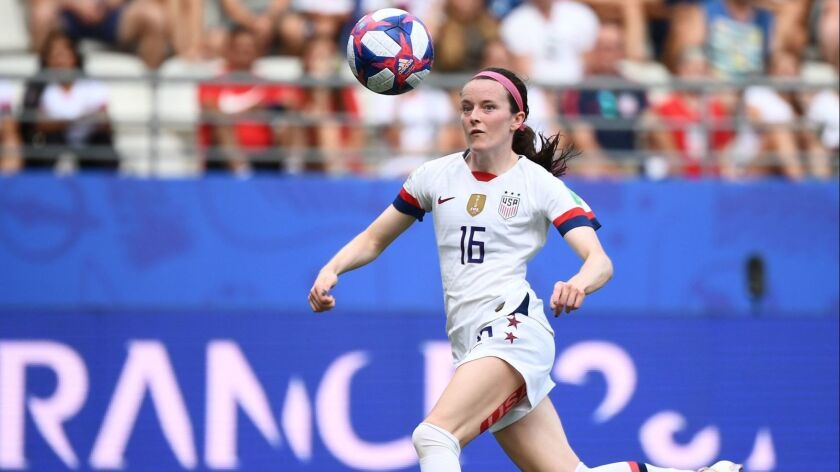 Reporting from paris —
The U.S. national team took a two-hour bus trip from Reims to Paris on Tuesday, giving the players only two days on the field to prepare for their Women's World Cup quarterfinal with France on Friday.
They followed a similar schedule between group play and the round of 16, riding from Le Havre on the English Channel to champagne country and arriving three days after Spain, their first knockout-stage opponent, reached Reims.
Those are the vagaries of a tournament schedule in which everything is supposed to be equal, but few things truly are.
"Yeah, it seems at times a big discrepancy," said U.S. coach Jill Ellis, whose team was the last to play in the group stage. "When you enter a tournament and [you're] the last team to play, there's going to be certain differences in the windows.
"At this point, it is what it is."
And what it is, is uneven.
In a tournament where teams will have to play seven games in a month to reach the final, rest and recovery are all important. And for the U.S., the oldest team in the Women's World Cup with a roster than averages 29 years of age, that's vital.
That is especially true after the physical game played in sauna-like conditions Monday against Spain.
Yet the U.S. will have only three rest days before its quarterfinal, one fewer than France. The hosts also had two more rest days between the group stage and the knockout rounds than the U.S.
Germany will have six days before its round-of-16 game and quarterfinal, two more days than its opponent, Sweden.
And while Ellis didn't see the World Cup schedule until December, she has been planning for it for years. After the 2015 World Cup, Ellis helped U.S. Soccer set up the SheBelieves Cup and the Tournament of Nations, U.S.-based invitational events involving countries ranked in the top 10. Teams generally had no more than two days' rest between games.
"We're very used to a three-day rhythm. It's what we've done in certain tournaments specifically for this purpose," she said. "We can't control what our opponent has. So everything is about us."
Record-setter
With a win over France, the U.S. would match Germany's Women's World Cup record of 15 consecutive games without a loss, set between 2003-2011. The U.S. is 11-0-3 since losing to Sweden in the group stage of the 2011 tournament. The U.S. officialy played Japan to a draw in the final that year, with Japan winning the title on penalty kicks.
Physical adjustment
Spain's defensive game plan Monday focused heavily on Alex Morgan, who was beaten, battered and belted every time she touched the ball before Ellis mercifully ended her night in the 85th by subbing in Carli Lloyd.
But with the U.S. winning, Morgan was able to joke about it afterward.
"Our chiropractor's here, but I don't think we need him anymore," she said. "I got a good crack."
At that she fared better than Spanish midfielder Vicky Losada, who came off the field with her right eye spotting a fresh shiner.
Sign up for our weekly soccer newsletter »
Asked who gave it to her, Losada declined to say.
"I can't remember actually," she said.
Broadcast news
The U.S.-Spain game averaged nearly 3.35 million viewers Monday on FS1 and Fox streaming sources despite kicking off on a weekday morning in the Pacific time zone.
On FS1, the telecast averaged 3.145 million viewers, making it the most-watched program on the cable outlet since the 2018 MLB postseason.
The audience peaked in the final 15 minutes with 4.29 million viewers.
The game averaged 740,000 viewers on the Spanish-language networks Telemundo, NBCSN and TelemundoDeportes.com, making it the most-watched weekday Women's World Cup match ever on a U.S. Spanish-language network. The broadcast had a peak TV-only audience of 951,000 viewers in the final 15 minutes.
kevin.baxter@latimes.com | Twitter: @kbaxter11
---