U.S. hopes bonds formed in Honduras will pave way to Russia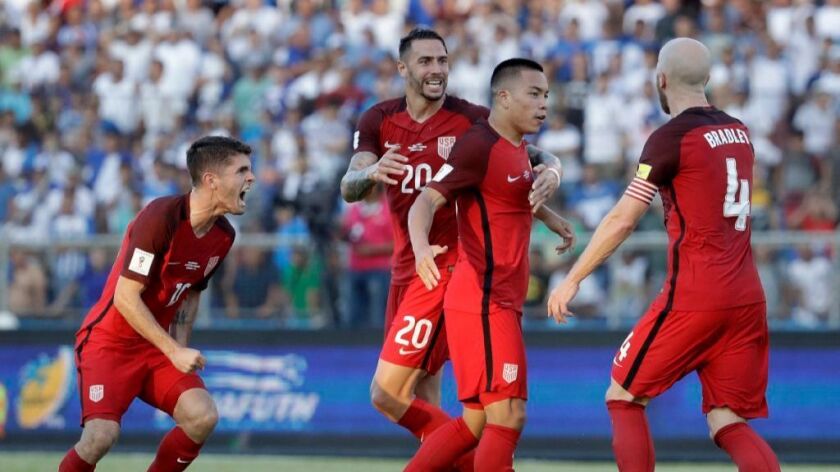 Reporting from SAN PEDRO SULA, Honduras —
When the final whistle sounded on Tuesday's World Cup qualifier, U.S. defender Omar Gonzalez dropped to his knees in the center circle, unable to move.
Around him exhausted teammates bent over at the waist, grasping for air and begging for relief. The Americans had battled Honduras to a 1-1 draw in conditions more suited to a steam bath than a soccer match, and they paid dearly for the point they earned.
But while the game ended in a draw on the scoreboard, it felt like a win to the players, who bonded in both the misery and triumph that may have saved their qualifying campaign.
"Honestly, in a lot of moments, it has nothing to do with football," U.S. captain Michael Bradley said. "It's about finding a way to survive. Dealing with everything that gets thrown at you. Having a group that can hold up in the toughest moments."
And Tuesday's match was undeniably tough. It started beneath a punishing midafternoon sun, which combined with the stifling humidity to make it feel like it was 107 degrees. It became tougher in the closing minutes before Bobby Wood, during a scramble in front of the net, scored the goal that netted the tie.
Gonzalez played more than 90 minutes under those circumstances and by the end he couldn't jump, could barely walk and said he was on the verge of unconsciousness before gulping down a bottle of Pedialyte. Others were nearly as drained.
"We fought through the conditions," coach Bruce Arena said. "[We] knew it wouldn't be pretty. Our players were dead on their feet."
But they came out of the game still standing — unsteadily, perhaps, but standing nonetheless. And the same can be said of the U.S. hopes of qualifying for an eighth straight World Cup: they're unsteady, but still upright.
Without Wood's score the U.S. would have fallen to fifth place in the six-team qualifying tournament. That would have left the Americans needing wins in the final two games of the 10-match competition — and at least one loss from both Honduras and Panama in their last games — to have a chance at going to Russia next summer.
Instead the goal gave the team a hard-earned point that kept it in control of its own destiny. Now all the Americans have to do is win out against Panama and Trinidad and Tobago and they go to the World Cup.
Hidden in the outcome, however, is the fact that Tuesday's game may also have made the U.S. roster into a team.
In international soccer, teams are often made up of players who share little more than a passport. The roster Arena called up for this month's qualifiers featured players who play professionally in five different countries and range in age from 18 to 38. They are black, white and Latino — even part Japanese.
Fourteen play in MLS, where they are frequently rivals.
And Arena had just 10 days to turn that disparate collection into a band of brothers. The Honduras game may have sealed that bond, uniting 23 individuals into a team.
Consider the game-tying score. Six players had a role in getting that goal, beginning with Darlington Nagbe, who came off in the 73rd minute for Wood.
A dozen minutes later, with the desperate Americans pushing for the equalizer, Christian Pulisic drew a foul about 30 yards out. Kellyn Acosta took the ensuing free kick and put a shot on goal that Honduran keeper Luis Lopez saved in spectacular fashion. But Matt Besler kept the rebound alive with an acrobatic volley from the end line, sending the ball on to Jordan Morris, who blindly headed it behind him toward the net.
Wood then made all that work pay off by chesting the ball to the ground and tapping it in with the side of his right foot.
"That's the type of mentality we have as a team," Wood said of his teammates' unselfishness. "We're always fighting to the last minute. That's what we do."
After an early morning charter flight to Miami, the players gathered around a luggage carousel, slapping each other on the back, exchanging loud handshakes and quiet hugs and promising to keep in touch before boarding individual flights to more than a dozen cities.
In 10 months, they hope to be boarding a flight together, this time to Russia — although Arena says much remains before that can happen.
Without John Brooks and DeAndre Yedlin, who both missed the September qualifiers with injuries, the U.S. backline remains porous and mistake-prone. Without a midfield enforcer like the aging Jermaine Jones, opposing teams will continue to pound Pulisic, the Americans' game but slight playmaker. And without any younger alternatives, the U.S. will have no choice but to stick with the 38-year-old Tim Howard and 32-year-old Brad Guzan in goal.
"We have a lot of work to be done to get to Russia," Arena said.
But at least now he has a team to work with.
Follow Kevin Baxter on Twitter @kbaxter11
---
All about the beautiful game
Go inside the L.A. pro soccer scene and beyond in Kevin Baxter's weekly newsletter.
You may occasionally receive promotional content from the Los Angeles Times.