Hundreds of soccer fans march with Nike's "March to the Match" in honor of female athletes before the U.S. women's national team played Belgium at Banc of California stadium on April 7.
They lined up on the field at halftime to celebrate the 20th anniversary of a seismic cultural shift disguised as a soccer tournament.
If Mia Hamm, Julie Foudy, Michelle Akers, Briana Scurry and other members of the 1999 U.S. women's World Cup team hadn't entertained and inspired people while winning, there wouldn't have been 20,941 fans at Banc of California Stadium on Sunday to see the current U.S. team rout Belgium, 6-0, in a World Cup warmup.
If not for the 99ers, as they're called, Carli Lloyd —who scored twice on headers in her first start this year — wouldn't be one of many rock stars on a team that will compete for a second successive World Cup title in France this summer. Without the enthusiasm sparked by the 99ers, Alex Morgan of Diamond Bar wouldn't have become one of the most celebrated female athletes in the U.S., drawing roars as she scored her 101st career goal, the fifth goal Sunday.
"They had such an influence on me as a young girl and I'll forever be grateful for what they did," said Morgan, who watched that World Cup when she wasn't playing her own rec soccer games. "Just the culture within the national team is a special one and that's one that they were a huge part of. I think it's important for us to continue to pass the torch and really instill in ourselves that next generation what the national team is about and how we carry ourselves and the mentality we have going into each big tournament."
The 99ers made it possible for women to play soccer professionally and made it the norm to take female athletes seriously, but battles remain. Last month, 28 members of the U.S. team filed a gender discrimination lawsuit against U.S. Soccer in U.S. District Court in Los Angeles, contending they've been treated less favorably than their male counterparts in terms of travel, pay, and other areas.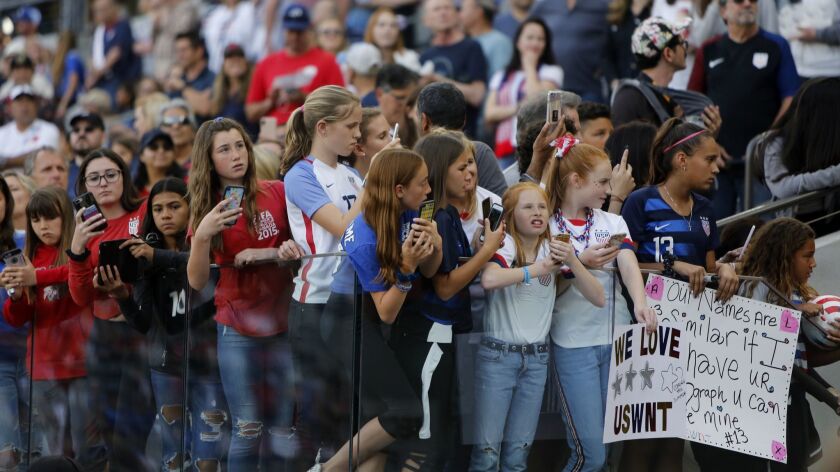 U.S. women's soccer players have come a long way from the days they stayed in roach-infested hotels and lived on warm soda and candy bars, as Foudy recalled them doing during a trip to China because their $10 per diem didn't buy nutritious meals. But there's still a long road to travel to reach equality and fairness. "We were hoping '99 would be that catalyst and now it's 20 years later and you're seeing the fruits of that, where women are being courageous enough to stand up and say, 'This isn't OK and we're going to fight for change,'" Foudy said. "So that's one frustration, that this has happened slower than I thought."
The raucous reception given to the 99ers and this edition of the team should have reminded U.S. Soccer executives there's value to the women's team beyond consistently winning on the field. Inspiration shouldn't have a price tag. "Having the 99ers here was so surreal," said former UCLA standout Samantha Mewis, who scored the fourth goal on one of three setups provided by Christen Press. "We owe them a lot. They really paved the way for this team to really mean what it is and be what it is."
The 1999 team captured the imagination of an audience that didn't know it needed a story as refreshing as theirs. "Young girls never had a place to go where the players on the field looked like them. It felt good for them," said Brandi Chastain, who should be remembered as much for her gritty play as for the iconic moment she peeled off her jersey, as male players do after victories, and exulted in front of 90,000 fans at the Rose Bowl in her sports bra. "It was like looking at themselves in the mirror, like, 'That could be me.'"
The women who wore the white USA kit on Sunday acquitted themselves well with a lineup that moved some players out of their usual positions.
Coach Jill Ellis said she wanted to try out some new pairings, "making sure we get as many looks as we can," as well as provide some players chances to make a case for a spot on the roster in France. The changes paid off for Lloyd. "What we got is kind of what we know is Carli. I've said she's a game-changer whether she's on the pitch or coming into the pitch. That's her role for us," Ellis said. "She was sharp, fantastic, played her role perfectly in terms of getting on into things and got results. I think that's why she's special. That's what I want to see from her and she delivered tonight."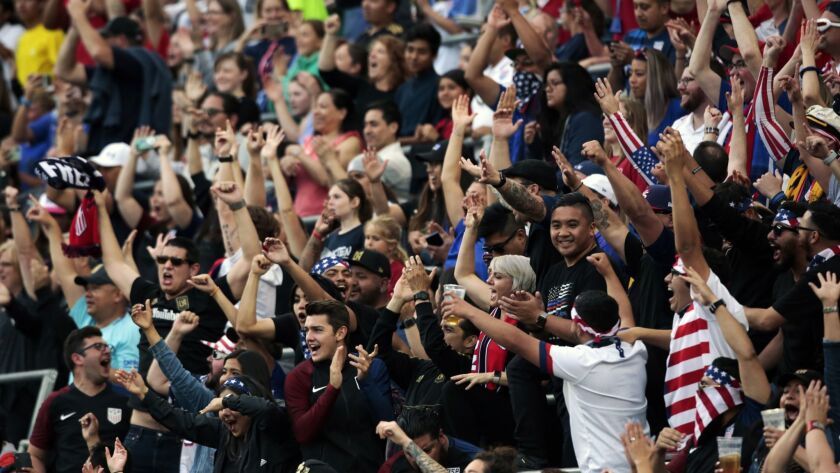 Lloyd, 36, isn't ready to fade away. "I want to win. I'm a winner," she said. "People can say what they want but at the end of the day, I can help this team lift that trophy in France. And I'm not going to stop until I can do that."
A successful tournament for the U.S. women this summer might make it easier to find backing for bringing the NWSL, the women's professional league, to Los Angeles.
Mia Hamm, a singular star of the 1999 team and an investor in the MLS team LAFC, called having a women's pro team here a "top priority."
She added, "When we make that commitment we want to make sure we can go all-in and do it right, just like we've done with the men's team."
Hamm and the 99ers nurtured the seed of women's soccer. The current team's job is to take that to the next level. Nights like Sunday are for dreams that can and do come true.
Follow Helene Elliott on Twitter @helenenothelen
---