Alex Morgan in peak form as top-ranked U.S. team opens World Cup qualifying tournament
Alex Morgan has played in two Women's World Cups but feels like she didn't really leave her mark on the tournament.
"I had a couple of injuries going into last World Cup. The one before that, I wasn't starting. I was new on the team," she said.
So if the third time really is the charm, Morgan said she believes she should have a great tournament next summer in France.
But the U.S. has to get there first, something Morgan and her teammates will begin working on in earnest Thursday when they kick off the CONCACAF Women's Championship against Mexico in Cary, N.C.
The eight-team, 13-day competition serves as the regional World Cup qualifier, with the top three finishers earning invitations to France. The fourth-place team will advance to a playoff with Argentina, where another World Cup berth will be at stake.
Those are good odds for Morgan, 29, who will playing on a No. 1-ranked U.S. team that is 27-1-0 in qualifying and has never finished lower than third in a World Cup.
"My focus is definitely this next year," she said. "This is definitely the cycle and the World Cup that I feel at my best. I feel like I've been lifted up by the coaches and my teammates. I feel like I'm just in a great position.
"That role on the team that I continue to grow into kind of just naturally fits where I am right now."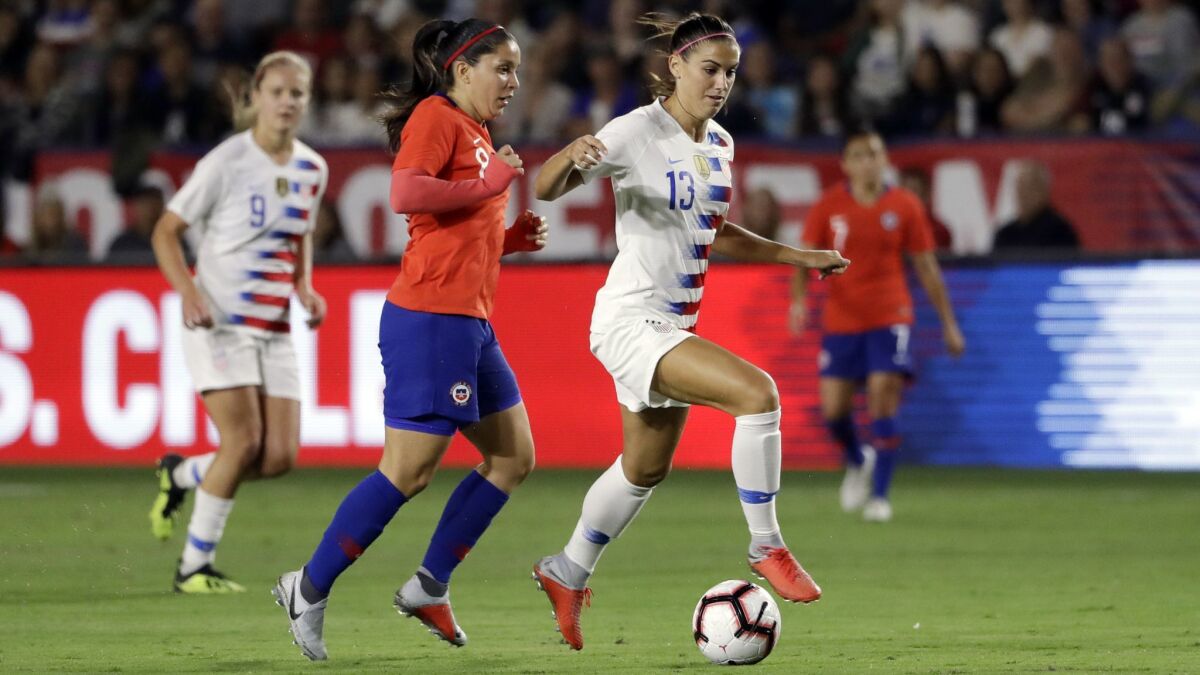 Where she is right now is at the center of a deep, experienced 20-player roster that includes 11 veterans from the 2015 World Cup champion team. Only Carli Lloyd has more international caps and goals than Morgan, who finished third in the voting for the FIFA women's player of the year award in 2012. Yet Morgan, arguably, has never been better than she is now, having scored a team-high 17 goals in her last 21 matches for a team that is unbeaten and averaging more than three goals a game over that 14-month span.
Coach Jill Ellis has taken little for granted in the run-up to qualifying, though, experimenting with different formations and lineups.
"It's a little bit naive that we're going to just show up and win," she said.
"When you're planning for a tournament like qualifying, you want to put more clubs in your bag," Ellis added. "You can do a little bit in training but to suddenly implement them in a game, it's helpful."
And that practice, plus Morgan's near perfection, has Ellis believing this team is even better than the one she took into World Cup qualifying four years ago.
"We're further along, for sure," she said. "We've had a group together now pretty consistently and they understand me.
"I feel very good and confident in the personnel we have."
CONCACAF Women's Championship
(All times Pacific)
Group A
At Cary, N.C.
Thursday: Trinidad and Tobago vs. Panama, 2 p.m., FS2; U.S. vs. Mexico, 4:30 p.m., FS2, UDN
Sunday: Panama vs. U.S., 2 p.m., FS1, UDN; Mexico vs. Trinidad and Tobago, 4:30 p.m., FS2
Oct. 10: Panama vs. Mexico, 2 p.m., FS2; Trinidad and Tobago vs. U.S., 4:30 p.m., FS2, UDN
Group B
At Edinburg, Texas
Oct. 5: Costa Rica vs. Cuba, 3 p.m, FS2; Canada vs. Jamaica, 5:30 p.m., FS1
Oct. 8: Jamaica vs. Costa Rica, 3 p.m., FS2; Cuba vs. Canada, 5:30 p.m., FS1
Oct. 11: Cuba vs. Jamaica, 4:30 p.m., FS2; Costa Rica vs. Canada, 7 p.m., FS1
Semifinals
At Frisco, Texas
Oct 14: Second-place Group A team vs. Group B winner, 1 p.m., FS1; Group A winner vs. second-place Group B team, 4 p.m., FS1, UDN
Third-place game
At Frisco
Oct. 17: Semifinal losers, 1 p.m., FS2, UDN
Final
Semifinal winners: 4 p.m., FS1, UDN
kevin.baxter@latimes.com | Twitter: @kbaxter11
---
All about the beautiful game
Go inside the L.A. pro soccer scene and beyond in Kevin Baxter's weekly newsletter.
You may occasionally receive promotional content from the Los Angeles Times.