Lionel Messi needs a World Cup while Iceland is just happy to be playing in one
Reporting from moscow —
It hasn't been the smoothest of World Cup preparations for Lionel Messi and Argentina.
First the Argentines were routed 6-1 by Spain, then starting goalkeeper Sergio Romero was sidelined because of an injury and then on their way to Russia they caused an international incident by planning a trip to Jerusalem to play Israel in a friendly.
That didn't get a friendly greeting from the Palestinians, so the Argentine soccer association canceled the game. For Messi, it all brought back bad memories: two years ago, frustrated with a national association mired in scandal, he briefly retired from international soccer.
"What a disaster the AFA are," he wrote on social media at the time. "My god!"
The AFA tried to make up for its latest disaster by flying the team to Russia on the Rolling Stones' private plane, but the whole episode became a distraction Messi didn't need before stepping on to sport's biggest stage Saturday, when he and Argentina open their World Cup against an Iceland team that is far from star-struck.
For Messi, who probably is playing in the world championship for the last time, the tournament isn't so much about winning or losing as it is about his legacy. As a club player with Barcelona, he has won everything that can be won: nine domestic league titles, four Champions League crowns and a record-tying five world player of the year awards.
He also has scored more than 600 goals for club and country; only Cristiano Ronaldo, among active players, has scored more. But Ronaldo has won a European Championship with Portugal while Messi's international trophy case remains bare. So if he hopes to make a claim of being the best player of his generation, he can't leave Russia empty-handed.
"Messi has a revolver put to his head called the World Cup and if he doesn't win it, he's shot and killed," his coach, Jorge Sampaoli, wrote in a book published in April. "As a result he can't enjoy his talent."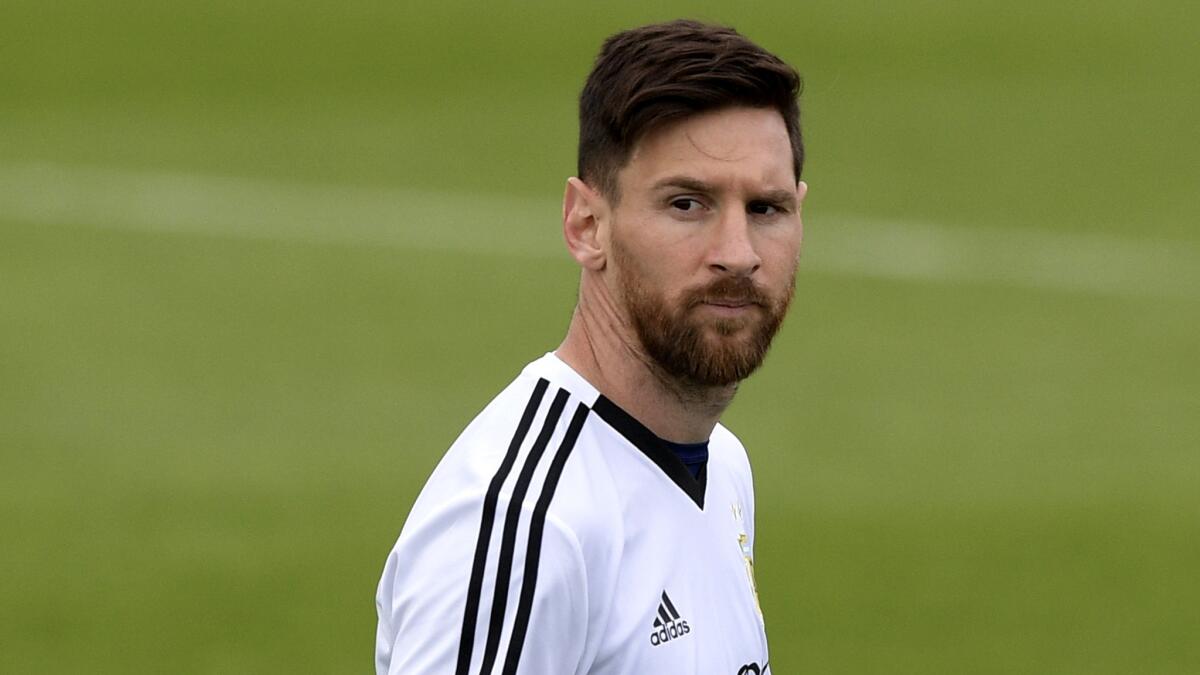 Contrast that suffocating pressure with the joy Argentina's opponents have experienced. Tiny Iceland, playing in its first World Cup, is the smallest country to qualify for the tournament and acts as if it's playing with house money.
Its coach, a part-time dentist named Heimir Hallgrimsson, was tickled when he learned the first World Cup game in his country's history would come against Messi and the world's fifth-ranked team.
"It's a little bit of a romantic feeling to play Argentina in the first game," he said.
Argentina vs. Iceland isn't just David vs. Goliath. It's pressure vs. pleasure, must win vs. can't lose.
While Iceland embraces its reputation as a lovable underdog, Hallgrimsson and his players are just as quick to insist they earned the right to be here. In fact, they nearly made it four years ago, losing in a two-leg playoff to Croatia with the final World Cup berth at stake.
Then two years ago, in the European Championship, Iceland played eventual champion Portugal to a draw and beat England to advance to the quarterfinals.
"Five or six years ago, we started to get the belief," said defender Birkir Mar Saevarsson, who leads the team with 79 caps. "We got better players who played in better leagues. And then faith came in."
Fans came in too. Virtually the entire island watched the team's Euro quarterfinal against France and one-fifth of Iceland's population of 350,000 reportedly sought tickets to the World Cup.
"Icelandic people normally are really optimistic," Hallgrimsson said. "So it's no surprise to them that we're in the World Cup. They expected us to win every [game] and go to the World Cup. That's Icelandic people.
"But we are also realistic."
Realistic enough that midfielder Birkir Bjarnason believes they belong here, believes they can win, believes they can beat even Lionel Messi and Argentina.
"We've shown that for a long time we have a strong team," Bjarnason said. "And [we've] beaten many of the best teams in the world. ,So people are — and should be — looking at us as a contender for every game. It doesn't matter who we play against. We always have a chance. We have proven that.
"We want to go out of the group. We want to go as far as we can. So we have our goal. We have a good mentality. People should not underestimate us. Maybe in the past. But I think times are changing."
kevin.baxter@latimes.com | Twitter: @kbaxter11