For Thailand player, losing to the U.S. is an 'amazing experience'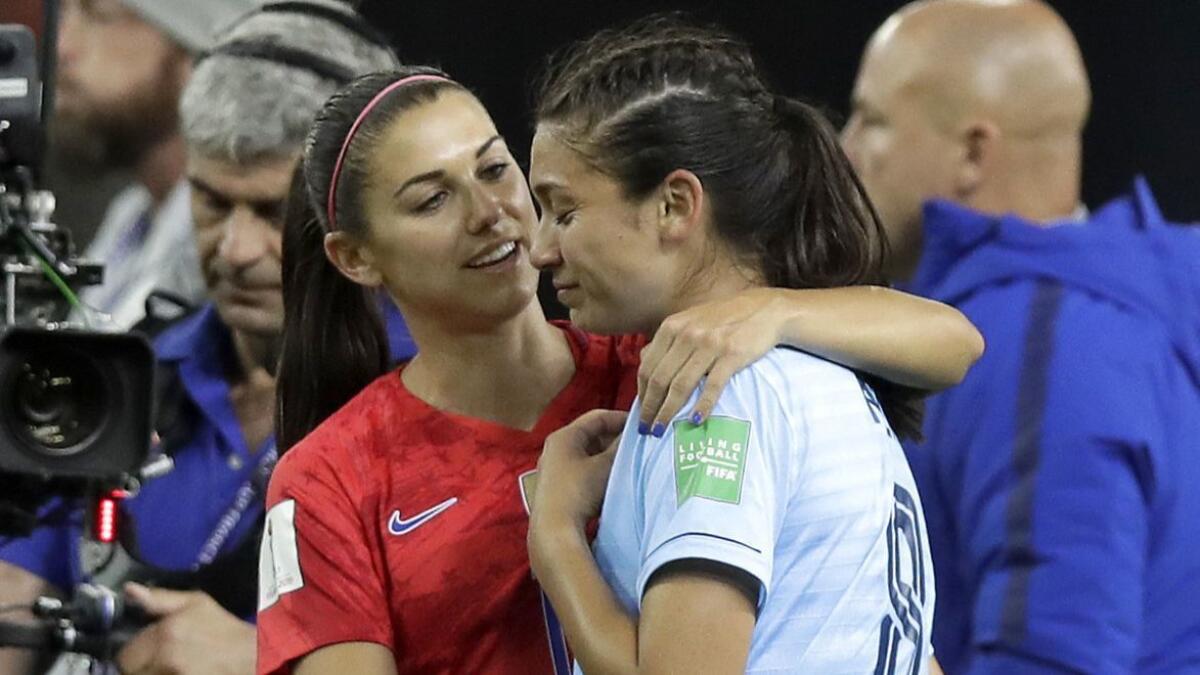 Reporting from REIMS, France —
Thai forward Miranda Nild left the field in tears Tuesday after the U.S. pounded her team 13-0 in Nild's Women's World Cup debut. But the tears were ones of happiness, not embarrassment, because simply taking the field in front of family and friends in a world championship was a bigger victory than anything that happened on the scoreboard.
"It was an amazing experience to be able to play against the States," said Nild, who was born in Northern California and played college soccer at California but represents her father's homeland in international play.
"It was just really a cool experience. It's kind of all hitting me at once. Incredibly emotional. Even before the game it was insane. After it ended, just shaking all the players' hands, it was just so awesome."
Alex Morgan, whose five goals for the U.S. tied a World Cup record, was one of those, along with U.S. coach Jill Ellis, who sought out Nild afterward.
"I told her that it's a dream of all of ours to play in the World Cup," said Morgan, who also played at Cal. "She still has two games to showcase herself. She's a quality player.
"She's living out a dream that most girls don't get to."
When a hat trick isn't enough
Morgan said Tuesday's game exceeded her expectations too — and she went into it with pretty lofty aims, hoping to score three goals.
She did that two scores better.
"To tie Michelle Akers' record is incredible," Morgan said of the former U.S. star who scored five goals in a game in the first women's championship tournament in 1991. "Even more than that, it's was such a great team performance for us."
Morgan came into the World Cup facing enormous pressure after making herself a focal point in the team's bid for gender equity by placing her name first in a lawsuit suing the U.S. Soccer Federation.
But once the match started, she said she felt like a kid again.
"Every time we score a goal in World Cup…I've dreamt of it since I was a little girl," said Morgan, who also had three assists, most by any player in a Women's World Cup match since 2007. "Tonight we knew that every goal could matter."
A baker's dozen should be enough right?
Morgan said the team was reminded before the game that goal differential is an important tiebreaker in determining the positions of teams after the first round. That's why the U.S. never let up, scoring six times in the final 16 minutes of regulation, plus stoppage time, even when it was clear Thailand was unable to defend itself.
"When you're playing in a World Cup, every single goal may count," she said. "That's why we had to keep going."
Ellis agreed, adding that with so many players taking part in a Women's World Cup for the first time, she didn't want to damper their enthusiasm.
"As a coach I don't find it's my job to harness my players and rein them in," she said. "This is what they've dreamt about. This is it for them, This is a world championship."
Sign up for our weekly soccer newsletter »
You never forget your first
Nild wasn't the only player who made her Women's World Cup debut Tuesday.
Seven U.S. players also made their first appearances in the world championship with Rose Lavelle and UCLA's Samantha Mewis celebrating with two goals apiece. Mewis also had two assists.
"It was a great start," said Mewis, whose parents were in attendance. "I'm excited about it and just hoping we can carry the energy forward."
But, she added, the team knows it hasn't won anything yet.
"We definitely need to keep our feet on the ground. And I think we will," she said. "But we're absolutely going to go back and look at film and fix what we need to fix because we have two more [group] games."
kevin.baxter@latimes.com | Twitter: @kbaxter11