Galaxy's Dos Santos brothers, 4 LAFC players named to World Cup rosters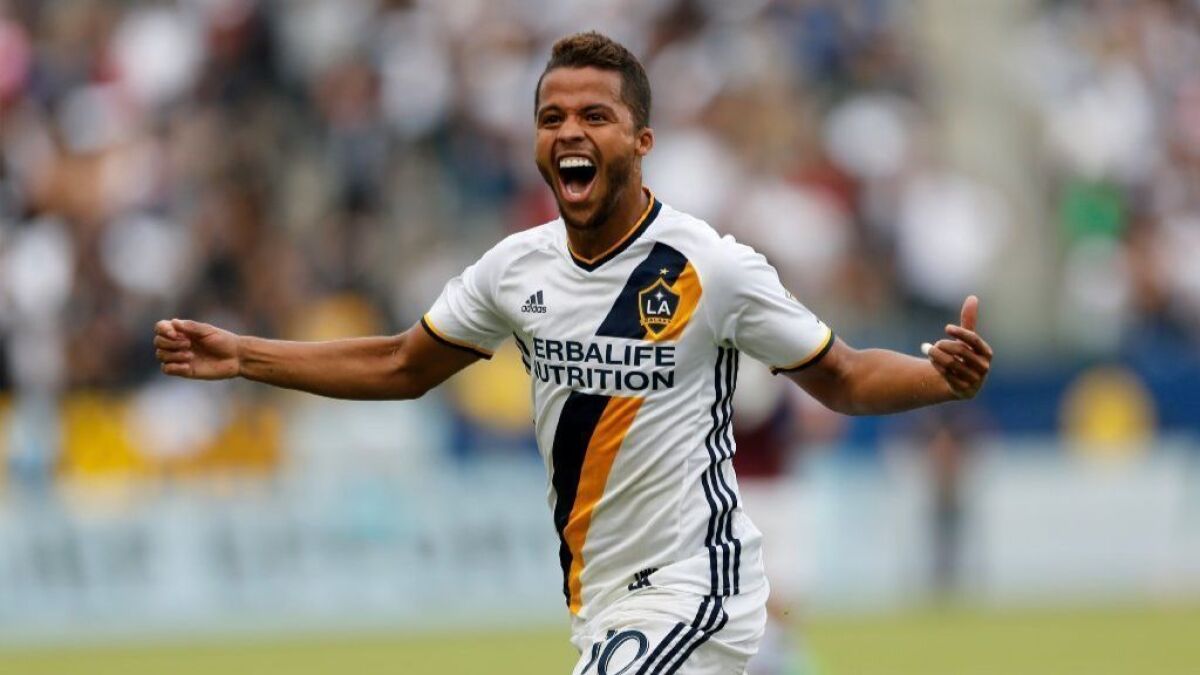 Monday's deadline to submit provisional rosters for the World Cup starting next month answered questions for some of the 32 teams but raised doubts for others as top players continue to battle injury and fitness issues.
Mexico, England, Brazil, Russia, Germany, France and Tunisia are among the teams that have significant doubts about the availability of key players a month before the tournament kicks off.
Mexico cast aside injury doubts surrounding forward Giovani dos Santos and his brother, midfielder Jonathan, and announced that the Galaxy teammates had made the training camp team. Gio did not travel to Dallas for the Galaxy's game last weekend and has sat out half their matches this season while Jonathan has played only 82 minutes in the last month because of injury.
If neither player is available to play in Russia it will end a streak of at least one Galaxy player appearing in every World Cup since the team's founding in 1996.
Mexico also summoned forward Carlos Vela, who leads the Los Angeles Football Club with six goals, and 39-year-old defender Rafa Marquez, who retired from club soccer this spring. If Marquez, a surprise addition to the provisional roster, makes the cut for Russia, it would be his fifth World Cup selection.
Three other LAFC players landed on World Cup rosters with forward Marco Urena chosen to Costa Rica's final 23-man roster while defenders Omar Gaber and Steven Beitashour were named to preliminary rosters by Egypt and Iran, respectively.
"It's something that every player, every coach wants for his players," Beitashour, who was on the Iranian team four years ago, said of the World Cup invitation. "It's an honor. It's the biggest tournament that any football player can dream of playing in."
The four selections for LAFC are the most by any MLS team and that number could grow. Belgium isn't scheduled to publicly release its provisional roster until next week, but it probably will include LAFC captain Laurent Ciman, who was on the 2014 team. If Ciman travels to Russia, LAFC could be without half its starting lineup for as many as six games.
John Thorrington, the club's executive vice president for soccer operations, celebrated the selections.
"For all of our players that are eligible and have the potential to go play in a World Cup," he said, "we are incredibly supportive and hope they do go and hope they do really well."
Brazil, among the pre-tournament favorites, expects star forward Neymar to be a full participate when training camp opens this month. Neymar had a broken bone in his right foot repaired in March.
Defender Dani Alves, a two-time World Cup player, is sidelined after suffering a torn knee ligament in the French Cup final last week.
Germany, the defending World Cup champion, is monitoring the progress of goalkeeper Manuel Neuer and defender Jerome Boateng. Neuer hasn't played since suffering a foot injury in September abd Boateng is sidelined after suffering a thigh injury last month.
England will definitely be without midfielder Alex Oxlade-Chamberlain, who underwent knee surgery this month, while Russia's preliminary roster omitted forward Alexander Kokorin and defenders Viktor Vasin and Georgi Dzhikiya because of knee injuries.
Among those chosen as a replacement was 38-year-old defender Sergei Ignashevich, Russia's all-time leader with 120 international appearances. He came out of international retirement to join the team.
Argentina put forward Sergio Aguero and midfielder Lucas Biglia on its roster, though both are injured. Aguero had minor surgery on his left knee last month; Biglia is trying to come back from two cracked vertebrae.
A knee injury will sideline Tunisia forward Youssef Msakni, the team's leading active scorer with 14 goals, while France has confirmed it will be without Arsenal defender Laurent Koscielny because of a ruptured Achilles tendon.
Follow Kevin Baxter on Twitter @kbaxter11
---
All about the beautiful game
Go inside the L.A. pro soccer scene and beyond in Kevin Baxter's weekly newsletter.
You may occasionally receive promotional content from the Los Angeles Times.