Viewership of Women's World Cup final exceeds 14 million on Fox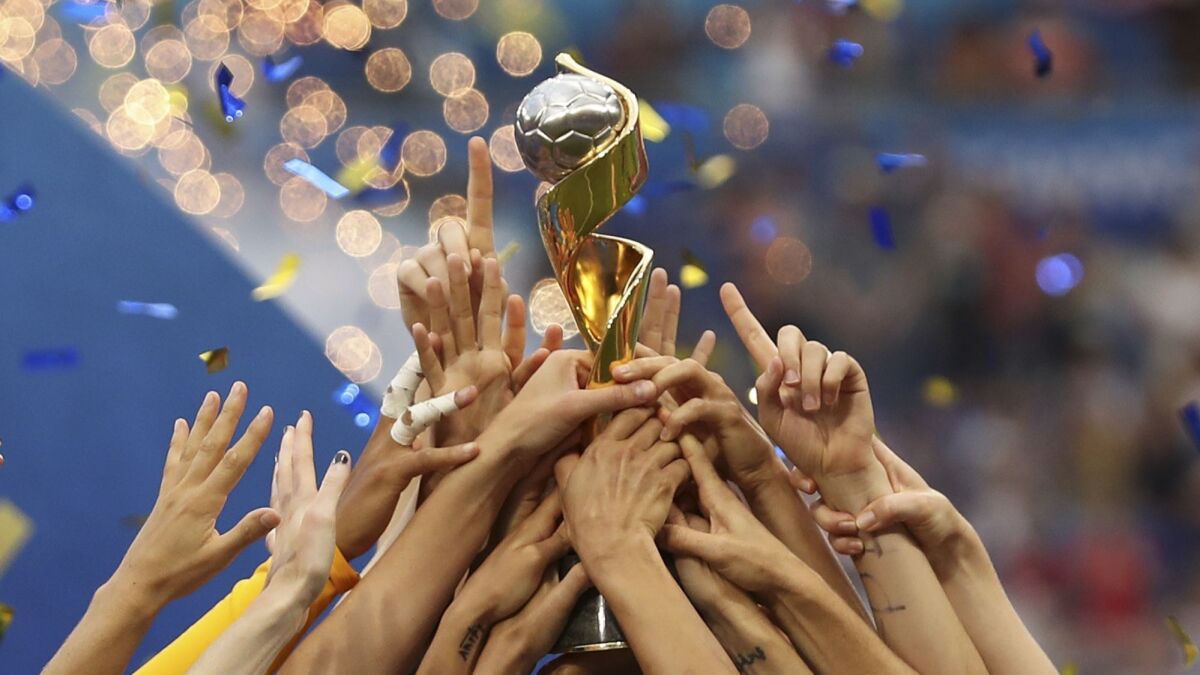 Nearly 16 million viewers tuned into U.S. television coverage of the American team's 2-0 win over the Netherlands in the FIFA Women's World Cup final Sunday morning live from France, combining the Nielsen Media Research figures released for English-language Fox Sports and Spanish-language Telemundo Deportes.
Fox's audience of 14.271 million made the U.S. victory the most-watched soccer match on English-language TV in the country since the record-setting 2015 Women's World Cup final audience that recorded 25 million viewers in prime time. The 2019 audience peaked at nearly 20 million.
Telemundo's 1.6 million watching Sunday set a Spanish-language Women's World Cup record for an event that was without Mexico as a participant. The previous mark was 1.3 million for the 2015 U.S.-Japan Women's World Cup final.
Michael Mulvihill, Fox Sports' executive vice president of programming and research, said Monday that the best comparison for this event is the 2011 Women's World Cup final from Frankfurt, Germany, because of the time zone similarity and also having a final that featured the U.S. The Americans lost in a penalty-kick shootout to Japan that year.
The 2019 numbers for the entire Women's World Cup produced a 4% spike over 2011, which impressed Mulvihill considering there were more total matches for viewer consumption. The 2019 tournament had 24 countries versus 16 in 2011 and expanded from 32 matches to 52.
The 2015 Women's World Cup final from Vancouver, Canada, saw the U.S. defeat Japan. The 2019 Women's World Cup final was up more than 400% in video streaming over the 2015 title game with some 17.8 million views.
"Compared to what happened in 2015, it's also amazing to have the event go to another continent and six time zones away and still have the ratings go up again [over 2011]," Mulvihill said.
Five of the top 10 U.S. TV markets for the 2019 event were West Coast cities that overcame an 8 a.m. kickoff time. San Diego (14.9 rating/42 share), accounting for about 147,000 TV homes, was second to Austin, Texas (16.7/46). Los Angeles was 10th at 11.4/36, which represents about 600,000 TV homes.
"A 36 share in L.A. is usually reserved for a local team playing in a championship," Mulvihill said. "To have that for a national team playing in a morning window is impressive."
When compared with the 2018 men's World Cup final, which featured France defeating Croatia in Russia in the last game of an event without a U.S. representative, the 2019 women's final registered a 22% viewer increase on Fox.
Still, what all the Nielsen figures don't account for are those watching live events outside of metered homes. Several times during Sunday's telecast, Fox showed large outdoor viewing parties in Chicago, Kansas City, Atlanta and New York on Sunday.
Mulvihill said Nielsen is preparing to better capture out-of-home viewing metrics by next summer because "those are significant numbers as TV screens are more ubiquitous and gatherings increase for big events. A true audience can go up to more than 20%, and up to 50% with the younger demographics."
David Neal, Fox's executive producer for soccer coverage, said the TV shots of the crowds watching "just reinforced that there's such a growth in popularity. A picture does speak a thousand words, and those visuals were evident."
Sign up for our weekly soccer newsletter »
In other parts of the world, the Netherlands' NPO1 national TV station reported a record 5.5 million viewers, or 88% of those with TVs, for the Women's World Cup final. That constitutes more than one-third of the entire country.
Fox reports it also had 2.88 million viewers on Fox Sports 1 for its coverage of the U.S.-Mexico CONCACAF Gold Cup final, which had a 6 p.m. kickoff and was the third major soccer event of the day after ESPN+ and Telemundo televised the Brazil-Peru Copa America final in the midday window. Telemundo, with its KVEA affiliate in L.A., reports 3.1 million TV-only viewers for the Copa America final, the event's largest draw for the network since the 2007 title match.
"When you consider the Women's World Cup numbers, the Gold Cup was absolutely impacted by the U.S. women winning," Mulvihill said. "Adding in Copa America and two MLS games, it was one of the largest days of soccer viewing in American history. It was a positive feast."
---
All about the beautiful game
Go inside the L.A. pro soccer scene and beyond in Kevin Baxter's weekly newsletter.
You may occasionally receive promotional content from the Los Angeles Times.