Galaxy face new challenges with expanded MLS playoffs, but help could be coming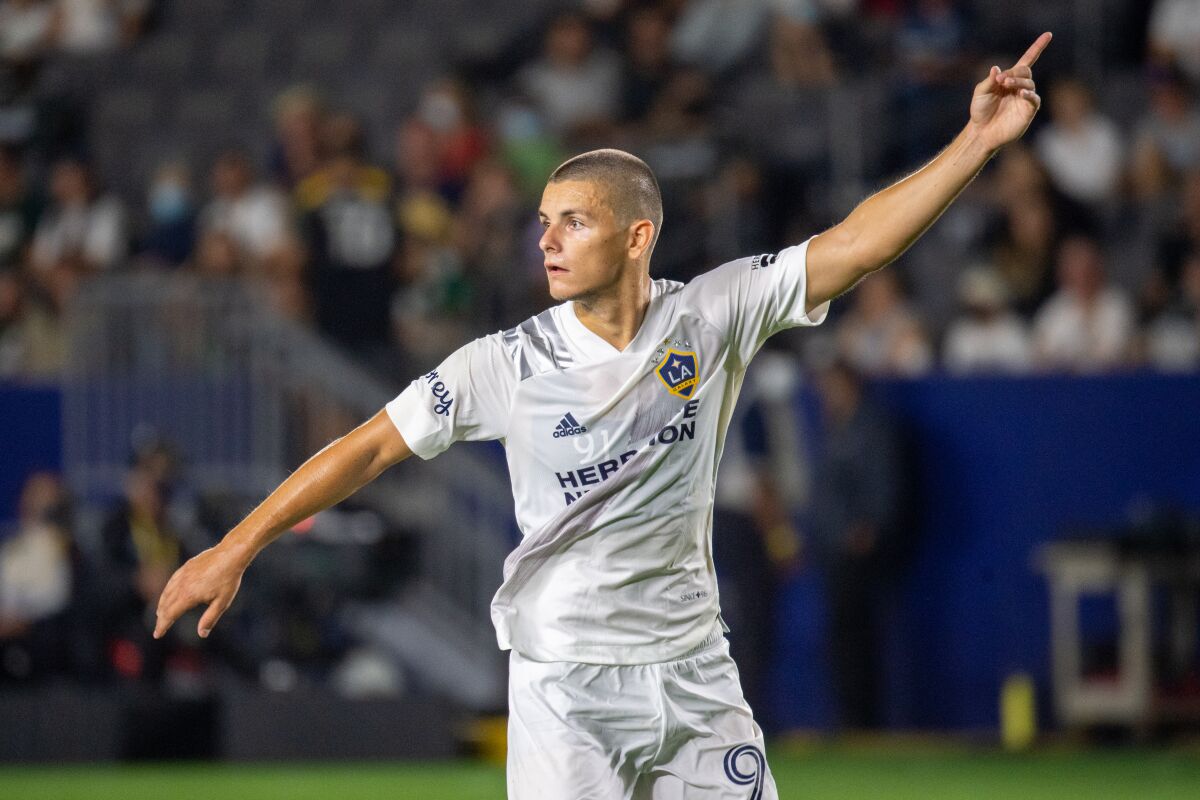 The Galaxy were scheduled to kick off their 28th MLS season Saturday, a fact the league acknowledged a few days earlier by telling the team what it will be playing for.
For the third time in six seasons, MLS has altered its playoff format, this time expanding the field to include 18 of the league's 29 teams. Among major U.S. professional leagues, only the NBA is more generous with its postseason invitations.
Saturday's game at the Rose Bowl has been postponed by the threat of flooding and lightning. Once the season does start, the Galaxy will be pointing toward a playoff tournament that will begin with a wild-card game between the eighth and ninth seeds in each conference, followed by a best-of-three first-round series. The winners will play single-elimination games the rest of the way, meaning wild-card teams that reach the MLS Cup final could play as many as seven playoff games. Add in the 34-game regular season, the new month-long Leagues Cup with Mexico's Liga MX and the U.S. Open Cup, and MLS teams might play as often as 54 times in about 42 weeks.
For Galaxy coach Greg Vanney, that makes this the most challenging season in league history.
The Galaxy proved the best fit for Tyler Boyd, who spent much of his childhood in Santa Ynez, and his wife, whose family lives outside Santa Barbara.
"Teams are built different ways in MLS," Vanney said. "Some are built to take the long haul and lots of competitions. Others are built just to try to win a championship — you know, for the playoffs.
"It's a new wrinkle inside of the league and ultimately I think everybody will prioritize getting in the playoffs and having a chance to win the championship. Because that's the traditional way."
The Galaxy followed that traditional path last season but came up short, squeezing into the postseason by losing only once in their last 11 regular-season games, then winning only once in the playoffs. That mindset hasn't changed despite the added competitions.
"Right now we are focusing on league," Vanney said. "As we continue to build out the roster and move toward the different events, we will play to set ourselves up to try to win a championship in each one of them. But we'll try to be intelligent about the minutes that we are exposing players to."
Squad management will be of massive importance for a team that begins the season with little depth. Vanney, who is also the Galaxy's sporting director, added only four players during the offseason — two in the last week — while seeing 11 depart. Among those who left were starting wingers Kévin Cabral, who was traded, and Samuel Grandsir, who chose to return to France for personal reasons, and right back Julian Araujo, who joined Barcelona on a transfer last week.
The Galaxy are close to landing Lucas Calegari, a 20-year Brazilian from Fluminense, as Araujo's replacement and are rumored to be nearing a deal with former Real Madrid midfielder Isco, who is a free agent.
The Galaxy are facing a deadline to get everything done because they'll have little room to maneuver after the primary transfer window closes in April. Last summer Vanney added midfielders Riqui Puig and Gastón Brugman and defender Martín Cáceres, and they fueled the team's late playoff drive. But the Galaxy are prohibited from registering a player who requires an international transfer certificate this summer, punishment for violating the MLS salary budget rules in the signing of Argentine forward Cristian Pavón in 2019.
The team's thin depth could be tested early since Javier "Chicharito" Hernández, the Galaxy's leading scorer the last two seasons, has been hobbled by a tender hamstring during the preseason.
"Every game and all points matter," said Vanney, who led the team to winning records and one playoff berth the last two seasons, the only Galaxy coach to do that since Bruce Arena left in 2016. "Every game is going to be an important game because it does sometimes come down to the wire as to who's in and who's out."
Giorgio Chiellini knows he is "close to the end" of his prolific career, and he's embracing his leadership and mentorship roles with LAFC.
Behind Hernández, the Galaxy have Dejan Joveljic, who scored 11 goals despite playing only 983 minutes last season. Newly signed Tyler Boyd, a former national team player, will play on one wing with either Efrain Alvarez or newly acquired Memo Rodríguez on the other side; designated player Douglas Costa played sparingly during the preseason, leaving his role with the team uncertain.
The midfield of Brugman, Puig and Mark Delgado might be the strongest part of the team while the back line is stout in the middle, with Jalen Neal, Cáceres and Sega Coulibaly, but weak on the outside until Calegari arrives.
Jonathan Bond will back for his third season in goal; he conceded at least 50 scores in each of his first two campaigns.
Five Galaxy players to watch in 2023
Javier "Chicharito" Hernández: With 35 goals combined the past two seasons, the Galaxy's captain has accounted for a third of his team's goals. But he also has sat out 25 games because of injury during his three years in MLS and, at 34, he's starting this season with a sore hamstring. His health could go a long way in determining the Galaxy's fate.
Riqui Puig: Including the playoffs, the Galaxy lost only one of the first 11 games in which Puig played after arriving from Barcelona in August. But in the Western Conference semifinals, LAFC got physical with the tiny playmaker, neutralizing him. That's a blueprint other teams are sure to follow and one Puig will have to overcome.
Gaston Brugman: Although Brugman's first responsibility as a defensive midfielder was to break up opposing attacks, his precision passing also helped transform the Galaxy offense after his arrival from Parma in July. His experience — he played a decade in the top two tiers of Italian soccer — is also a big plus.
Tyler Boyd: As Vanney continues tinkering with his roster, adding help on the wings figures to be a focus. In the meantime, the Galaxy will look to Boyd, a boyhood fan of the team and a former national team midfielder, to provide stability and creativity in the attack.
Jalen Neal: Neal is one of the rare players who has featured for the national team before playing a league match for his club. The teenager will make his MLS debut this season and the Galaxy are expecting big things from the center back. Given the team's demanding schedule, a productive Neal, either as a starter or as the first man off the bench, will be important for a team in need of depth.
All about the beautiful game
Go inside the L.A. pro soccer scene and beyond in Kevin Baxter's weekly newsletter.
You may occasionally receive promotional content from the Los Angeles Times.