Anti-doping agency, Nevada commission at odds over Floyd Mayweather's prefight IV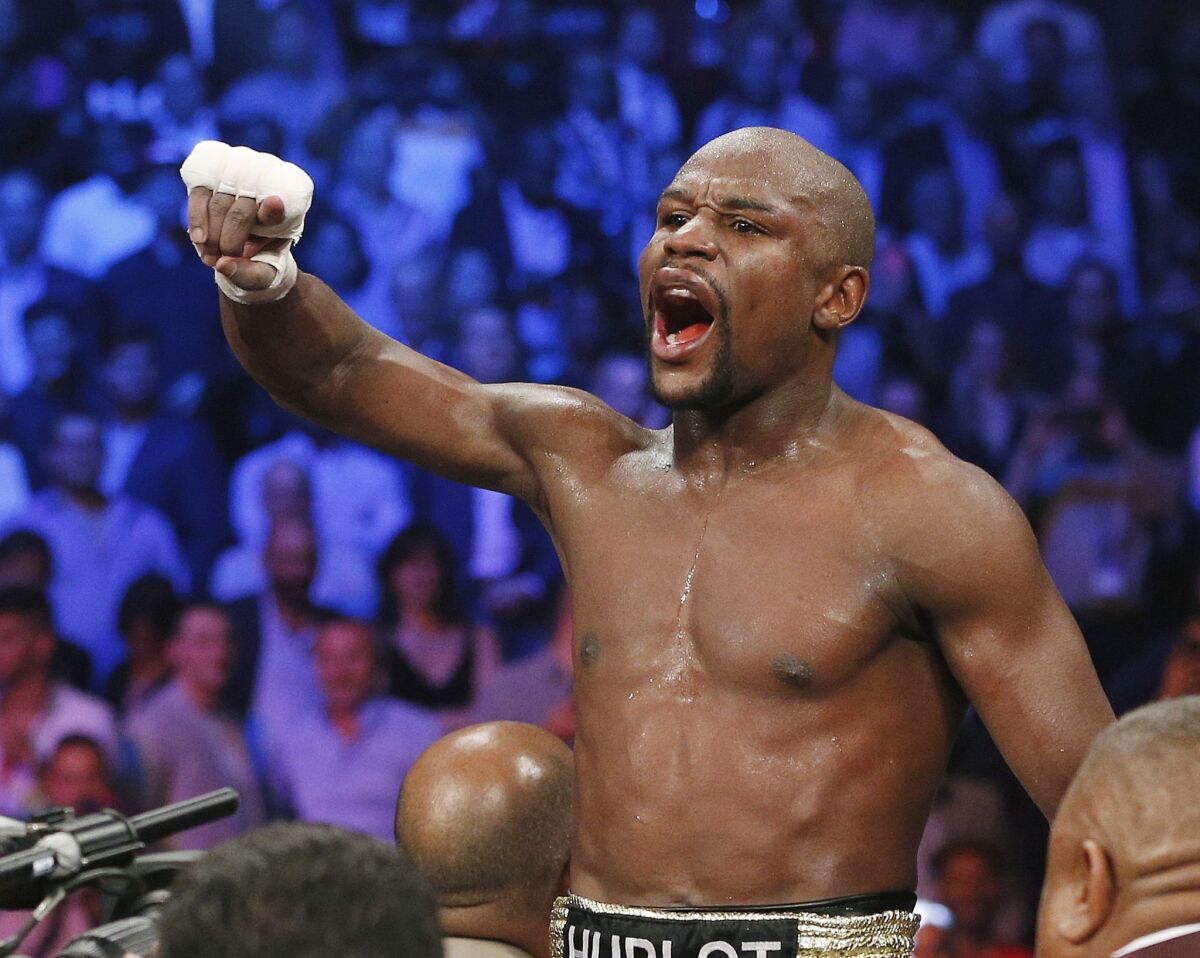 Reporting from Las Vegas —
Floyd Mayweather Jr.'s use of an IV treatment to deal with dehydration before his fight against Manny Pacquiao should not have been by permitted by the U.S. Anti-Doping Agency, the head of the Nevada State Athletic Commission said Thursday.
"USADA has historically been recognized as the world's leading anti-doping authority. However, my experiences to date with them have been less than acceptable and less than professional," said Bob Bennett, the executive director of the Nevada commission.
Mayweather received the IV treatment at his home in Las Vegas on May 1 after weighing in for the Pacquiao fight.
Mayweather returns to the ring Saturday night against Andre Berto in a Showtime pay-per-view fight at MGM Grand, where he'll attempt to match the late heavyweight champion Rocky Marciano's 49-0 record at retirement.
A SB Nation story published Wednesday by HBO employee Thomas Hauser detailed that Mayweather received two infusions of saline, multivitamins and Vitamin C that equated to 16% of the amount of blood in a normal male.
The World Anti-Doping Agency forbids such a large amount of fluids entering the body before competition as a preventive step against the possible masking of performance-enhancing drug use.
In a statement released Thursday morning, a USADA spokeswoman said, "Mr. Mayweather's use of the IV was not prohibited under the NSAC rules at that time and would not be a violation of the NSAC rules today."
Yet, Bennett and commission Chairman Francisco Aguilar sharply disagree, explaining the Nevada commission has not adopted the World Anti-Doping Agency code's prohibited methods.
Bennett said unless the IV was administered at a hospital, it needs to be cleared by filing a therapeutic-use exemption, or TUE, and supporting documents through the Nevada commission and authorized by the commission's medical expert.
"He cannot have it done at his house and [USADA] can't authorize it.... I have specifically articulated and memorialized to USADA that [NSAC] is the sole authority that can authorize a therapeutic-use exemption for a fighter in the state of Nevada," Bennett said. "USADA never told us prior to the IV that they had their own TUE, and they never kept us informed about it being administered.
"If they think they can do what they want, where and whenever they want in the state of Nevada, they are grossly mistaken."
Bennett said he has no concerns Mayweather was working to mask drug use, saying the boxer "has always been an advocate of drug testing and has set a fine example for all fighters."
In a statement released Thursday, Mayweather said, "As already confirmed by the USADA statement, I did not commit any violations of the Nevada or USADA drug testing guidelines.
"I follow, and have always followed, the rules of Nevada and USADA, the gold standard of drug testing.
"Let's not forget that I was the one six years ago who insisted on elevating the level of drug testing for all my fights. As a result, there is more drug testing and awareness of its importance in the sport of boxing today than ever before. I am very proud to be a clean athlete and will continue to champion the cause."
But the lapse in communication is troubling to Nevada officials.
Aguilar said he was the first commission member notified by USADA of Mayweather's IV treatment, and it didn't come until three days after Mayweather defeated Pacquiao by unanimous decision.
Pacquiao promoter Bob Arum told the Los Angeles Times on Wednesday that he wasn't informed of Mayweather's IV until nearly three weeks after the bout and remains "outraged" by the situation.
"After learning of this, anything I'd say would be taken as sour grapes," Arum said. "But there are certainly things about the way USADA operates that raise questions."
USADA also inflamed Arum and the commission before the fight by not informing the commission of Pacquiao's interest in receiving an injection of anti-inflammatory Toradol on fight night.
The Pacquiao camp said they notified USADA of its interest in using the medication, but as Pacquiao's physician attempted to give the injection, Nevada commission members stopped him, saying they had not been notified of such a request.
Pacquiao blamed shoulder pain for his performance in the loss and he underwent shoulder surgery days after the bout.
USADA Chief Executive Travis Tygart is credited as the mastermind who unearthed the doping scheme of seven-time Tour de France champion Lance Armstrong.
Bennett and Aguilar said despite USADA's involvement in 45 boxing cards and their supervision of the Ultimate Fighting Championship's anti-doping system, the agency has botched communication on three occasions.
The most recent, Bennett said, came last week when UFC heavyweight Frank Mir had a TUE approved by USADA for the stimulant Adderall.
"They had no business authorizing that TUE, and we said it's unacceptable, that he had to fill out our application and go through our doctor," Bennett said. "[Mir] was told he had to stop taking the stimulant immediately."
Bennett said when he explained the situation to Mir at his weigh-in last week the fighter expressed confusion about how the process works.
"They're confusing the fighters. I have spoken to Travis several times. The bottom line is that we need to ensure that the fighters are educated about the process. By approving TUEs in the state of Nevada, they are going to confuse the fighters and it is quite evident Mr. Mir was confused," Bennett said.
The commission voted in May to stop accepting third-party test results. If alerted of a positive drug test by USADA, Aguilar said he will work on his own to secure test results from WADA accredited lab in Salt Lake City.
"It's come from multiple situations," Aguilar said. "If we're going to hold fighters accountable, we need to have accountability standards throughout. … If USADA's choosing to use its own rules over ours, it makes no sense."
USADA is advocating year-round out-of-competition testing for boxers worldwide, which would be an expensive endeavor taken on by promoters.
Critics of the agency contend USADA has struggled to produce positive drug tests.
"There are certainly those in the sport of professional boxing who appear committed to preventing an independent and comprehensive anti-doping program from being implemented in the sport, and who wish to advance an agenda that fails to put the interests of clean athletes before their own," the USADA statement read.
"Despite that opposition, we will continue to demonstrate to the clean athletes we serve, the sport partners we work with, and all those who share the ideal of fair competition, that we remain committed to our mission of protecting the rights of clean athletes and the integrity of competition."
Bennett said USADA's attention should be on the "common cause" it seeks along with state commissions, including Nevada.
"After three incidents here, it's hard to call this an anomaly," Bennett said. "They need to understand they need to honor the rules of Nevada, or their work will not be recognized in Nevada."
Twitter: @latimespugmire
MORE ON FLOYD MAYWEATHER:
Even those closest to Floyd Mayweather Jr. don't know if he'll keep fighting
Andre Berto working hard to reach 'destiny' against Floyd Mayweather Jr.
Floyd Mayweather makes way more money than Ronda Rousey, just not per second
---
Get our high school sports newsletter
Prep Rally is devoted to the SoCal high school sports experience, bringing you scores, stories and a behind-the-scenes look at what makes prep sports so popular.
You may occasionally receive promotional content from the Los Angeles Times.