Simone Biles leaves rivals battling for second place in gymnastics trials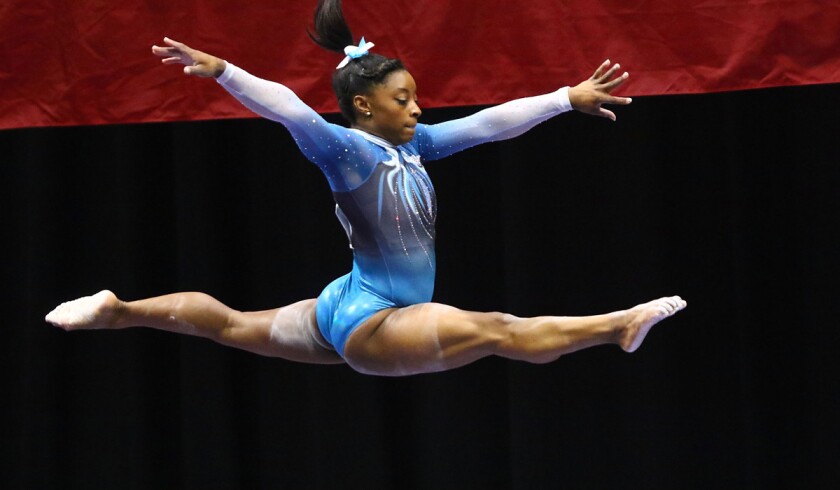 Reporting from St. Louis —
The second-place club features decorated champions, Olympians … in fact, even two Olympic gold medalists.
Kyla Ross (twice), Maggie Nichols and Aly Raisman.
These are the gymnasts who have been one step below the sport's current luminary, Simone Biles, on the podium at the last four U.S national championships. It doesn't demean the considerable talent of those runner-ups; instead the order illustrates the generational dominance of Biles.
Think about singers competing with, say, Adele, for awards. Of course, unlike Biles, of late, Adele hasn't won at every single turn.
Biles, who won her fourth consecutive national all-around title, is chasing perfection – and it's maddeningly close on the vault. On the TV broadcast, she said her legs felt "dead" after her beam routine, her final event on Sunday. Still, she managed to win the all-around competition by almost four points.
Later, in the mixed zone, she was her usual cheerful self, talking about the vault, adding: "I don't know if there's any such thing as perfect in gymnastics though. They always find something."
Meanwhile, the rest of the field is chasing the calendar. The non-Biles spots will be determined at the Olympic trials next month in San Jose. Gabby Douglas, who finished fourth in St. Louis, can take solace in the fact that national team coordinator Martha Karolyi is more in the here and now.
In other words, her woes on the uneven bars (Sunday) and struggles on Friday can be largely forgotten with two consistent days in San Jose.
"Obviously I gave a lot away," said Douglas, the all-around gold medalist at the 2012 Olympics. "Had a few mistakes…I felt there was a little bit of a difference because I messed up a few events that I could have done a lot better. Overall, my training has been going well. A fluke thing because that never happens to me on bars and my beam was really wobbly the first day."
Douglas channeled her emotions after the rare miscue on the bars.
"After bars I was just really mad and I wanted to head into beam and be really strong," she said. "This is where the pressure is: Am I going to crack? Or be bold and hit this beam routine like I've been doing in training."
Raisman, a member of the 2012 gold medal winning team, and 16-year-old Laurie Hernandez, were second and third, respectively. Evidence suggests they are faring better in their competition with the calendar.
"Coming back was a bit stressful," said Hernandez, who turned 16 earlier this month. "We were cramming a little bit. I just wanted to get out here and do my best and I think I did that. … I think that's why I'm a little speechless. The results were just a bonus."
Maggie Haney, who has coached Hernandez since the New Jersey-born and raised gymnast was 5 years old, explained why there was a short turnaround. Hernandez resumed full training only about four weeks ago.
"She far exceeded my expectations because she had been out for a while with a knee strain," Haney said. "For about six and a half weeks we were not really able to train. Two and a half weeks of that time, she was completely off her legs, meaning she couldn't even jog or jump rope.
"I was a little unsure of how the weekend was going to go. She just really stepped up and showed what a great competitor she is and came through."
Could she say the best is yet to come?
"Absolutely. She's got much more," Haney said.
---
Get the latest on L.A.'s teams in the daily Sports Report newsletter.
You may occasionally receive promotional content from the Los Angeles Times.