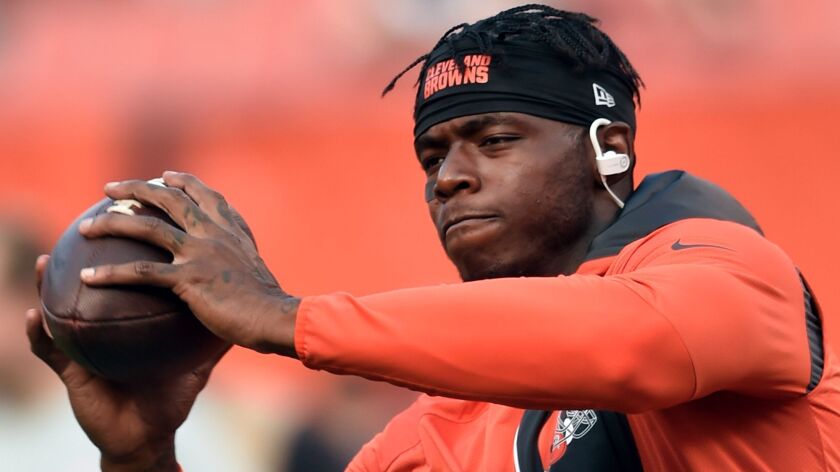 Josh Gordon is ready to play football again. And this time the Cleveland Browns' Pro Bowl receiver plans on doing it sober, something he says he's never done before while playing in the NFL or college.
"I don't know how I did it," Gordon told GQ magazine in an interview published online Monday. "It could be before games, it could be before practice, after practice. You see other guys kinda doing it, but I would take it to another level a lot of times. Feeling as though I was being enabled, I thought it was an OK thing to do: 'Well, this is the norm.' And it wasn't. It definitely wasn't."
Because of his substance abuse issues, Gordon hasn't played in the NFL since 2014. He was suspended for all of the 2015 season and the first four games in 2016, then missed the rest of that season after checking himself into rehab.
Last week, Gordon was reinstated on a conditional basis by NFL Commissioner Roger Goodell. He can attend Browns team meetings starting Tuesday and is eligible to join his teammates at practice on Nov. 20 and on the playing field Dec. 3.
It is hoped that this time there will be no pregame rituals like the ones he described for GQ.
"I used to make a ritual of it before every game," Gordon said. "Even before I was getting tested for alcohol, prior to my DWI in 2014, I would take the biggest bong rip I could. And try to conceal all the smell off all my clothes. I'd be dressed up to go to the game. A bunch of guys smoke weed before the game. But we're not talking about them.
"I would have these little pre-made shots. I used to love Grand Marnier. I could drink it down smooth. I could usually drink a lot of it. But if it wasn't that, it might be a whiskey or something. And I would drink probably like half a glass, or a couple shots to try and warm my system up, basically. To get the motor running. That's what I would do for games."
Gordon said he played with some substance in his system "every game. Probably every game of my career."
Asked if that included college, the former Baylor receiver answered, "Definitely college."
It also includes the 2013 NFL season, the year he led the league with 1,646 yards (compiled in 14 games) and became the first receiver ever to record back-to-back games of 200-plus yards (237 and 261).
Browns coach Hue Jackson said he planned to talk with Gordon about the GQ interview but didn't seem to think it would affect the receiver's standing with the team.
"I think he was letting things out if that is what was said," Jackson said. "I think he was cleansing himself of his past, and I get that a little bit, but again, I think he said what he felt he needed to say."
Twitter: @chewkiii
---