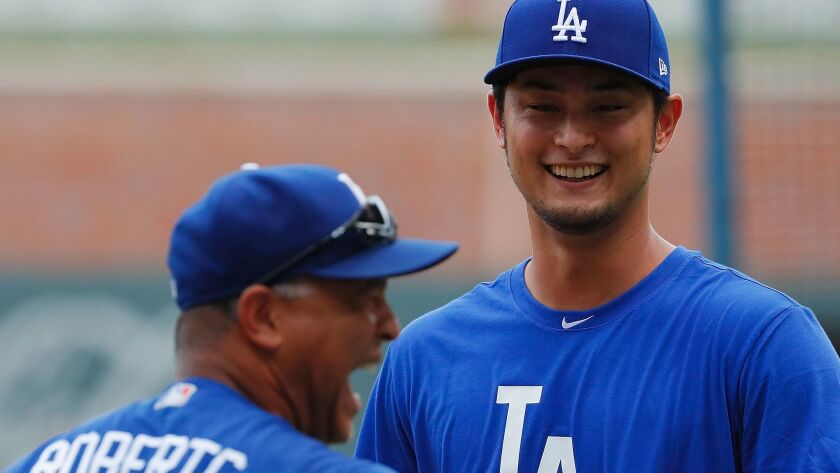 Guess which Dodger player is nicknamed "Silver Fox." How about "Wild Horse" or "Dizzy"?
Here's a tricky one — "Sam," since there is no one by that name on the team's roster.
And some not-so-tricky ones — "Kersh," "Kiké" and "Seager."
They're all going to be easy to identify during Major League Baseball's Players Weekend, Aug.25-27, when players around the league will wear special uniforms inspired by those worn by youth league players featuring their personally selected nicknames on the back where their last names usually would be (with the exception of Dodgers shortstop Corey Seager, whose last is apparently also his nickname).
Also during that weekend, players will allowed to wear unique spikes, batting gloves, wristbands, compression sleeves, catcher's masks and bats, as well as special caps and socks. Players will be able to write in the name of a person or organization they would like to honor, and they also can wear T-shirts highlighting a charity or cause during pregame workouts and postgame interviews.
"The collective desire to express their diverse interests and backgrounds is what motivated players to lobby for the creation of Players Weekend," MLB Players Assn. Executive Director Tony Clark said in a statement. "This will be an exciting and unique opportunity for the players to literally wear their passions on their sleeves, and equipment, too, as they embrace this chance to let their true identities shine."
Here's the list of the nicknames Dodger members will wear on their jerseys:
Luis Avilan — Avi
Pedro Baie — La Mula
Austin Barnes — Sam
Cody Bellinger — Codylove
Tony Cingrani — Grani
Yu Darvish — Yu-San
Andre Ethier — Daddy
Logan Forsythe — Logie Bear
Adrian Gonzalez — El Titán
Yasmani Grandal — YRG JR
Enrique Hernandez — Kiké
Rich Hill — Brice
Kenley Jansen — M'Montro
Clayton Kershaw — Kersh
Kenta Maeda — Maeken
Brandon McCarthy — BMac
Brandon Morrow — B Mo
Joc Pederson — Dizzy
Yasiel Puig — Wild Horse
Corey Seager — Seager
Ross Stripling — Chicken Strip
Chris Taylor — CT3
Justin Turner — Redturn2;
Chase Utley — Silver Fox
Tony Watson — Watty
Alex Wood — Woodman
Other notable nicknames coming to the back of an MLB jersey near you: "Kiiiiid" (Angels' Mike Trout), "All Rise" (Yankees' Aaron Judge), "Corey's Brother" (Seattle's Kyle Seager), "El Koja" (Texas' Adrian Beltre), "Wawindaji" (San Francisco's Hunter Pence) and "Bringer of Rain" (Toronto's Josh Donaldson).
Twitter: @chewkiii
---