Morning Briefing: Need an extra quarter? Don't ask Matt Kuchar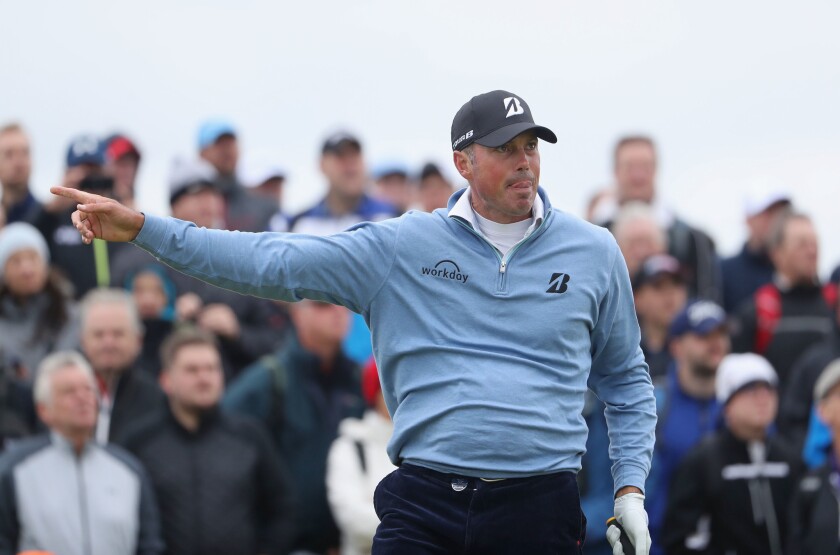 Matt Kuchar, currently the 22nd-ranked golfer in the world, has won just under $47 million in his PGA Tour career. And he has probably saved a lot of that money since he doesn't part with it easily.
Kuchar won the Mayakoba Golf Classic in November and received $1.296 million for the victory. This week, we learned what he gave his caddie, David Giral Ortiz, after the victory: $5,000.
We learned this because Ortiz made a public plea to Kuchar's agent, Mark Steinberg, stating, "I am a humble man, who takes care of his family, and works hard. I am reaching out to you to see if you can facilitate me receiving a fair amount for my help with Matt winning $1,296,000. I am not looking to disparage Matt or give him a bad name. Fair is fair, and I feel like I was taken advantage of by placing my trust in Matt."
Kuchar talked about it with the Golf Channel on Wednesday, saying, "It's kind of too bad that it's turned into a story. I really didn't think it was a story because we had an arrangement when I started.… We had an arrangement Tuesday that David was OK with, and I thought Sunday he was very much OK with it."
Ortiz is not Kuchar's regular caddie, but a club caddie from Mexico.
Kuchar said he offered Ortiz an additional $15,000, but Ortiz declined the offer. He is seeking $50,000.
Kuchar said because Ortiz agreed to be paid $4,000 before the tournament started, he thought he was being generous in giving him $5,000.
"I ended up paying him $5,000, and I thought that was more than what we agreed upon," Kuchar said. "I kind of think, if he had the chance to do it over again, same exact deal, that he'd say yes again."
With fans like these….
Pitcher Daisuke Matsuzaka spent a lot of his time in the majors on the disabled list. Now that he is back in Japan pitching, he is on the DL again. But it's not really his fault.
Matsuzaka was appearing at a fan event with several other members of the Chunichi Dragons. While shaking hands and greeting people, an overzealous fan yanked on his arm, causing him to wince in pain.
Matsuzaka was later diagnosed with inflammation in the arm and shoulder and has been told not to throw until the swelling goes away.
Matsuzaka spent about three years not playing much because of various injuries, but he rebounded last season to go 6-4 with a 3.74 ERA and was named Nippon Professional Baseball's 2018 Comeback Player of the Year.
That's just wrong
Rick Pitino is coaching basketball in Greece as head coach of Panathinaikos, which advanced to the finals of the Greek Cup in a way Pitino has never seen before.
Panathinaikos had a 40-25 lead and, after the halftime break, came back out to start the second half. They waited for their opponent, Olympiacos. And waited. And waited. And waited. Olympiacos never came back out, with the coach refusing to send his team out to protest what he felt were bad calls against his team. The game was declared a forfeit win for Panathinaikos.
"Well in 42 years of coaching I thought I had seen it all. Up 15 at halftime. Motivating my team to come out with great intensity the first five minutes. We were fired up except Olympiakos never came back out. Game over," Pitino tweeted after the game.
To make it even more bizarre, after the forfeit was announced, Panathinaikos owner Dimitris Giannakopoulos walked over to the Olympiacos bench and put a pair of women's underwear on one of the seats.
Why he would happen to have a pair of women's underwear ready to use in circumstances like this is best left to speculation.
---
Get the latest on L.A.'s teams in the daily Sports Report newsletter.
You may occasionally receive promotional content from the Los Angeles Times.