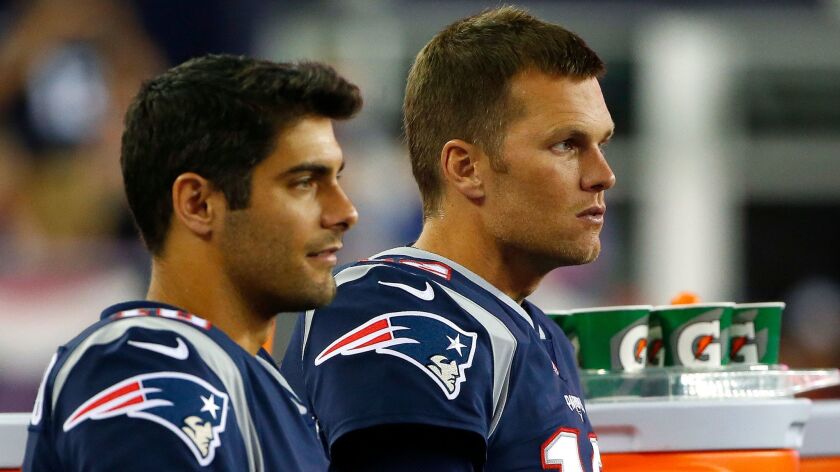 New England Patriots quarterback Tom Brady denied an ESPN report that he celebrated after his backup, Jimmy Garoppolo, was traded to the San Francisco 49ers in November.
"In 18 years, I've never celebrated when someone has been traded, been cut," Brady said Tuesday on WEEI radio in Boston. "I would say that's disappointing to hear that someone would express that, or a writer would express that, because it's so far from what my beliefs are about my teammates."
ESPN published a detailed article by writer Seth Wickersham on Friday that reported a growing rift within the Patriots involving Brady, coach Bill Belichick and owner Robert Kraft. On Friday morning, the team released a joint statement from the three men saying they "stand united" despite "unsubstantiated, highly exaggerated or flat out inaccurate" reports that suggest otherwise.
One source of stress within the organization is the 40-year-old Brady's well-publicized plan to play for several more years, according to the article, which stated that Kraft ordered Belichick to trade Garoppolo "because he would not be in the team's long-term plans."
After the trade, the article states, "Brady … seemed liberated" and "some players and staffers noticed that Brady seemed especially excited, hollering and cajoling" during practice a few days later. "He won," Wickersham quotes a Patriots staffer as saying.
But Brady said Tuesday that's not his style.
"I think I'm very empathetic toward other people's experiences," Brady said. "I know those situations aren't easy. I've never been traded or released, but I can imagine how that might feel. I would never, ever feel that way about when Jimmy got traded, when Jacoby [Brissett] got traded. I've kept in touch with all those guys. When Matt Cassel was gone. All these guys I've worked with, I felt like I had such a great relationship with all the quarterbacks I've worked with. I kept in touch with basically everybody. So to characterize that as a certain way is just completely, completely wrong."
Does Bill Belichick want to coach the New England Patriots in 2018? 'Absolutely,' he says »
He added: "I think it's up to everybody to believe what they want to believe.
"I don't put too much thought into it, really. I feel like I have a great relationship with my teammates. If others don't feel like they have a great relationship with me, that's one thing, but I try to do what I've always done and be the best teammate I can be. I don't think that's ever really changed in my mind."
Twitter: @chewkiii
---