Santana Moss says Robert Griffin III gloated when Redskins fired Mike Shanahan; RG3 calls comments 'a betrayal'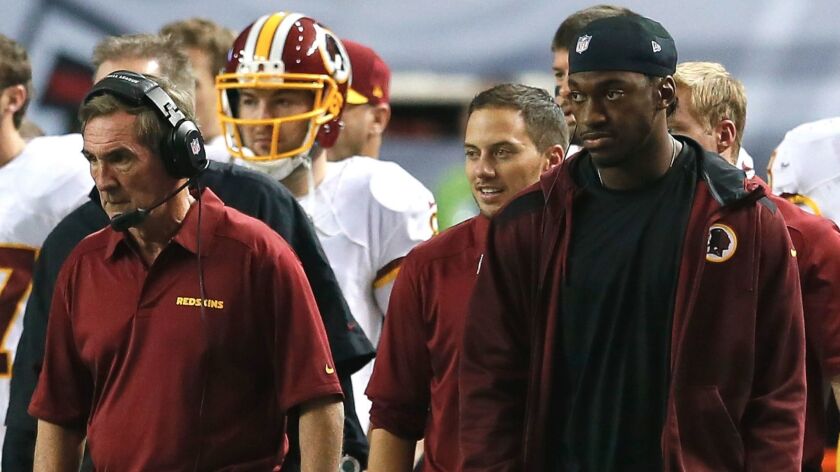 Robert Griffin III accused his former Washington Redskins teammate Santana Moss of betraying him and lying by saying that RG3 gloated when coach Mike Shanahan was fired by the team after the 2013 season.
During a radio interview Monday on WFAN in Washington, D.C., Moss told of a fractured relationship between Shanahan and Griffin, who was benched for the final three games of that season.
"I'm not sure if that was [Griffin's] whole plan, but when the whole thing went about, we hear that Mike Shanahan's not coming back the next year, then we hear the quarterback like, 'Hey, mmhmm.' Like basically saying that, 'Hey, you got me out of here not playing last year the last few games, then that's what happens. You get fired,'" said Moss, a former receiver who played 14 seasons in the NFL.
"You can't do that. One thing I just shared with you, God don't like ugly. The little credit that [Griffin] did take for saying, 'They didn't like what I was doing' or 'They benched me and not allowing me to play,' that's what happens."
Moss went on to describe what happened when current Redskins coach Jay Gruden took over in 2014.
"He rips RG every chance he gets, like every meeting," Moss said, "and we're sitting there looking like, 'Yeah. You know what? You were just so happy that Mike and [offensive coordinator] Kyle [Shanahan] and them is gone, but now you're getting your behind ripped every day, because you're not playing the kind of football that we need to play for us to be successful.'
"So, it comes back and bites you in your behind. ... I was saying to myself that, as much as I love [Griffin] as a person, bro, and as much as I know from how you came into these doors, that was the dumbest mistake you could ever make in this league, because it's one of those brotherhoods."
Griffin, 27, who has yet to sign with a team after being released by the Cleveland Browns in March, took his former teammate's comments personally. "Santana Moss, I treat you like a brother & have always had your back. To openly lie about me is a betrayal..…," Griffin tweeted.
Griffin went on to tell his side of the story through a series of tweets.
"Some so desperately want me to fit this negative narrative that has been pushed about me," Griffin tweeted. "But I don't fit it. Never have. Never will."
Twitter: @chewkiii
---
Get our high school sports newsletter
Prep Rally is devoted to the SoCal high school sports experience, bringing you scores, stories and a behind-the-scenes look at what makes prep sports so popular.
You may occasionally receive promotional content from the Los Angeles Times.