Adam Wainwright: Fluke injury shouldn't lead to designated hitters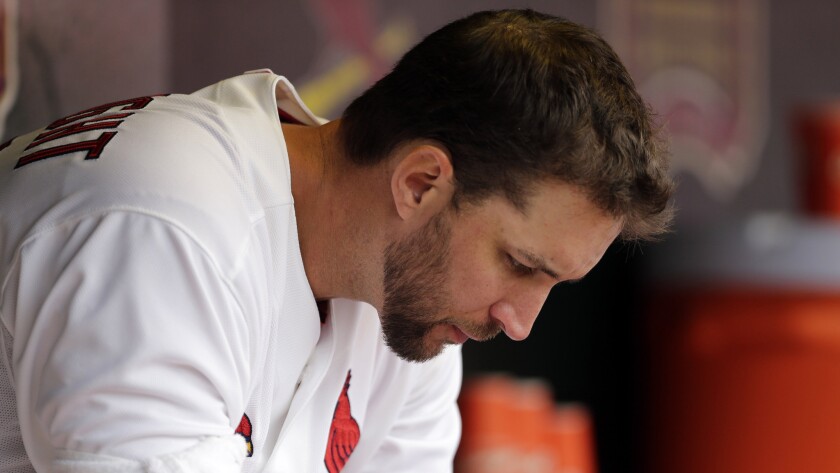 The debate over whether the National League should adopt the designated hitter is not new. The American League added the DH in 1973, and the position has lent itself to enough high-paid jobs that the players union could never sanction its elimination.
So, if both leagues are going to play by the same rules, the NL is going to have to add the DH. The NL owners have had this option for decades and never have shown any great interest in it. There was supposed to be some great urgency in resolving the matter when daily interleague play started in 2013, but the intensity of the debate faded quickly, and we all moved on to something else.
The debate raged anew after St. Louis Cardinals ace Adam Wainwright ruptured his Achilles' tendon while batting last week. Why, after all, should a team risk losing its star pitcher for the season -- as the Cardinals did with Wainwright -- because of a batting injury? And why not replace a pitcher with an actual hitter, since pitchers batted .107 last season?
Max Scherzer of the Washington Nationals spoke out in favor of a DH in both leagues.
"Who'd people rather see hit -- Big Papi or me?" Scherzer told CBS Sports. "Who would people rather see, a real hitter hitting home runs or a pitcher swinging a wet newspaper?"
Madison Bumgarner of the San Francisco Giants, who hit two grand slams last season, shot back.
"Oh, well, my wet newspaper is 34½ inches, 33½ ounces, and I'm waiting on some new ones right now," Bumgarner told San Francisco reporters.
Scherzer then said his comments were taken out of context, that his "wet newspaper" remark was just "an attempt to be funny" and he thought nothing more than that both leagues should play by the same rules.
We now have come full circle. Wainwright, whose injury was the flash point for this round of the debate, said that the NL should continue to ban the DH and that his injury was a "fluke."
"I could have been carrying my daughter up the stairs," Wainwright told the St. Louis Post-Dispatch. "So, outlaw carrying your daughter up the stairs. Outlaw covering first. Outlaw fielding a bunt.
"It was a fluke thing and baseball needs to stay exactly where it is."
---
Get our high school sports newsletter
Prep Rally is devoted to the SoCal high school sports experience, bringing you scores, stories and a behind-the-scenes look at what makes prep sports so popular.
You may occasionally receive promotional content from the Los Angeles Times.