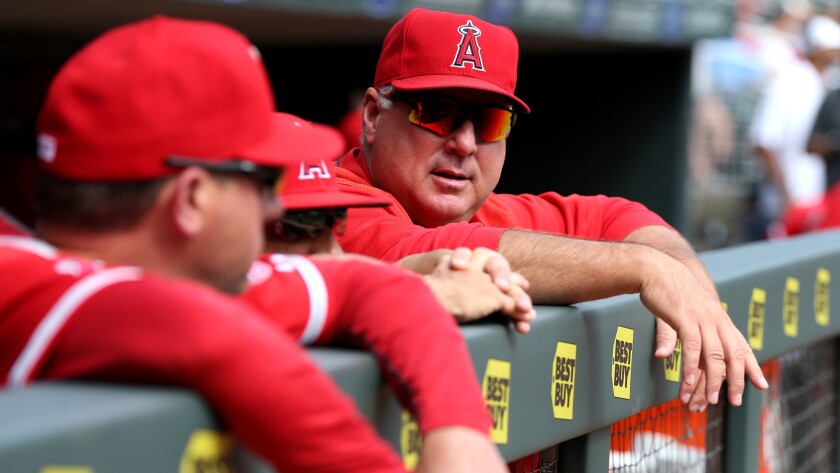 An 18-9 September run that pushed the Angels into playoff contention was aided in part by a late-game defensive package that often featured Efren Navarro at first base, Taylor Featherston at second, Kaleb Cowart at third and Collin Cowgill in left field.
While those players helped the Angels win 10 of their last 11 one-run games, their use came at a cost. If leads weren't held and games went into extra innings, the Angels would lose the considerably stronger bats of the players they replaced — C.J. Cron, Johnny Giavotella, David Freese and David Murphy.
Manager Mike Scioscia's strategy could be put to the test with the Angels closing the regular season with four huge games against the Texas Rangers in Globe Life Park, one of baseball's most hitter-friendly stadiums.
Late-game leads of one, two, three, and even four runs can evaporate quickly in this park, but Scioscia said that won't prevent him from inserting his special-teams unit if the situation calls for it.
"As far as wholesale changes, at first, second and third, I think we'll go the same way we've [been going]," Scioscia said before Thursday night's game. "It depends on where the game is what you're looking at."
Scioscia acknowledged that a two-run lead in Texas "could be different" from a two-run lead in another park, but he will still base his decisions on matchups and game situations.
"Obviously, if Joe's in the game, you're really looking for left-side defense," Scioscia said, referring to side-arm throwing setup man Joe Smith, who induces a lot of ground balls. "You're looking at the hitters coming up for those guys. Without a doubt, we'd make sure that we have enough coverage in the outfield."
Giavotella hit a two-run home run in the sixth inning of Wednesday's 8-7 loss to the Oakland Athletics and was replaced to start the seventh by Featherston, who booted Eric Sogard's routine grounder to open the inning. The A's went on to score four runs.
Giavotella also committed an error during Oakland's three-run fourth inning, and Scioscia said he will not be reluctant to make the same late-inning switch at second this weekend. Scioscia also pulled Freese for a pinch-runner in the ninth, after which Cowgill, with runners on first and third, grounded out to end the game.
"The thing you don't want to do is totally eject your whole offensive team when there's really very low possibility of scoring a run," Scioscia said. "But in that situation there with David, there's no doubt that if Collin hits one down the line or in the gap, we win that game. That's part of what you're weighing when you do it.
"You're looking at a significant upgrade as far as who you're putting in there. … You look at the whole situation. You have to weigh a lot of things. Believe me, when you take a guy out of the game, we understand it's a big move. You have to weigh it. You can't put him back in. We don't take it lightly throwing four guys out there in the eighth inning."
---