Olympic champion Claressa Shields dominates in her pro boxing debut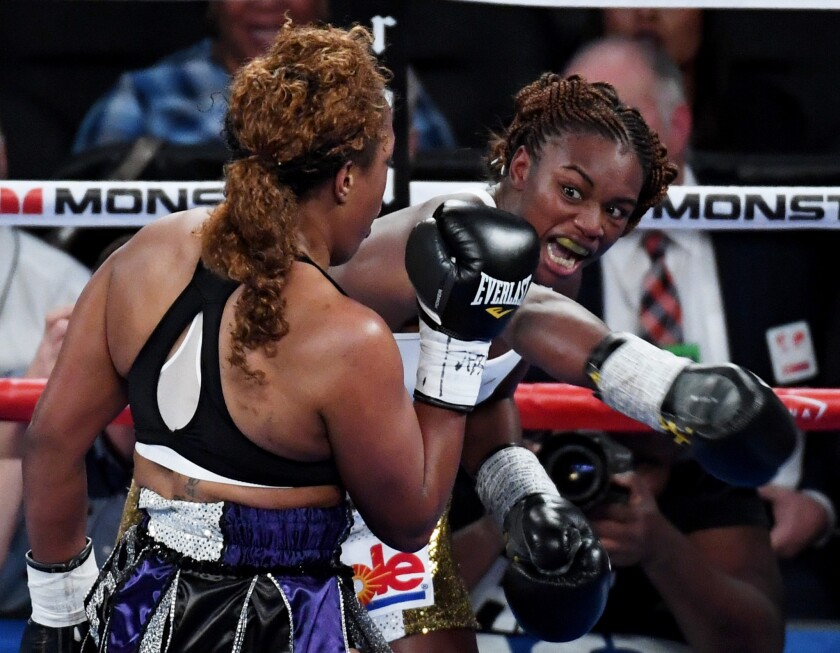 Reporting from Las Vegas —
Claressa Shields' campaign to reenergize women's boxing began Saturday with a convincing, aggressive victory over her former amateur foe Franchon Crews.
Shields, the compelling two-time U.S. Olympic boxing champion from Flint, Mich., took Crews' best punches in the opening minute, then paid her back with a repeated onslaught of blows that left Crews fatigued by the third round.
Judges awarded Shields (1-0) three 40-36 scores in the super-middleweight bout at T-Mobile Arena.
The fight preceded the night's main event, three-belt light-heavyweight champion Sergey Kovalev's title defense against unbeaten former super-middleweight champion Andre Ward of Oakland.
Shields, wearing a gold-trimmed robe and shorts at entrance, was greeted immediately by heavy punches from Crews, but swung back and belted Crews to win the round.
Before the fight, Shields expressed confidence in winning by knockout after fighting Crews three times in amateur competition.
"I win with my jab, head movement, hitting her to the body hard and protecting myself at all times," Shields said. "I haven't had a worry before a fight in a long time. I just always feel overly prepared."
She took satisfaction in her debut after winding up and smacking Crews in the second round, following that with a scoring combination and another flush punch to the face that had Crews breathing with her mouth open by the third.
"This is what I've been training for," Shields said. "I'm faster and I hit harder. And I'm the better fighter."
Shields said she'd seek to fight again by February.
Her appearance was frankly the most compelling undercard bout, which also featured former middleweight title challenger Curtis Stevens and Oxnard-trained light-heavyweight prospect Oleksandr Gvozdyk.
HBO announcer Jim Lampley called Shields "the Tiger Woods" of women's boxing, expressing the belief she could jolt the sport in a way Ronda Rousey did in the UFC.
Champions such as middleweight Christina Hammer, welterweight Cecilia Braekhus and featherweight Jelena Mrdjenovich typically fight outside the U.S. and contenders have been subject to extended layoffs because of the disinterest in female boxing.
"There's the same potential as women's MMA," Shields said earlier in the week. "More potential. Women's boxing has lacked having that platform. Who's out there? We need to build the anticipation and know who's coming, tell what they're about."
New York's Heather Hardy landed a fight on NBC in August, the same day Shields won her second gold medal in Rio de Janeiro.
"Ever since I turned pro, all these women at 160 and 168 [pounds] have been posting pictures with their belts, doing more media stuff, to let it be known that they're the champs," Shields said. "Now I know. We all need to know. There's a lot of good fighters.
"Let's see who the best are. Let's put faces to it. Promoters need to make money, they need fighters who are marketable and up until now, women boxers have lacked that interest. We can get it. It's not just about who has two Olympic gold medals. It's about the fighting style, the skills, the power, being entertaining. We have that. Now, we have to perform."
Shields' performance Saturday was encouraging for the cause, as she defused Crews' charging effort with power punches in the fourth.
"Once a major promoter signs myself — and every one of them is interested — the other promoters will want to get on board and give these other girls money," said Shields, who counts former HBO executive Mark Taffet as a co-manager. "People are interested in myself, and that means they're interested in women's boxing, and they wouldn't be looking at me if they didn't think they could build off it."
Her charisma is part of the appeal, and she impressively answered some September criticism from Kovalev, who said he didn't like women's boxing and said women should be "home."
"When I think about Kovalev and his sexist comments, it's about having to prove a point," Shields said.
"I just told [Ward's promoter] Roc Nation, 'Make sure y'all have a TV in Kovalev's room. Make sure he's able to watch me.' Because the goal in this fight is for me to ask, 'Hey did you watch my fight? What'd you think?' And for him to say, 'Yeah, wow, you are a very good fighter and you have very good skills.' Or he can keep being sexist.
"It's the fact of, watch me before you commentate on me."
Twitter: @latimespugmire
---
Get our high school sports newsletter
Prep Rally is devoted to the SoCal high school sports experience, bringing you scores, stories and a behind-the-scenes look at what makes prep sports so popular.
You may occasionally receive promotional content from the Los Angeles Times.