Ducks captain Ryan Getzlaf addresses team practice amid NHL probe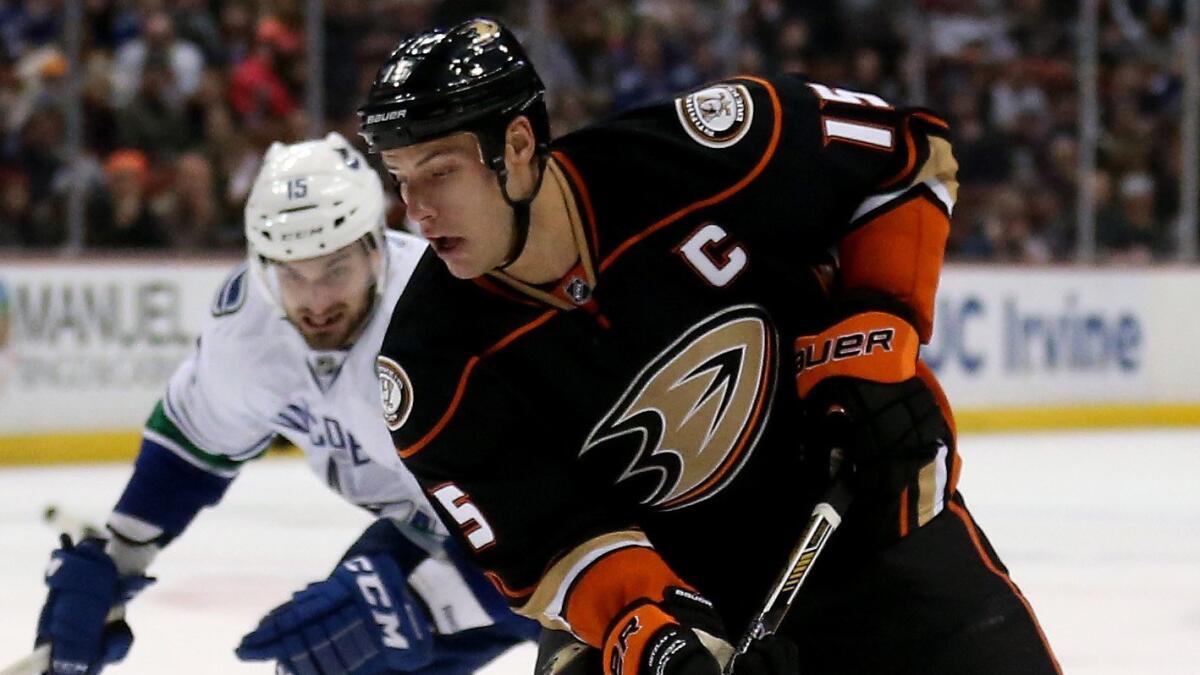 Ryan Getzlaf said he was not encouraged by a Ducks official to stage the team practice he arranged Friday during the NHL's mandatory holiday dead period.
The NHL is investigating the practice because it happened during a time that was negotiated through the collective-bargaining agreement as a mandatory three-day break.
A league spokesman said the NHL wants to know whether Getzlaf acted on his own or was urged by anyone in the organization to gather the players.
Getzlaf, the Ducks' captain who ranks second in the NHL with 30 assists, said Tuesday that he informed Ducks Coach Bruce Boudreau about the Friday practice before it happened.
"He [Getzlaf] said that's what he wanted to do, and I said, 'OK, fine,' " Boudreau said. "To this day, I don't know what time they skated, don't know how many guys were there. I'm glad they did, but it was all Ryan's idea."
Getzlaf said he rented ice for teammates "because I felt I needed to skate. We had [children] on the ice, very informal, we kind of putted around for 20 minutes."
He said "quite a few" teammates joined him. "I don't know if we had the whole team there or not. Some guys were on for five minutes, some guys for 20.
"It was an opportunity for guys to bring their kids out during the holidays. When I was a kid, I skated every Christmas. It was a great opportunity. A lot of those guys brought their kids out and had a skate.
"We're supposed to be prepared to play every night. I felt that gave me the best chance to be prepared, and my teammates the opportunity to do the same if they needed it."
Getzlaf said he inspected the CBA rules and knew "there's no rules against me skating, as long as coaches and management staff aren't in the building. It [was] not a mandatory thing. There is no issue. I don't know why this has come up as anything other than it happened and we didn't report it.
"I didn't really feel it was my responsibility to tell everybody if I felt I wanted to come out on the ice. The team had nothing to do with it."
Getzlaf said he told Boudreau about the practice to make sure the coach didn't accidentally walk into the building at the same time, which would have violated the CBA mandate. Getzlaf said he has yet to speak to the NHL about the practice.
Boudreau gave the team Dec. 23 off after their Dec. 22 victory over the San Jose Sharks, meaning the team was due to be off four full days before playing in Arizona on Saturday night.
"I looked at the schedule. I have enough trouble when I have two days off, let alone three or four," Getzlaf said. "I can't be off the ice that long and expect my body to react without getting injured or in trouble. Plus, with my kids, it was a nice thing to do."
Ducks center Ryan Kesler attended the practice with several members of his family, including a young son he brought onto the Honda Center ice at the end of Tuesday's practice. He said the conditioning effects of the session were minimal.
"It was a great family day," Kesler said. "Was a good time."
Get our high school sports newsletter
Prep Rally is devoted to the SoCal high school sports experience, bringing you scores, stories and a behind-the-scenes look at what makes prep sports so popular.
You may occasionally receive promotional content from the Los Angeles Times.