NFL in L.A.: Coliseum is ready when NFL is ready, USC says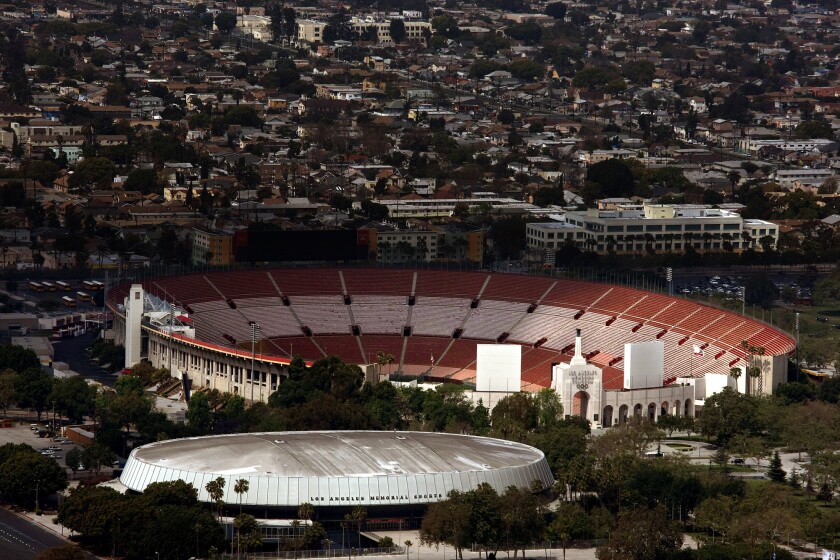 Two decades after the NFL abandoned L.A. and Orange counties, the Los Angeles Memorial Coliseum could once again come into play as an interim home for an NFL team.
The San Diego Chargers and the Oakland Raiders have announced that they are pursuing a proposed $1.7 billion stadium in Carson. The owner of the St. Louis Rams has purchased property for a stadium in Inglewood.
If any of those teams move to Los Angeles, they will need a place to play while the stadium is erected.
USC has played football games at the Coliseum since 1923. In September 2013, the California Science Center gave final approval to a deal that granted USC, a private university, control over the publicly owned facility.
Under the lease terms, USC committed to spend as much as $100 million on improvements in the Coliseum.
Athletic Director Pat Haden last summer estimated that it would be three years before USC breaks ground on major reconstruction of the stadium. He also said he would "love" to have an NFL team play in the Coliseum for a few years and that "it wouldn't be free."
On Friday, Haden reiterated that the Coliseum would be amenable to hosting an NFL team, but cautioned that the NFL "has a bunch of hoops" a team would need to jump through before moving.
"They're going to have to play somewhere temporarily," he said, adding that the Coliseum could be home to one team, but not two.
Haden said he had not been contacted by the Rams, Raiders or Chargers.
"We've seen this picture for years," Haden said. "We don't know what's going to happen other than there's been a flurry of activity by some teams.
"We'll know more in the next six to eight months."
---
Get the latest on L.A.'s teams in the daily Sports Report newsletter.
You may occasionally receive promotional content from the Los Angeles Times.