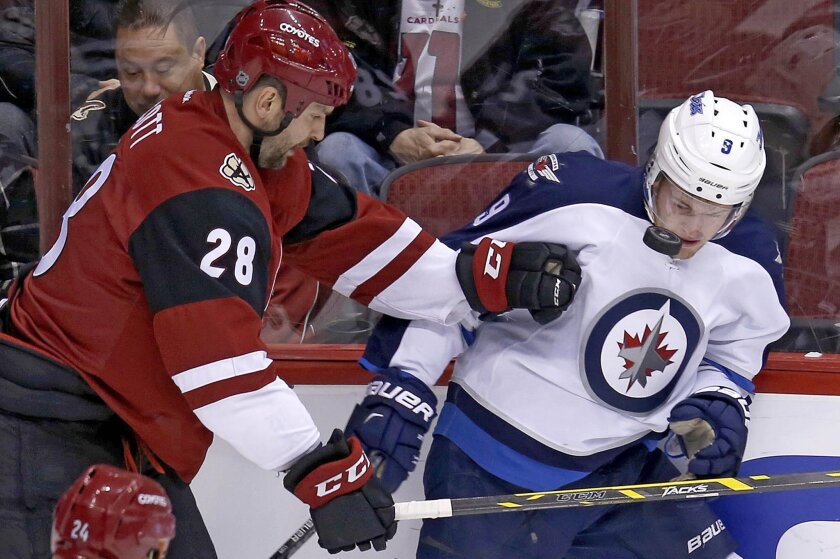 Bowing to popular sentiment among fans — and maybe realizing that its All-Star voting process was flawed beyond repair — the NHL on Tuesday announced that former Arizona Coyotes enforcer John Scott will, indeed, remain a Pacific division captain for the Jan. 31 game even though he was traded out of the conference.
Scott, who has five goals and 542 penalty minutes in his NHL career, was the subject of an Internet-based campaign to vote him onto the team and was one of four captains chosen in fan balloting. If the idea of selecting him was a joke, it didn't last: The league and the team asked him to withdraw, which he declined. He was traded from Arizona to Montreal last week, and when the Canadiens sent him to the minor leagues, it appeared Scott wouldn't go to the All-Star Game.
See more of our top stories on Facebook >>
Watch Duke's Mike Krzyzewski snub Syracuse players in handshake line after lossThat raised a furor among fans, who felt Scott was being victimized for something that was beyond his control. Conspiracy theories abounded about the timing and intent of the trade.
Here's a link to the NHL's announcement.
To Scott's credit, he has handled this with more grace than he ever showed on the ice and has embraced his role as an unlikely All-Star. It was smart of the NHL to go along with the joke and give the fans what they wanted, though it took too long for the league to reach the right conclusion.
Next step: Reform the voting process, maybe joining with the NHL Players' Assn. to find a mix of fan and player voting to choose future All-Star rosters.
Get the latest in sports with our free newsletter >>
Now that this has been fixed, hockey fans can go back to worrying about the decline in scoring and who will be the next player called out by Columbus Coach John Tortorella.
Twitter: @helenenothelen
MORE SPORTS NEWS
Still banned by MLB, Pete Rose will be inducted into Reds Hall of Fame
Watch Duke's Mike Krzyzewski snub Syracuse players in handshake line after loss
Peyton Manning can get up to $4 million in bonuses for winning AFC championship, Super Bowl
---