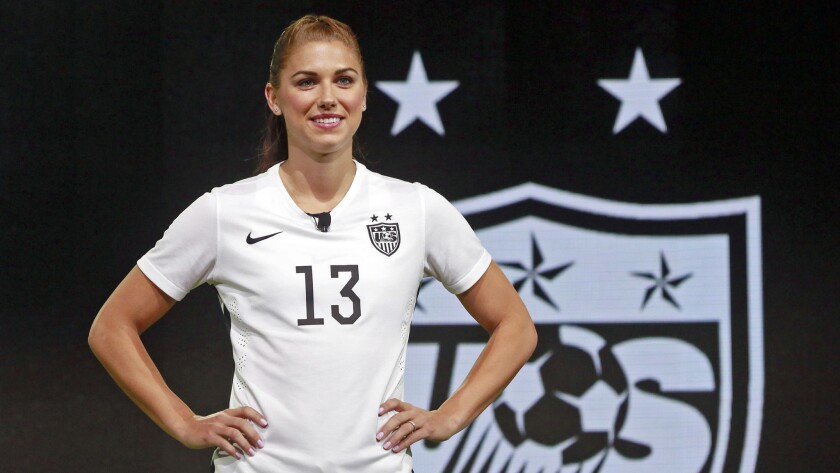 The U.S. women's soccer team has always been as much about fashion as football. So it was no surprise to see teammates Alex Morgan, Sydney Leroux and Tobin Heath walking an artificial-turf runway in a West Hollywood soundstage Wednesday morning to introduce the new Nike kit the U.S. will wear during home games at this year's World Cup in Canada.
What was surprising, though, was how uncomfortable the women looked under the makeup and klieg lights as they giggled their way through the news conference. Clearly, their minds were elsewhere.
"It's been so long since the last World Cup we brought home. And we know that," Morgan said. "We were so close last time."
Their summer trip to Canada, then, is about business.
"We're not trying to make fashion statements on the pitch," she said.
That's not likely to be a problem.
The new uniform's design dumps the collared looked of previous jerseys and changes the color scheme from the old red, white and blue to white with black trim. The socks are neon green to match Nike's new boots.
Imagine a blend of the football uniforms from Penn State and Oregon.
Photos of the uniforms leaked about a month ago, which put a bit of damper on Nike's rollout Wednesday. And despite the hype — which includes a planned appearance Wednesday night by Morgan and Abby Wambach on Fox TV's "American Idol" — the new kits were widely panned on social media and online as bland, uncreative and the wrong color.
"Unbelievably terrible," one fan wrote on the Soccer by Ives website.
Nike, conversely, described them as "clean, simple and bold."
But the uniforms are cutting edge in some ways. They are made of recycled polyester, for starters, with an average of 18 plastic bottles used in each kit. The design, Nike says, also draws sweat away from the body to the exterior of the shirt and shorts where it quickly evaporates. And ventilation side holes and mesh paneling help increase air circulation.
There's one other revolutionary thing about the shirts: for the first time, Nike will sell women's replica jerseys in men's sizes. Even though the men's and women's national teams wear similarly styled kits, the jerseys are not the same since the women's uniform has two stars on the left breast, above the U.S. crest, signifying two World Cup titles.
If Morgan has her way, they will be another star added this July.
---